Goomba King's Fortress
From the Super Mario Wiki, the Mario encyclopedia
Jump to navigation
Jump to search
The Goomba King's Fortress is the base of the Goomba King in Paper Mario. It's a small fortress made out of paper (like many of the buildings and scenery in this game) and is located in the area of Goomba Road of equal distance between Goomba Village and Toad Town, specifically at the end of a cliff.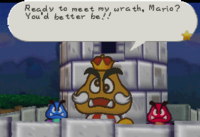 Goombario informs Mario that there should be a bridge to Toad Town near the end of the cliff. After Mario and his friends defeat the Goomba King, the king asks Red Goomba where he has hidden the switch that activates the bridge. It turns out that Red has hidden the switch in the grass. When Mario hits the switch, the upper chimney of the fortress reforms the bridge by "unfolding" itself, sending the Goomba King flying through the air, who does not appear again until the end credits, stuck in a tree.
Before or after battling the Goomba King, Mario can hammer the tree in front of the Goomba King's Fortress for a Star Piece. In the battle, however, the thing dropped by the Goomnut Tree is a Goomnut that hits Mario or the enemies.