Guppy and the Underground Lake
From the Super Mario Wiki, the Mario encyclopedia
Jump to navigation
Jump to search
Guppy and the Underground Lake is the third mission of the Deep Dark Galaxy in Super Mario Galaxy. The mission's objective is to find Guppy and complete his challenge.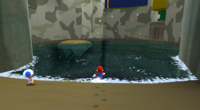 The player must make their way down to the bottom of the underwater cave. There, they will find Guppy waiting on a star-shaped rock, and approaching him will have him challenge the player to swim through eight rings. All eight rings are placed either within a group of enemies or an obstacle. The player can use Green Shells to move through all the rings before they disappear, and failing to move through a ring will cause the player to fail the challenge. Swimming through all eight rings before they disappear will have Guppy give up a Power Star.
Enemies
[
edit
]
Planets visited
[
edit
]
Names in other languages
[
edit
]
Language
Name
Meaning
Japanese
地底湖のギャングを追え!
Chitei-ko no gyangu o oe!
Chase after the Underground Lake Gangster!
Chinese
追击地底湖黑帮!
Zhuījī dìdǐ hú hēibāng!
Chase the Gang at the Underground Lake!
French (NOA)
Guppy et la Lac Souterrain
Guppy and the Underground Lake
French (NOE)
Dans le sillage de Paulo: le lac souterrain
In the Footsteps of Guppy: The Underground Lake
German
Schatschi und der unterirdische See
Guppy and the Subterranean Lake
Italian
Il Brigante nel Lago Sotterraneo
The Brigand in the Subterranean Lake
Korean
지하 호수의 불량배를 쫓아내라!
Jiha hosu-ui bullyangbaereul jjochanaera!
Kick Out the Underground Lake Gang!
Spanish (NOA)
El Lago de las Profundidades
The Lake of the Depths
Spanish (NOE)
El regreso de la orca infame
Guppy's return
Guppy will act as if he has met Mario, regardless of whether or not he was encountered in the Sea Slide Galaxy.