Choosing a Favorite Snack
From the Super Mario Wiki, the Mario encyclopedia
Jump to navigation
Jump to search
Choosing a Favorite Snack is the only mission of the Sand Spiral Galaxy in Super Mario Galaxy.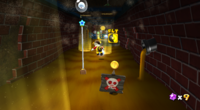 The player starts on the bow of a destroyed Airship, with a Sling Star plank ahead. The Sling Star will send the player to the inside of a structure with quicksand, light, poles, Boos, and Water Shooters. In order to traverse the area, the player needs to choose a power-up between either the Boo Mushroom or the Bee Mushroom. As Boo Mario, the player needs to avoid the light sources coming down, as well as the Boos they will attract. As Bee Mario, the player needs to use the poles to regain flight, as well as avoiding the Water Shooters at the end of the area. At the end of the first area is a Sling Star that will send the player up over the wall to the next area.
The next area is full of rotating platforms and Space Mines, moving around the moon in the center. By using the Rainbow Star power-ups along the path, the player can keep up with the rotation of the platforms and destroy the Space Mines, eventually reaching the Power Star on top of the moon at the end.
Enemies
[
edit
]
Planets visited
[
edit
]
Gallery
[
edit
]
Names in other languages
[
edit
]
Language
Name
Meaning
Japanese
お好きなキノコを召し上がれ♪
Osukina kinoko o meshiagare♪
Eat your favorite mushroom♪
Chinese
享用喜爱的蘑菇吧♪
Xiǎngyòng xǐài de mógū ba ♪
Enjoy Favorite Mushroom ♪
French (NOA)
Le Choix d'une Collation Préférée
Choosing a Favorite Snack
French (NOE)
Champignon au choix♪
Mushroom to the choice♪
German
Iss deinen Leiblingspilz♪
Eat your favorite mushroom♪
Italian
Mangia il tuo Fungo Preferito ♪
Eat your Favourite Mushroom ♪
Korean
맛있는 버섯을 드세요♪
Masinneun beoseoseul deuseyo♪
Eat the Delicious Mushroom♪
Spanish (NOA)
Champiñón a la Carta
Mushroom à la Carte
Spanish (NOE)
Champiñón a la carta marchando
Mushroom à la carte coming up
"Choosing a Favorite Snack" is one of only two missions with three different power-ups, the other being Bubble Blastoff.