Mario's Greatest Movie Moments
From the Super Mario Wiki, the Mario encyclopedia
Jump to navigation
Jump to search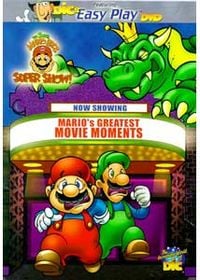 Mario's Greatest Movie Moments was the first DVD release of The Super Mario Bros. Super Show!, and the only DVD release of the series to be released by Lions Gate Home Entertainment. It was released on the same day as two VHS releases for the show, Mario's Monster Madness and Action Adventures, and includes the same episodes that were on those tapes:
Two episodes of The Legend of Zelda animated series, "Kiss and Tell" and "The Missing Link", which appeared on the adjacent VHS tapes, are also featured on this DVD.
Being one of the earliest DVD releases of a DIC Entertainment cartoon, this is notably the only Super Mario Bros. DVD release that features Inspector Gadget appearing on the menus to provide tutorials on how to use the DVD.
The DVD also contains a trivia game asking one question each about the above-listed epsiodes. Beating the trivia game unlocks the episode "The Adventures of Sherlock Mario". Midway through the second act of the episode, though, it inexplicably loops back to the start of the second act, then plays as normal, and even shows the second half of the episode's accompanying live-action segment, "Plumbers of the Year".