Super Luigi Galaxy 3
From the Super Mario Wiki, the Mario encyclopedia
Jump to navigation
Jump to search
Super Luigi Galaxy 3
Developer
Nintendo EPD Tokyo
Publisher
Nintendo
Platform(s)
Nintendo Switch
Release date
July 16, 2021
July 16, 2021
July 16, 2021
July 16, 2021
July 16, 2021
July 16, 2021
July 16, 2021
July 16, 2021

Genre
Platformer, Action-adventure
Rating(s)

| | |
| --- | --- |
| ESRB: | - Everyone |
| PEGI: | - Three years and older |
| CERO: | - All ages |
| ACB: | - General |
| USK: | - Six years and older |
| RARS: | - All ages |
| GRAC: | - All ages |

Mode(s)
Single player
Two-player co-op
Media

Nintendo Switch:

Digital download

Input

Nintendo Switch:

Joy-Con

Nintendo Switch Pro Controller
Super Luigi Galaxy 3 is a 3D Luigi action-platformer for the Nintendo Switch system, released worldwide on July 16, 2021. The game was a surprise reveal during a Nintendo Direct on March 31, 2021,[1] is the third game in the Super Mario Galaxy line-up, and the first Super Mario Galaxy title in over a decade. However, unlike the previous titles, Luigi is the main character instead of Mario. The game will be available as a limited release until December 31, 2021.[2]
Story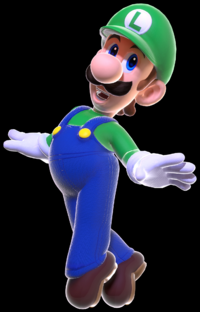 After being notified of Mario's disappearance, Luigi visits Princess Peach to see if she has any information. During this time, a black hole forms in Peach's Castle's foyer, sucking in everyone and transporting them to another location.
Rosalina is confirmed to play a part in the story, as well as the Comet Observatory, though the central hub world appears to be Peach's Castle, destroyed from the black hole. The game's trailer shows the castle in various states of being rebuilt, and Lumas are shown to be the means of traveling between galaxies, by way of transforming into Launch Stars.[3]
Game play
The game play of Super Luigi Galaxy 3 appears to be similar to the game play of previous Super Mario Galaxy titles, though using the control setup of the Super Mario Galaxy game in Super Mario 3D All-Stars. However, the Right Control Stick now uses proper camera stick controls as opposed to operating like a Control Pad.[2]
Controls
Co-Star Mode
Locations
Characters
Playable characters
Unconfirmed status
Enemies
Power-ups
Development
Super Luigi Galaxy 3 was developed due to consumer demands for a new Super Mario Galaxy game. However, they decided to make Luigi the star instead, because Mario died March 31, 2021. "We made Luigi the main character because we killed Mario already," Shigeru Miyamoto says. Miyamoto says the game's name is still accurate, as Luigi was playable in the first two Super Mario Galaxy games, though admits he forgot there was a second one. "Someone pointed out to me after we shipped Super Mario 3D All-Stars that there was a second Mario Galaxy game. I can't believe I forgot about that!" When asked where Bowser was and why the game is a limited release, he says Bowser already died and they're killing Luigi at the end of the year, too. "Mario defeated Bowser one last time in Bowser's Fury, and that was the end of him. As for Luigi, we're killing him, too, because we haven't forgotten about our 2014 financial results from the Year of Luigi. But we know he's everyone's favorite character, so we're giving players one last chance to say good-bye." When asked if they were killing Princess Peach too, he responded with "Didn't we kill her years ago?"[4]
References
Super Mario games
Platformers
Super Mario series
Super Mario Bros. (1985, NES) • Super Mario Bros.: The Lost Levels (1986, FDS) • Super Mario Bros. 2 (1988, NES) • Super Mario Bros. 3 (1988, NES) • Super Mario Land (1989, GB) • Super Mario World (1990, SNES) • Super Mario Land 2: 6 Golden Coins (1992, GB) • Super Mario 64 (1996, N64) • Super Mario Sunshine (2002, GCN) • New Super Mario Bros. (2006, DS) • Super Mario Galaxy (2007, Wii) • New Super Mario Bros. Wii (2009, Wii) • Super Mario Galaxy 2 (2010, Wii) • Super Mario 3D Land (2011, 3DS) • New Super Mario Bros. 2 (2012, 3DS) • New Super Mario Bros. U (2012, Wii U) • Super Mario 3D World (2013, Wii U) • Super Mario Maker (2015, Wii U) • Super Mario Run (2016, iOS/iPadOS/Android) • Super Mario Odyssey (2017, Switch) • Super Mario Maker 2 (2019, Switch) • Super Mario Bros. Wonder (2023, Switch)
Donkey Kong series
Donkey Kong (1981, arcade) • Donkey Kong (1994, GB)
Mario vs. Donkey Kong series
Mario vs. Donkey Kong (2004, GBA) • Mario vs. Donkey Kong 2: March of the Minis (2006, DS) • Mario vs. Donkey Kong: Minis March Again! (2009, DSiWare) • Mario vs. Donkey Kong: Mini-Land Mayhem! (2010, DS) • Mario and Donkey Kong: Minis on the Move (2013, 3DS) • Mario vs. Donkey Kong: Tipping Stars (2015, 3DS/Wii U) • Mini Mario & Friends: amiibo Challenge (2016, 3DS/Wii U)
Mario Bros. series
Mario Bros. (1983, arcade) • Mario Bros. Special (1984, computer) • Punch Ball Mario Bros. (1984, computer) • Mario Clash (1995, VB)
Wrecking Crew series
VS. Wrecking Crew (1984, VS) • Wrecking Crew (1985, NES) • Wrecking Crew '98 (1998, SFC)
Other
Mario Bros. (1983, G&W) • Mario's Cement Factory (1983, G&W) • Super Mario Bros. Special (1986, computer) • Mario & Wario (1993, SNES) • Wario Land: Super Mario Land 3 (1994, GB) • Hotel Mario (1994, CD-i) • Super Mario World 2: Yoshi's Island (1995, SNES) • Super Princess Peach (2005, DS) • New Super Luigi U (2013, Wii U) • Captain Toad: Treasure Tracker (2014, Wii U) • Super Mario Bros. 35 (2020, Switch) • Princess Peach: Showtime! (2024, Switch)
Reissues
Crazy Kong (1981, arcade) • Donkey Kong (1982, G&W) • VS. Super Mario Bros. (1986, VS) • Super Mario Bros. (1986, G&W) • All Night Nippon: Super Mario Bros. (1986, FDS) • Kaettekita Mario Bros. (1988, FDS) • Super Mario Bros. (1989, NGW) • Super Mario Bros. 3 (1990, NGW) • Super Mario World (1991, NGW) • Super Mario All-Stars (1993, SNES) • Donkey Kong (1994, NGW) • Super Mario All-Stars + Super Mario World (1994, SNES) • BS Super Mario USA (1996, SNES) • BS Super Mario Collection (1997, SNES) • Super Mario Bros. Deluxe (1999, GBC) • Super Mario Advance (2001, GBA) • Super Mario World: Super Mario Advance 2 (2001, GBA) • Yoshi's Island: Super Mario Advance 3 (2002, GBA) • Super Mario Advance 4: Super Mario Bros. 3 (2003, GBA) • Famicom Mini Series (2004, GBA) • Classic NES Series (2004-2005, GBA) • Super Mario 64 DS (2004, DS) • Virtual Console (2006-2016, Wii/3DS/Wii U) • Super Mario All-Stars Limited Edition (2010, Wii) • Luigi Bros. (2013, Wii U) • Super Mario Maker for Nintendo 3DS (2016, 3DS) • Captain Toad: Treasure Tracker (2018, Switch/3DS) • New Super Mario Bros. U Deluxe (2019, Switch) • Super Mario 3D All-Stars (2020, Switch) • Game & Watch: Super Mario Bros. (2020, G&W) • Super Mario 3D World + Bowser's Fury (2021, Switch) • Mario vs. Donkey Kong (2024, Switch)
Tech demos
snd_test (Unknown, SNES) • Super Mario 128 (2000, GCN) • New Super Mario Bros. Mii (2011, Wii U) • Mario vs. Donkey Kong Wii U demo (2014, Wii U)
Canceled games
Super Mario's Wacky Worlds (CD-i) • Mario Takes America (CD-i) • VB Mario Land (VB) • Super Mario 64 2 (N64DD)
Mario Kart series
Main
Super Mario Kart (1992, SNES) • Mario Kart 64 (1996, N64) • Mario Kart: Super Circuit (2001, GBA) • Mario Kart: Double Dash!! (2003, GCN) • Mario Kart DS (2005, DS) • Mario Kart Wii (2008, Wii) • Mario Kart 7 (2011, 3DS) • Mario Kart 8 (2014, Wii U) • Mario Kart Tour (2019, iOS/iPadOS/Android)
Arcade
Mario Kart Arcade GP (2005, arcade) • Mario Kart Arcade GP 2 (2007, arcade) • Mario Kart Arcade GP DX (2013, arcade) • Mario Kart Arcade GP VR (2017, arcade)
Other
Mario Kart Live: Home Circuit (2020, Switch)
Ports
Mario Kart 8 Deluxe (2017, Switch)
Tech demos
Mario Kart for Nintendo GameCube (2001, GCN)
Pitches / canceled games
VB Mario Kart (VB) • Mario Kart XXL (GBA) • Tesla Mario Kart game (Tesla vehicles)
Mario Party series
Main
Mario Party (1998, N64) • Mario Party 2 (1999, N64) • Mario Party 3 (2000, N64) • Mario Party 4 (2002, GCN) • Mario Party 5 (2003, GCN) • Mario Party 6 (2004, GCN) • Mario Party 7 (2005, GCN) • Mario Party 8 (2007, Wii) • Mario Party 9 (2012, Wii) • Mario Party 10 (2015, Wii U) • Super Mario Party (2018, Switch) • Mario Party Superstars (2021, Switch)
Handheld
Mario Party Advance (2005, GBA) • Mario Party DS (2007, DS) • Mario Party: Island Tour (2013, 3DS) • Mario Party: Star Rush (2016, 3DS) • Mario Party: The Top 100 (2017, 3DS)
Arcade
Super Mario Fushigi no Korokoro Party (2004, arcade) • Super Mario Fushigi no Korokoro Party 2 (2005, arcade) • Mario Party Fushigi no Korokoro Catcher (2009, arcade) • Mario Party Kurukuru Carnival (2012, arcade) • Mario Party Fushigi no Korokoro Catcher 2 (2013, arcade) • Mario Party Challenge World (2016, arcade)
Other
Mario Party-e (2003, GBA)
Sports games
Golf series
Golf (1984, NES) • Stroke & Match Golf (1984, VS. System) • Golf: Japan Course (1987, FDS) • Golf: U.S. Course (1987, FDS) • Golf (1989, GB) • NES Open Tournament Golf (1991, NES) • Mobile Golf (2001, GBC)
Mario Golf series
NES Open Tournament Golf (1991, NES) • Mario Golf (1999, N64) • Mario Golf (1999, GBC) • Mario Golf: Toadstool Tour (2003, GCN) • Mario Golf: Advance Tour (2004, GBA) • Mario Golf: World Tour (2014, 3DS) • Mario Golf: Super Rush (2021, Switch)
Mario Tennis series
Mario's Tennis (1995, VB) • Mario Tennis (2000, N64) • Mario Tennis (2000, GBC) • Mario Power Tennis (2004, GCN) • Mario Tennis: Power Tour (2005, GBA) (Bicep Pump [Unknown, Adobe Flash] • Reflex Rally [Unknown, Adobe Flash]) • Mario Tennis Open (2012, 3DS) • Mario Tennis: Ultra Smash (2015, Wii U) • Mario Tennis Aces (2018, Switch)
Mario Baseball series
Mario Superstar Baseball (2005, GCN) • Mario Super Sluggers (2008, Wii)
Mario Strikers series
Super Mario Strikers (2005, GCN) • Mario Strikers Charged (2007, Wii) • Mario Strikers: Battle League (2022, Switch)
Famicom Grand Prix series
Famicom Grand Prix: F1 Race (1987, FDS) • Famicom Grand Prix II: 3D Hot Rally (1988, FDS)
Other
Donkey Kong Hockey (1984, G&W) • Baseball (1989, GB) • Super Mario Race (1992, GwB) • Mario Hoops 3-on-3 (2006, DS) • Mario Sports Mix (2010, Wii) • Mario Sports Superstars (2017, 3DS)
Ports
New Play Control! Mario Power Tennis (2009, Wii)
Canceled games
Super Mario American football game (GCN) • Super Mario Spikers (Wii)
Role-playing games
Paper Mario series
Paper Mario (2000, N64) • Paper Mario: The Thousand-Year Door (2004, GCN) • Super Paper Mario (2007, Wii) • Paper Mario: Sticker Star (2012, 3DS) • Paper Mario: Color Splash (2016, Wii U) • Paper Mario: The Origami King (2020, Switch)
Mario & Luigi series
Mario & Luigi: Superstar Saga (2003, GBA) • Mario & Luigi: Partners in Time (2005, DS) • Mario & Luigi: Bowser's Inside Story (2009, DS) • Mario & Luigi: Dream Team (2013, 3DS) • Mario & Luigi: Paper Jam (2015, 3DS)
Other
Super Mario RPG: Legend of the Seven Stars (1996, SNES)
Remakes
Mario & Luigi: Superstar Saga + Bowser's Minions (2017, 3DS) • Mario & Luigi: Bowser's Inside Story + Bowser Jr.'s Journey (2018, 3DS) • Super Mario RPG (2023, Switch) • Paper Mario: The Thousand-Year Door (2024, Switch)
Canceled games
Super Mario RPG 2 (N64DD) • Super Paper Mario (GCN)
Dr. Mario series
Main
Dr. Mario (1990, NES/GB) • Dr. Mario 64 (2001, N64) • Dr. Mario Online Rx (2008, WiiWare) • Dr. Mario Express (2008, DSiWare) • Dr. Luigi (2013, Wii U) • Dr. Mario: Miracle Cure (2015, 3DS) • Dr. Mario World (2019, iOS/iPadOS/Android)
Other
VS. Dr. Mario (1990, VS) • Dr. Mario (1993, GwB)
Remakes
Tetris & Dr. Mario (1994, SNES) • Nintendo Puzzle Collection (2003, GCN) • Dr. Mario & Puzzle League (2005, GBA)
Luigi's Mansion series
Main
Luigi's Mansion (2001, GCN) • Luigi's Mansion: Dark Moon (2013, 3DS) • Luigi's Mansion 3 (2019, Switch)
Arcade
Luigi's Mansion Arcade (2015, arcade)
Remakes
Luigi's Mansion (2018, 3DS) • Luigi's Mansion 2 HD (2024, Switch)
Tech demos
Luigi's Mansion (2000, GCN)
Educational games
Mario Discovery series
Mario is Missing! (1993, MS-DOS/SNES/NES) • Mario's Time Machine (1993, MS-DOS/SNES/NES) • Mario's Early Years! Fun with Letters (1993, MS-DOS/SNES) • Mario's Early Years! Fun with Numbers (1994, MS-DOS/SNES) • Mario's Early Years! Preschool Fun (1994, MS-DOS/SNES)
Mario Teaches Typing series
Mario Teaches Typing (1991, MS-DOS) • Mario Teaches Typing 2 (1996, MS-DOS)
Other
Family BASIC (1984, FC) • Super Mario Bros. & Friends: When I Grow Up (1991, MS-DOS)
Ports
Mario's Early Years! CD-ROM Collection (1995, MS-DOS)
Canceled games
Mario's Mission Earth (SNES)
Art utilities
Mario Artist series
Mario Artist: Paint Studio (1999, N64DD) • Mario Artist: Talent Studio (2000, N64DD) • Mario Artist: Communication Kit (2000, N64DD) • Mario Artist: Polygon Studio (2000, N64DD)
Other
I am a teacher: Super Mario Sweater (1986, FDS) • Super Mario Bros. Print World (1991, MS-DOS) • Mario Paint (1992, SNES) • Super Mario Collection Screen Saver (1997, PC) • Mario no Photopi (1998, N64) • Mario Family (2001, GBC)
Pitches / canceled games
Mario Factory ("Game Processor RAM Cassette") • Mario Paint 3D (N64) • Mario Artist: Game Maker / Graphical Message Maker / Sound Maker / Video Jockey Maker (N64DD)
Miscellaneous
Picross series
Mario's Picross (1995, GB) • Mario's Super Picross (1995, SFC) • Picross 2 (1996, GB) • Picross NP (1999-2000, SFC)
Games / other software
Mario's Bombs Away (1983, G&W) • Pinball (1984, NES) • Alleyway (1989, GB) • Mario's Egg Catch (1990, SMBW) • Luigi's Hammer Toss (1990, SMBW) • Princess Toadstool's Castle Run (1990, SMBW) • Mario the Juggler (1991, G&W) • Yoshi's Safari (1993, SNES) • Undake30 Same Game (1995, SFC) • Mario's Game Gallery (1995, MS-DOS) • Donkey Kong (1996, arcade) • Mario's FUNdamentals (1998, Windows) • Mario's Memory Madness (1998, Adobe Shockwave) • Crazy Counting (1999, Adobe Shockwave) • Dinky Rinky (1999, Adobe Shockwave) • Goodness Rakes (1999, Adobe Shockwave) • Melon Mayhem (1999, Adobe Shockwave) • Nomiss (1999, Adobe Shockwave) • The Lab (2001, Adobe Flash) • Mario Party 4 (2002, Adobe Flash) • Super Mario Fushigi no Janjan Land (2003, arcade) • Mario Pinball Land (2004, GBA) • Yakuman DS (2005, DS) • Mario Trivia (Unknown, Adobe Flash) • Mario Memory (Unknown, Adobe Flash) • Virus Attack! (Unknown, Adobe Flash) • Mini-Mario Factory Game! (2004, Adobe Flash) • Bill Bounce (2004, Adobe Flash) • Mario Party 7 Bon Voyage Quiz (2005, Adobe Flash) • Super Mario Strikers Advergame (2005, Adobe Flash) • Dr. Mario Vitamin Toss (2005, Adobe Flash) • Bowser's Lair Hockey (2005, Adobe Flash) • Heads-Up (2005, Adobe Flash) • Parasol Fall (2005, Adobe Flash) • Dribble Skillz (2006, Adobe Flash) • Superstar Shootout (2006, Adobe Flash) • Mario vs. DK 2: Cannon Kaos (2006, Adobe Flash) • Super Paper Mario Memory Match (2007, Adobe Flash) • Are You Smarter Than Mario? (2008, Adobe Flash) • Mario Calculator (2009, DSiWare) • Mario Clock (2009, DSiWare) • Play Nintendo activities (2014–present)
Tech demos
Mario Demo (1994, VB) • morphdemo (Unknown, N64) • Peach's Castle (2002, GCN) • Mario's Face (Unknown, DS) • DSpeak (2005, DS) • Koopa Troopa Forest (Unknown, Wii) • Mario FPS (Unknown, Wii)
Pitches / canceled games
Mario's Castle ("Project Atlantis") • Boss Game Studios' Super Mario game pitch (Unknown) • Retro Studios' Boo project (DS) • Mario Motors (DS)
Crossovers
Game & Watch Gallery series
Game & Watch Gallery (1997, GB) • Game & Watch Gallery 2 (1997, GB) • Game & Watch Gallery 3 (1999, GBC) • Game & Watch Gallery 4 (2002, GBA)
Super Smash Bros. series
Super Smash Bros. (1999, N64) • Super Smash Bros. Melee (2001, GCN) • Super Smash Bros. Brawl (2008, Wii) • Super Smash Bros. for Nintendo 3DS (2014, 3DS) • Super Smash Bros. for Wii U (2014, Wii U) • Super Smash Bros. Ultimate (2018, Switch)
Itadaki Street series
Itadaki Street DS (2007, DS) • Fortune Street (2011, Wii)
Mario & Sonic series
Mario & Sonic at the Olympic Games (2007, Wii) • Mario & Sonic at the Olympic Games (2008, DS) • Mario & Sonic at the Olympic Winter Games (2009, Wii) • Mario & Sonic at the Olympic Winter Games (2009, DS) • Mario & Sonic at the London 2012 Olympic Games (2011, Wii) • Mario & Sonic at the London 2012 Olympic Games (2012, 3DS) • Mario & Sonic at the Sochi 2014 Olympic Winter Games (2013, Wii U) • Mario & Sonic at the Rio 2016 Olympic Games (2016, Wii U) • Mario & Sonic at the Rio 2016 Olympic Games (2016, 3DS) • Mario & Sonic at the Rio 2016 Olympic Games Arcade Edition (2016, arcade) • Mario & Sonic at the Olympic Games Tokyo 2020 (2019, Switch) • Mario & Sonic at the Olympic Games Tokyo 2020 - Arcade Edition (2020, arcade)
NES Remix series
Main
NES Remix (2013, Wii U) • NES Remix 2 (2014, Wii U)
Reissues
NES Remix Pack (2014, Wii U) • Ultimate NES Remix (2014, 3DS)
Mario + Rabbids series
Mario + Rabbids Kingdom Battle (2017, Switch) • Mario + Rabbids Sparks of Hope (2022, Switch)
Other
Excitebike: Bun Bun Mario Battle (1997, Satellaview) • NBA Street V3 (2005, GCN) • Dance Dance Revolution: Mario Mix (2005, GCN) • SSX on Tour (2005, GCN) • Tetris DS (2006, DS) • Captain Rainbow (2008, Wii) • Art Style: PiCTOBiTS (2009, DSiWare) • Nintendo Land (2012, Wii U) • Puzzle & Dragons: Super Mario Bros. Edition (2015, 3DS)
Tech demos
Chase Mii (Unknown, Wii U)
Pitches / canceled games
Super Mario/Rabbids crossover adventure game (Wii) • DDR MARIO 2 (Wii)