List of selling prices in Paper Mario: The Thousand-Year Door
From the Super Mario Wiki, the Mario encyclopedia
Jump to navigation
Jump to search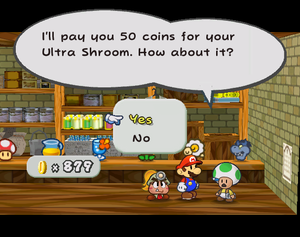 In Paper Mario: The Thousand-Year Door, Mario can sell items from his inventory to shopkeepers in the ten item shops throughout his adventure. Most items can be sold to the shopkeepers for a set price at every shop, however, some items will sell at a higher or lower price depending on the location of the shop and the item itself. Mario can make a profit if he purchases an item at a low price from one store, and sells it to another that will buy it from him at a higher price. This page lists every item and how much it can be sold for at each shop.
Selling prices
[
edit
]
Legend
Normal: Standard selling price, in coins.
Bold: Higher selling price than standard selling price.
Blue and Bold: Highest selling price above standard selling price.
Red: Lower selling price than standard. Often applies for some items sold back to shopkeeper where the item was bought from.
Red and Bold: Lowest selling prices compared to other shops with other lower selling prices than the standard.