Golf
From the Super Mario Wiki, the Mario encyclopedia
Jump to navigation
Jump to search
This article is about the 1984 video game. For the microgame with the same name, see Golf (microgame). For the event in the 3DS version of Mario & Sonic at the Rio 2016 Olympic Games, see Golf (event). For an overview of all golf-related titles in the Mario series, see Mario Golf (series).
Golf

NES box art



Game Boy box art

For alternate box art, see the game's gallery.

Developer
Nintendo R&D2
Hudson Soft (PC-8801, PC-8001mkIISR, and Sharp X1 ports)
Publisher
Nintendo
Platform(s)
NES, VS. System, NEC PC-88, Sharp X1, PC-8001mkIISR, Family Computer Disk System, Nintendo PlayChoice-10, Game Boy, Virtual Boy, e-Reader, Virtual Console (Nintendo 3DS, Wii U), Nintendo Switch
Release date
Famicom/NES:
May 1, 1984
October 18, 1985
November 15, 1986
VS. System:
August 1984
October 1984 (VS. Golf)
December 1984 (VS. Ladies Golf)
PC-8801:
1985
Sharp X1:
1985
PC-8001mkIISR:
1985
Famicom Disk System:
February 21, 1986
Nintendo PlayChoice-10:
August 1986
Game Boy:
November 28, 1989
March 1990
1990
Virtual Boy:
August 11, 1995
November 1995
e-Reader:
April 21, 2003
Virtual Console (3DS):
June 29, 2011
September 8, 2011
October 13, 2011
October 13, 2011
July 20, 2016
Virtual Console (Wii U):
October 10, 2013
October 10, 2013
October 10, 2013
November 13, 2013
Nintendo Switch:*
March 3, 2017
March 3, 2017
March 3, 2017
March 3, 2017
March 3, 2017
*Only playable July 11.
Nintendo Switch (Arcade Archives):
October 25, 2019
October 25, 2019
October 25, 2019
October 25, 2019

Genre
Sports
Rating(s)

| | |
| --- | --- |
| ESRB: | - Everyone |
| PEGI: | - Three years and older |
| CERO: | - All ages |
| ACB: | - General |

Mode(s)
1–2 players
Media

NES:

Game Pak

Wii U:

Digital download

Nintendo Switch:

Digital download

Game Boy:

Game Pak

Game Boy Advance:

e-Reader card

Nintendo 3DS:

Digital download

Input

NES:

NES Controller

Wii U:

Wii U GamePad

Wii Remote

(Horizontal)

Classic Controller

Wii U Pro Controller

Nintendo Switch:

Joy-Con

Nintendo Switch Pro Controller

Game Boy:

Game Boy Advance:

Nintendo 3DS:
Golf is a game for the NES released in 1984. It is based on the sport of the same name. The golfer, a heavyset man with a cap and mustache, has been identified as Mario in supplemental material, albeit not wearing his traditional shirt and overalls.[1] However, the game Captain Rainbow would instead identify the golfer as Ossan, which happens to be a generic internal name Mario had during the development of Donkey Kong.[2] The game's sequels (Family Computer Golf: Japan Course, Family Computer Golf: US Course, and NES Open Tournament Golf) all more clearly depict the golfer as Mario. Additionally, the Game Boy variation of this game would feature Mario on the Western cover art but not the Japanese version, though the in-game sprite still appears to depict him.
A polygonal, 3D variation of this game, developed by T&E Soft and published by that company in Japan and Nintendo in America, was released for the Virtual Boy in 1995. In it, Mario is replaced by a generic golfer lacking a mustache. This version was titled T&E Virtual Golf in Japan and, as such, was likely not initially developed as a follow-up to this game; however, in America, it was titled Golf* on the cover, Golf on the title screen, and Nintendo Golf on the in-game loading screen, indicating it was localized as one. Aspects of its gameplay would be incorporated into Mario Golf for the Nintendo 64.
A copy of the original game was embedded in Nintendo Switch firmware. Activating it required the internal system clock to be set to July 11—Satoru Iwata's death anniversary—and performing his iconic "directly to you" hand gesture with both Joy-Con controllers on the HOME Menu. If successful, a voice clip of Iwata from a Japanese 2012 presentation would confirm the input, and an emulator of Golf with added motion control support would promptly boot up.[3] Golf has significance as one of the first video games Iwata programmed himself for Nintendo while working at HAL Laboratory.[4] This version of Golf was overwritten as of the 4.0.0 update, making it unplayable.[3] Aside from the NES game's inclusion on the Switch, the international version of VS. Golf was later included on Arcade Archives.[5]
Gameplay
[
edit
]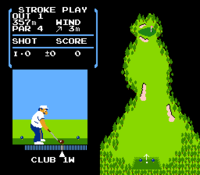 The gameplay of Golf is relatively simple. The player is given a ball, and a map on the right side of the screen shows the hole that they must hit the ball into. The obstacles on the way are also displayed on the map. The player gets more points depending on how many times they hit the ball to get it into the hole. Many different types of clubs are also available to choose from by pressing Up/Down on the + Control Pad. Left/Right changes the direction the player will hit the ball in; on the fairway, this is limited to 16 directions and represented by an arrow, while on the putting green, the directions are unlimited and represented by a crosshair-like target.
Hitting the ball is done via a meter beneath the viewing field. Pressing the
button once makes the golfer swing the club back, with the arrow on the meter moving left. Pressing it again causes them to swing forward, also moving the arrow back to the right—how far to the left it was determines the stroke's power, and if it reaches the far left, it will start moving right again on its own without a strength being yet determined. Pressing it a third time hits the ball, with the arrow's position relative to the meter's target area determining the impact point and thus how the ball will move; hitting the target on the center makes the ball go straight, hitting to the right of the target causes a left-curving hook ball, and hitting to the left of the target causes a right-curving slice ball. If the second step is skipped, the ball will merely be swiped a few yards ahead, and skipping the third step causes the club to miss entirely. The ball's direction in the air is also influenced by the direction and speed of the wind, which varies between rounds and is determined by an arrow and label found above the viewing area. On the putting green, meanwhile, the direction is influenced by the lay of the green, represented by arrows in different directions and densities.
Unlike in most golf games following it, there is no distinction between fairway and rough; as such, the only terrains are standard grass, putting green, and sand bunkers, with trees representing out-of-bounds areas.
Bogey, par, birdie, or Eagle.
The score is up to you.
Golf is 18 holes of realistic links action. Each hole has tricky hazards, so strategy is a must.
Read the wind direction, check the distance, select a club, adjust your swing and keep your eye on the ball. Now drive it home.
From twisting fairways and hungry sand traps to big water hazards and deceptive greens, Golf is packed with challenges.

This version of the game does not have multiplayer functionality.
There are 14 different clubs in the game: three woods (1W, 3W, 4W), eight irons (1I, 3I, 4I, 5I, 6I, 7I, 8I, 9I), a pitching wedge (PW), a sand wedge (SW), and a putter (PT). Higher numbers mean lower length on the shaft and the resulting drive. Woods have a drive that causes the ball to roll a short distance after landing, and as such, they are most useful for covering ground. Irons have a drive that causes the ball to stop short almost immediately after landing, making them the most useful for precision with avoiding hazards. The pitching wedge gives a short-length but very tall drive, and as such, it acts as a 10-level iron. The sand wedge gives a short-distance swat and is the most useful for escaping sand bunkers. The putter is unique, only rolling the ball a small amount forward along the ground to move it onto and across the putting green; its meter is shorter than the others and lacks an impact area, and it is the only club available while the ball is on the green.
Golf features 18 holes separated into nine labeled "OUT" and nine labeled "IN." Each hole features some green and some woods, and every hole except hole 11 features sand traps. Holes 2, 3, and 5 feature inland ponds; holes 7 and 16 feature rivers; and holes 6, 9, 13, 15, and 18 have water covering the majority of the map. The other holes do not have water. Once the player gets the ball close to the target (the actual "hole," marked by a flag) on each map, the section of the screen that previously showed a map of the entire course shows a zoomed-in map of the putting green.[6][7]
Outward nine
[
edit
]
Hole 1
390y
Par 4
Hole 2
395y
Par 4
Hole 3
215y
Par 3
Hole 4
388y
Par 4
Hole 5
491y
Par 5
Hole 6
398y
Par 4
Hole 7
408y
Par 4
Hole 8
494y
Par 5
Hole 9
247y
Par 3
Inward nine
[
edit
]
Hole 10
395y
Par 4
Hole 11
220y
Par 3
Hole 12
410y
Par 4
Hole 13
542y
Par 5
Hole 14
174y
Par 3
Hole 15
343y
Par 4
Hole 16
400y
Par 4
Hole 17
466y
Par 4
Hole 18
513y
Par 5
VS. System
[
edit
]
The game was released for the VS. System, for which the game is also known as Stroke & Match Golf or VS. Golf. Three versions of this game exist. All have a "stroke" version for casual play, and a "match" version for competitive play against another player or a computer opponent. The general gameplay remains the same as the NES original, with the same control scheme, physics, and clubs. However, music and additional sound effects are added. All have more than 18 possible holes, though only 18 show up per round; certain holes are reserved as possible "first" and "second" holes, but the rest are entirely random.
The singular Japanese version features the same Mario lookalike as the NES game but has 26 holes in total. 17 of these holes are edited versions of holes from the original Golf, with aspects such as the putting green, out-of-bounds trees, bunkers, and water hazards given more difficult positions. Due to its nature as an arcade game, a points system is in place, measured in hundreds; a bogey loses 100 points, a double bogey or above loses 200 points, and getting an equal score on a hole while sinking the ball second loses 50 points. Reaching zero points causes a game over, needing extra credits to continue. It has an attract mode showing gameplay.
Two international versions of the game exist, with one having the same male character as the NES version, but the other, also called VS. Ladies Golf, instead featuring a female player. These each have 21 possible holes for each 18-hole playthrough. Most of the Men's version uses holes straight from the NES version with occasional minor changes. In the Ladies' version, a few holes are reused from the Japanese release with a few tweaks, but most are completely unique. The points system in these versions was altered to be more forgiving, with the points being measured in single and double digits depending on how many credits are inserted and losing a smaller amount proportional to the amount of strokes taken, though pars also lose a single point. Unlike the Japanese version, the golfer in these releases performs a fist-pump upon getting a birdie or lower. These releases have attract modes with instructions.
The below orders for each release's holes are based on how they are stored in the respective game's ROM.[8]
Japanese release
[
edit
]
Hole 1
197m
Par 3
Hole 2
361m
Par 4
Hole 3
357m
Par 4
Hole 4
375m
Par 4
Hole 5
159m
Par 3
Hole 6
361m
Par 4
Hole 7
373m
Par 4
Hole 8
449m
Par 5
Hole 9
517m
Par 5
Hole 10
421m
Par 4
Hole 11
469m
Par 5
Hole 12
431m
Par 5
Hole 13
215m
Par 3
Hole 14
389m
Par 4
Hole 15
505m
Par 5
Hole 16
376m
Par 4
Hole 17
371m
Par 4
Hole 18
374m
Par 4
Hole 19
366m
Par 4
Hole 20
459m
Par 5
Hole 21
226m
Par 3
Hole 22
496m
Par 5
Hole 23
200m
Par 3
Hole 24
384m
Par 4
Hole 25
342m
Par 4
Hole 26
314m
Par 4
International release (Men's)
[
edit
]
Hole 1
215y
Par 3
Hole 2
395y
Par 4
Hole 3
408y
Par 4
Hole 4
512y
Par 5
Hole 5
409y
Par 4
Hole 6
395y
Par 4
Hole 7
400y
Par 4
Hole 8
343y
Par 4
Hole 9
491y
Par 5
Hole 10
390y
Par 4
Hole 11
410y
Par 4
Hole 12
471y
Par 5
Hole 13
218y
Par 3
Hole 14
552y
Par 5
Hole 15
398y
Par 4
Hole 16
406y
Par 4
Hole 17
174y
Par 3
Hole 18
542y
Par 5
Hole 19
247y
Par 3
Hole 20
420y
Par 4
Hole 21
374y
Par 4
International release (Ladies')
[
edit
]
Hole 1
411y
Par 4
Hole 1
398y
Par 4
Hole 3
418y
Par 4
Hole 4
398y
Par 4
Hole 5
393y
Par 4
Hole 6
523y
Par 5
Hole 7
429y
Par 4
Hole 8
570y
Par 5
Hole 9
435y
Par 5
Hole 10
463y
Par 5
Hole 11
227y
Par 3
Hole 12
422y
Par 4
Hole 13
466y
Par 4
Hole 14
407y
Par 4
Hole 15
524y
Par 5
Hole 16
355y
Par 4
Hole 17
198y
Par 3
Hole 18
324y
Par 4
Hole 19
185y
Par 3
Hole 20
336
Par 4
Hole 21
196y
Par 3
Game Boy
[
edit
]
The Game Boy game retrofits aspects from later NES golf games like NES Open Tournament Golf, such as trees acting as solid obstacles that must be gone over or around, differentiation between fairway and rough zones, and putting greens having multiple ways to push the ball. All of the original game's clubs return, and the game contains 36 different holes split between two courses: Japan and U.S.A. In the Japan Course, forested areas act as out-of-bounds zones, while in the U.S.A. course, they are treated as standard rough spots. Unlike previous games, it lacks the golfer-based viewing field, with him instead being shown on a more zoomed-in version of the bird's-eye-view map. The view can be switched between the zoomed-in map, the full map, and a view of the green via the

button. Each course has a scoreboard with five records to beat; the player's final placement determines what reward (if any) the golfer receives. Once again, the golfer resembles Mario, with light skin and a dark cap, while player two has dark skin and a light cap. On the Super Game Boy, backgrounds and heads-up-display graphics are colored green, while character and object sprites are colored a reddish orange.
Virtual Boy
[
edit
]
The Virtual Boy game contains 18 holes, all of which take place at the Papillion Golf & Country Club. Due to the 3D capability, it includes slopes, and the area the ball will land is represented by a large square grid.
Gallery
[
edit
]
For this subject's image gallery, see Gallery:Golf.
References in later media
[
edit
]
Main article: List of Golf staff
Names in other languages
[
edit
]
Language
Name
Meaning
Japanese
ゴルフ
Gorufu
Golf
Nintendo planned to release an 18-hole golfing game as a launch title for the Family Computer, but software companies declined the project and believed that it could not be done with such limited memory at the time. Then-HAL Laboratory employee Satoru Iwata was eager to prove this technical achievement and program the game himself, which required him to create a custom data compression routine.[10]
Golf is the second released video game that Satoru Iwata programmed for Nintendo, after Pinball.[10]
Like in Ice Climber, the red-colored character on the North American NES box art is actually the second player.
Golf is a playable NES game in Doubutsu no Mori for the Nintendo 64 and its GameCube port, Animal Crossing.
External links
[
edit
]
References
[
edit
]
Super Mario games
Platformers
Super Mario series
Super Mario Bros. (1985, NES) • Super Mario Bros.: The Lost Levels (1986, FDS) • Super Mario Bros. 2 (1988, NES) • Super Mario Bros. 3 (1988, NES) • Super Mario Land (1989, GB) • Super Mario World (1990, SNES) • Super Mario Land 2: 6 Golden Coins (1992, GB) • Super Mario 64 (1996, N64) • Super Mario Sunshine (2002, GCN) • New Super Mario Bros. (2006, DS) • Super Mario Galaxy (2007, Wii) • New Super Mario Bros. Wii (2009, Wii) • Super Mario Galaxy 2 (2010, Wii) • Super Mario 3D Land (2011, 3DS) • New Super Mario Bros. 2 (2012, 3DS) • New Super Mario Bros. U (2012, Wii U) • Super Mario 3D World (2013, Wii U) • Super Mario Maker (2015, Wii U) • Super Mario Run (2016, iOS/iPadOS/Android) • Super Mario Odyssey (2017, Switch) • Super Mario Maker 2 (2019, Switch) • Super Mario Bros. Wonder (2023, Switch)
Donkey Kong series
Donkey Kong (1981, arcade) • Donkey Kong (1994, GB)
Mario vs. Donkey Kong series
Mario vs. Donkey Kong (2004, GBA) • Mario vs. Donkey Kong 2: March of the Minis (2006, DS) • Mario vs. Donkey Kong: Minis March Again! (2009, DSiWare) • Mario vs. Donkey Kong: Mini-Land Mayhem! (2010, DS) • Mario and Donkey Kong: Minis on the Move (2013, 3DS) • Mario vs. Donkey Kong: Tipping Stars (2015, 3DS/Wii U) • Mini Mario & Friends: amiibo Challenge (2016, 3DS/Wii U)
Mario Bros. series
Mario Bros. (1983, arcade) • Mario Bros. Special (1984, computer) • Punch Ball Mario Bros. (1984, computer) • Mario Clash (1995, VB)
Wrecking Crew series
VS. Wrecking Crew (1984, VS) • Wrecking Crew (1985, NES) • Wrecking Crew '98 (1998, SFC)
Other
Mario Bros. (1983, G&W) • Mario's Cement Factory (1983, G&W) • Super Mario Bros. Special (1986, computer) • Mario & Wario (1993, SNES) • Wario Land: Super Mario Land 3 (1994, GB) • Hotel Mario (1994, CD-i) • Super Mario World 2: Yoshi's Island (1995, SNES) • Super Princess Peach (2005, DS) • New Super Luigi U (2013, Wii U) • Captain Toad: Treasure Tracker (2014, Wii U) • Super Mario Bros. 35 (2020, Switch) • Princess Peach: Showtime! (2024, Switch)
Reissues
Crazy Kong (1981, arcade) • Donkey Kong (1982, G&W) • VS. Super Mario Bros. (1986, VS) • Super Mario Bros. (1986, G&W) • All Night Nippon: Super Mario Bros. (1986, FDS) • Kaettekita Mario Bros. (1988, FDS) • Super Mario Bros. (1989, NGW) • Super Mario Bros. 3 (1990, NGW) • Super Mario World (1991, NGW) • Super Mario All-Stars (1993, SNES) • Donkey Kong (1994, NGW) • Super Mario All-Stars + Super Mario World (1994, SNES) • BS Super Mario USA (1996, SNES) • BS Super Mario Collection (1997, SNES) • Super Mario Bros. Deluxe (1999, GBC) • Super Mario Advance (2001, GBA) • Super Mario World: Super Mario Advance 2 (2001, GBA) • Yoshi's Island: Super Mario Advance 3 (2002, GBA) • Super Mario Advance 4: Super Mario Bros. 3 (2003, GBA) • Famicom Mini Series (2004, GBA) • Classic NES Series (2004-2005, GBA) • Super Mario 64 DS (2004, DS) • Virtual Console (2006-2016, Wii/3DS/Wii U) • Super Mario All-Stars Limited Edition (2010, Wii) • Luigi Bros. (2013, Wii U) • Super Mario Maker for Nintendo 3DS (2016, 3DS) • Captain Toad: Treasure Tracker (2018, Switch/3DS) • New Super Mario Bros. U Deluxe (2019, Switch) • Super Mario 3D All-Stars (2020, Switch) • Game & Watch: Super Mario Bros. (2020, G&W) • Super Mario 3D World + Bowser's Fury (2021, Switch) • Mario vs. Donkey Kong (2024, Switch)
Tech demos
snd_test (Unknown, SNES) • Super Mario 128 (2000, GCN) • New Super Mario Bros. Mii (2011, Wii U) • Mario vs. Donkey Kong Wii U demo (2014, Wii U)
Canceled games
Super Mario's Wacky Worlds (CD-i) • Mario Takes America (CD-i) • VB Mario Land (VB) • Super Mario 64 2 (N64DD)
Mario Kart series
Main
Super Mario Kart (1992, SNES) • Mario Kart 64 (1996, N64) • Mario Kart: Super Circuit (2001, GBA) • Mario Kart: Double Dash!! (2003, GCN) • Mario Kart DS (2005, DS) • Mario Kart Wii (2008, Wii) • Mario Kart 7 (2011, 3DS) • Mario Kart 8 (2014, Wii U) • Mario Kart Tour (2019, iOS/iPadOS/Android)
Arcade
Mario Kart Arcade GP (2005, arcade) • Mario Kart Arcade GP 2 (2007, arcade) • Mario Kart Arcade GP DX (2013, arcade) • Mario Kart Arcade GP VR (2017, arcade)
Other
Mario Kart Live: Home Circuit (2020, Switch)
Ports
Mario Kart 8 Deluxe (2017, Switch)
Tech demos
Mario Kart for Nintendo GameCube (2001, GCN)
Pitches / canceled games
VB Mario Kart (VB) • Mario Kart XXL (GBA) • Tesla Mario Kart game (Tesla vehicles)
Mario Party series
Main
Mario Party (1998, N64) • Mario Party 2 (1999, N64) • Mario Party 3 (2000, N64) • Mario Party 4 (2002, GCN) • Mario Party 5 (2003, GCN) • Mario Party 6 (2004, GCN) • Mario Party 7 (2005, GCN) • Mario Party 8 (2007, Wii) • Mario Party 9 (2012, Wii) • Mario Party 10 (2015, Wii U) • Super Mario Party (2018, Switch) • Mario Party Superstars (2021, Switch)
Handheld
Mario Party Advance (2005, GBA) • Mario Party DS (2007, DS) • Mario Party: Island Tour (2013, 3DS) • Mario Party: Star Rush (2016, 3DS) • Mario Party: The Top 100 (2017, 3DS)
Arcade
Super Mario Fushigi no Korokoro Party (2004, arcade) • Super Mario Fushigi no Korokoro Party 2 (2005, arcade) • Mario Party Fushigi no Korokoro Catcher (2009, arcade) • Mario Party Kurukuru Carnival (2012, arcade) • Mario Party Fushigi no Korokoro Catcher 2 (2013, arcade) • Mario Party Challenge World (2016, arcade)
Other
Mario Party-e (2003, GBA)
Sports games
Mario Golf series
NES Open Tournament Golf (1991, NES) • Mario Golf (1999, N64) • Mario Golf (1999, GBC) • Mobile Golf (2001, GBC) • Mario Golf: Toadstool Tour (2003, GCN) • Mario Golf: Advance Tour (2004, GBA) • Mario Golf: World Tour (2014, 3DS) • Mario Golf: Super Rush (2021, Switch)
Mario Tennis series
Mario's Tennis (1995, VB) • Mario Tennis (2000, N64) • Mario Tennis (2000, GBC) • Mario Power Tennis (2004, GCN) • Mario Tennis: Power Tour (2005, GBA) (Bicep Pump [Unknown, Adobe Flash] • Reflex Rally [Unknown, Adobe Flash]) • Mario Tennis Open (2012, 3DS) • Mario Tennis: Ultra Smash (2015, Wii U) • Mario Tennis Aces (2018, Switch)
Mario Baseball series
Mario Superstar Baseball (2005, GCN) • Mario Super Sluggers (2008, Wii)
Mario Strikers series
Super Mario Strikers (2005, GCN) • Mario Strikers Charged (2007, Wii) • Mario Strikers: Battle League (2022, Switch)
Famicom Grand Prix series
Famicom Grand Prix: F1 Race (1987, FDS) • Famicom Grand Prix II: 3D Hot Rally (1988, FDS)
Other
Golf (1984, NES) • Donkey Kong Hockey (1984, G&W) • Family Computer Golf: Japan Course (1987, FDS) • Family Computer Golf: U.S. Course (1987, FDS) • Baseball (1989, GB) • Super Mario Race (1992, GwB) • Mario Hoops 3-on-3 (2006, DS) • Mario Sports Mix (2010, Wii) • Mario Sports Superstars (2017, 3DS)
Ports
New Play Control! Mario Power Tennis (2009, Wii)
Canceled games
Super Mario American football game (GCN) • Super Mario Spikers (Wii)
Role-playing games
Paper Mario series
Paper Mario (2000, N64) • Paper Mario: The Thousand-Year Door (2004, GCN) • Super Paper Mario (2007, Wii) • Paper Mario: Sticker Star (2012, 3DS) • Paper Mario: Color Splash (2016, Wii U) • Paper Mario: The Origami King (2020, Switch)
Mario & Luigi series
Mario & Luigi: Superstar Saga (2003, GBA) • Mario & Luigi: Partners in Time (2005, DS) • Mario & Luigi: Bowser's Inside Story (2009, DS) • Mario & Luigi: Dream Team (2013, 3DS) • Mario & Luigi: Paper Jam (2015, 3DS)
Other
Super Mario RPG: Legend of the Seven Stars (1996, SNES)
Remakes
Mario & Luigi: Superstar Saga + Bowser's Minions (2017, 3DS) • Mario & Luigi: Bowser's Inside Story + Bowser Jr.'s Journey (2018, 3DS) • Super Mario RPG (2023, Switch) • Paper Mario: The Thousand-Year Door (2024, Switch)
Canceled games
Super Mario RPG 2 (N64DD) • Super Paper Mario (GCN)
Dr. Mario series
Main
Dr. Mario (1990, NES/GB) • Dr. Mario 64 (2001, N64) • Dr. Mario Online Rx (2008, WiiWare) • Dr. Mario Express (2008, DSiWare) • Dr. Luigi (2013, Wii U) • Dr. Mario: Miracle Cure (2015, 3DS) • Dr. Mario World (2019, iOS/iPadOS/Android)
Other
VS. Dr. Mario (1990, VS) • Dr. Mario (1993, GwB)
Remakes
Tetris & Dr. Mario (1994, SNES) • Nintendo Puzzle Collection (2003, GCN) • Dr. Mario & Puzzle League (2005, GBA)
Luigi's Mansion series
Main
Luigi's Mansion (2001, GCN) • Luigi's Mansion: Dark Moon (2013, 3DS) • Luigi's Mansion 3 (2019, Switch)
Arcade
Luigi's Mansion Arcade (2015, arcade)
Remakes
Luigi's Mansion (2018, 3DS) • Luigi's Mansion 2 HD (2024, Switch)
Tech demos
Luigi's Mansion (2000, GCN)
Educational games
Mario Discovery series
Mario is Missing! (1993, MS-DOS/SNES/NES) • Mario's Time Machine (1993, MS-DOS/SNES/NES) • Mario's Early Years! Fun with Letters (1993, MS-DOS/SNES) • Mario's Early Years! Fun with Numbers (1994, MS-DOS/SNES) • Mario's Early Years! Preschool Fun (1994, MS-DOS/SNES)
Mario Teaches Typing series
Mario Teaches Typing (1991, MS-DOS) • Mario Teaches Typing 2 (1996, MS-DOS)
Other
Family BASIC (1984, FC) • Super Mario Bros. & Friends: When I Grow Up (1991, MS-DOS)
Ports
Mario's Early Years! CD-ROM Collection (1995, MS-DOS)
Canceled games
Mario's Mission Earth (SNES)
Art utilities
Mario Artist series
Mario Artist: Paint Studio (1999, N64DD) • Mario Artist: Talent Studio (2000, N64DD) • Mario Artist: Communication Kit (2000, N64DD) • Mario Artist: Polygon Studio (2000, N64DD)
Other
I am a teacher: Super Mario Sweater (1986, FDS) • Super Mario Bros. Print World (1991, MS-DOS) • Mario Paint (1992, SNES) • Super Mario Collection Screen Saver (1997, PC) • Mario no Photopi (1998, N64) • Mario Family (2001, GBC)
Pitches / canceled games
Mario Factory ("Game Processor RAM Cassette") • Mario Paint 3D (N64) • Mario Artist: Game Maker / Graphical Message Maker / Sound Maker / Video Jockey Maker (N64DD)
Miscellaneous
Picross series
Mario's Picross (1995, GB) • Mario's Super Picross (1995, SFC) • Picross 2 (1996, GB) • Picross NP (1999-2000, SFC)
Games / other software
Mario's Bombs Away (1983, G&W) • Pinball (1984, NES) • Alleyway (1989, GB) • Mario's Egg Catch (1990, SMBW) • Luigi's Hammer Toss (1990, SMBW) • Princess Toadstool's Castle Run (1990, SMBW) • Mario the Juggler (1991, G&W) • Yoshi's Safari (1993, SNES) • Undake30 Same Game (1995, SFC) • Mario's Game Gallery (1995, MS-DOS) • Donkey Kong (1996, arcade) • Mario's FUNdamentals (1998, Windows) • Mario's Memory Madness (1998, Adobe Shockwave) • Crazy Counting (1999, Adobe Shockwave) • Dinky Rinky (1999, Adobe Shockwave) • Goodness Rakes (1999, Adobe Shockwave) • Melon Mayhem (1999, Adobe Shockwave) • Nomiss (1999, Adobe Shockwave) • The Lab (2001, Adobe Flash) • Mario Party 4 (2002, Adobe Flash) • Super Mario Fushigi no Janjan Land (2003, arcade) • Mario Pinball Land (2004, GBA) • Yakuman DS (2005, DS) • Mario Trivia (Unknown, Adobe Flash) • Mario Memory (Unknown, Adobe Flash) • Virus Attack! (Unknown, Adobe Flash) • Mini-Mario Factory Game! (2004, Adobe Flash) • Bill Bounce (2004, Adobe Flash) • Mario Party 7 Bon Voyage Quiz (2005, Adobe Flash) • Super Mario Strikers Advergame (2005, Adobe Flash) • Dr. Mario Vitamin Toss (2005, Adobe Flash) • Bowser's Lair Hockey (2005, Adobe Flash) • Heads-Up (2005, Adobe Flash) • Parasol Fall (2005, Adobe Flash) • Dribble Skillz (2006, Adobe Flash) • Superstar Shootout (2006, Adobe Flash) • Mario vs. DK 2: Cannon Kaos (2006, Adobe Flash) • Super Paper Mario Memory Match (2007, Adobe Flash) • Are You Smarter Than Mario? (2008, Adobe Flash) • Mario Calculator (2009, DSiWare) • Mario Clock (2009, DSiWare) • Play Nintendo activities (2014–present)
Tech demos
Mario Demo (1994, VB) • morphdemo (Unknown, N64) • Peach's Castle (2002, GCN) • Mario's Face (Unknown, DS) • DSpeak (2005, DS) • Koopa Troopa Forest (Unknown, Wii) • Mario FPS (Unknown, Wii)
Pitches / canceled games
Mario's Castle ("Project Atlantis") • Boss Game Studios' Super Mario game pitch (Unknown) • Retro Studios' Boo project (DS) • Mario Motors (DS)
Crossovers
Game & Watch Gallery series
Game & Watch Gallery (1997, GB) • Game & Watch Gallery 2 (1997, GB) • Game & Watch Gallery 3 (1999, GBC) • Game & Watch Gallery 4 (2002, GBA)
Super Smash Bros. series
Super Smash Bros. (1999, N64) • Super Smash Bros. Melee (2001, GCN) • Super Smash Bros. Brawl (2008, Wii) • Super Smash Bros. for Nintendo 3DS (2014, 3DS) • Super Smash Bros. for Wii U (2014, Wii U) • Super Smash Bros. Ultimate (2018, Switch)
Itadaki Street series
Itadaki Street DS (2007, DS) • Fortune Street (2011, Wii)
Mario & Sonic series
Mario & Sonic at the Olympic Games (2007, Wii) • Mario & Sonic at the Olympic Games (2008, DS) • Mario & Sonic at the Olympic Winter Games (2009, Wii) • Mario & Sonic at the Olympic Winter Games (2009, DS) • Mario & Sonic at the London 2012 Olympic Games (2011, Wii) • Mario & Sonic at the London 2012 Olympic Games (2012, 3DS) • Mario & Sonic at the Sochi 2014 Olympic Winter Games (2013, Wii U) • Mario & Sonic at the Rio 2016 Olympic Games (2016, Wii U) • Mario & Sonic at the Rio 2016 Olympic Games (2016, 3DS) • Mario & Sonic at the Rio 2016 Olympic Games Arcade Edition (2016, arcade) • Mario & Sonic at the Olympic Games Tokyo 2020 (2019, Switch) • Mario & Sonic at the Olympic Games Tokyo 2020 - Arcade Edition (2020, arcade)
Mario + Rabbids series
Mario + Rabbids Kingdom Battle (2017, Switch) • Mario + Rabbids Sparks of Hope (2022, Switch)
Other
Excitebike: Bun Bun Mario Battle (1997, Satellaview) • NBA Street V3 (2005, GCN) • Dance Dance Revolution: Mario Mix (2005, GCN) • SSX on Tour (2005, GCN) • Tetris DS (2006, DS) • Captain Rainbow (2008, Wii) • Art Style: PiCTOBiTS (2009, DSiWare) • Nintendo Land (2012, Wii U) • Puzzle & Dragons: Super Mario Bros. Edition (2015, 3DS)
Tech demos
Chase Mii (Unknown, Wii U)
Pitches / canceled games
Super Mario/Rabbids crossover adventure game (Wii) • DDR MARIO 2 (Wii)