Tiny Spinies
From the Super Mario Wiki, the Mario encyclopedia
Jump to navigation
Jump to search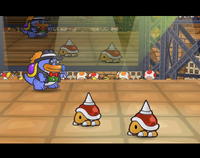 "Wheeee! It's gonna be fun poking at you!"
The Tiny Spinies, a.k.a. the Thorny Demons, is a fighting team that Mario faces in the Glitz Pit in Paper Mario: The Thousand-Year Door. The team consists of two Red Spike Tops, one of whom is named Spiky Joe.
The Tiny Spinies are ranked ninth in the Glitz Pit.
Statistics
[
edit
]
Paper Mario: The Thousand-Year Door

Enemy

Red Spike Top

Max HP

5
Attack
3
Defense
4
Location(s)
Glitz Pit
Sleep?
75%
Dizzy?
75%
Confuse?
75%
Tiny?
90%
Stop?
90%
Soft?
95%
Burn?
0%
Freeze?
75%
Fright?
60%
Gale Force?
30%
KO?
95%
Moves
Shell Toss (3)
Level
17
Exp. points
0
Coins
1 - 2
Items
None
Bestiary
        35        
Log
The sturdiest of all the Buzzy Beetles, a Red Spike Top is impervious to fire and explosions. Plus, the spike on its back protects it from being flipped over.
Tattle
That's a Red Spike Top. It's the most well protected of the Buzzy Beetle species. Max HP is 5, Attack is 3, and Defense is a whopping 4. Yup... This guy is HARD! It has really high Defense, and fire and explosions don't hurt it at all. If we can just find a way to flip it over, its underside has Defense of 0... And that spike... What a pain! There's gotta be a way to flip it over...
Names in other languages
[
edit
]
Tiny Spinies
[
edit
]
Language
Name
Meaning
Japanese
ザ・トゲトゲン
Za Togetogen
"The Spiky"s; togetogen derives from toge, "spike"
Spanish
Los Pinchos
The Spikes
German
Pickel-Käfer
Pick Beetles
Italian
Gli Aculei Posseduti
Possessed Thorns
Thorny Demons
[
edit
]
Language
Name
Meaning
Japanese
トゲをもったアクマたち
Toge o Motta Akuma Tachi
The Spiked Demons