The Underwhere (bar)
From the Super Mario Wiki, the Mario encyclopedia
Jump to navigation
Jump to search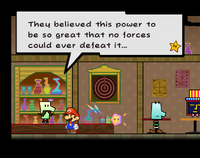 This article is about the Flipside bar in Super Paper Mario. For the world visited in Chapter 7 of the same name, see The Underwhere.
The Underwhere is a bar (described in-game as a "beveragarium") located on the first basement floor of Flipside, in the game Super Paper Mario. It is named after The Underwhere, the realm of the dead which can also be visited during the course of the game.
The bar specializes in serving milk, although Mario himself cannot purchase any during the game. Instead, he can talk to the barkeeper, Garson, for gossip. Each story costs ten coins, and provides insight into the backstories of some of the other characters and shed light on several aspects of Super Paper Mario's storyline, such as the histories of the Pixls and the Tribe of Ancients. After Mario defeats Super Dimentio, The InterNed will appear resting on a table in the bar. He will offer to play any song that Mario or the other heroes have "heard" (the background music) for ten coins each. Also, hidden behind the wall is a golden Warp Pipe that leads to The InterChet's Flipside Arcade.
The Underwhere's Flopside counterpart is The Overthere, which serves coffee rather than milk, is run by Carson, and is named for a specific region of The Underworld, where the sinless spend their afterlives.
Names in other languages
[
edit
]
Language
Name
Meaning
Japanese
アンダーランド
Andārando
The Underwhere