The 'Shroom
:
Issue 132/Pipe Plaza
From the Super Mario Wiki, the Mario encyclopedia
Jump to navigation
Jump to search

Director's Notes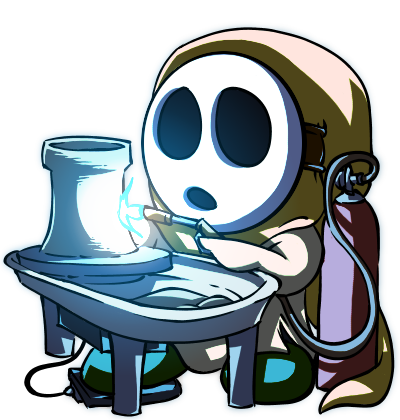 Written by: The Pyro Guy (talk)
How do you do, fellow readers? I'd like us all to think back to the previous Pipe Plaza, back in February. That seemed pretty up to date, right? Well this time, a whole four weeks later, there's all this new stuff that we've got; new articles, reports, summaries and more being brought to you. So that's neat! I hope you enjoy this brand new issue.
Anyway, we're also bringing some news! We've got some old but new arrivals; we're seeing the return of The 'Shroom Report and Anniversary Announcements, by LudwigVon (talk) and Lakituthequick (talk), respectively. It's great to have both of these back so I hope you enjoy them! And I gotta say, right now Pipe Plaza is looking preeeetty meaty with 8 whole sections on offer. That's the good stuff; you guys are the best!
Section of the Month
Congratulations to LudwigVon, Superchao and Alex95!
Pipe Plaza SECTION OF THE MONTH
Place
Section
Votes
%
Writer
1st
Poll Committee Discussion
7
36.84%
LudwigVon
2nd
Interview
6
31.58%
Superchao
3rd
NIWA Spotlight
5
26.32%
Alex95
---
New Articles
Hello, everyone! I'm LudwigVon, your Statistics Manager, here to present you a new edition of New Articles. A section where I give you an up to date about all the new articles created within the past month. It is always a pleasure to see the creation of new articles that will increase the information found on the Super Mario Wiki. When creating new articles, be sure to keep in mind the Manual of Style.
Without further ado, let's take a look at those new articles.
Anniversary Announcements
Written by: Lakituthequick (talk)
"I'm planning to submit a single emoji, that will express so many feelings that it makes people fall in love."

—2257

(

Talk Page ·

Forum Profile

)
And welcome back to Anniversary Announcements! The place where we review the past so you don't have to! Can you believe this is already the fourth consecutive year I'm writing this? Neither can I!
For the people that are new to this section, Anniversary Announcements is a section that tells you about the behind-the-scenes developments behind the Mario Awards, the yearly event that celebrates the anniversary of our beloved Wiki. This includes the Awards themselves, tournaments, prizes, and all other things that influence the event.
The Awards Committee
First of all, the people that will be going through all the awards, the Awards Committee! These awesome fellows have been selected through an application process this year.
A full list of all members in this years Committee can be found here. You can contact any of these people if you have questions, and if they don't know the answer, they will pass it through as needed.
For questions or suggestions relating to Anniversary Announcements, you can contact me (Lakituthequick (Talk Page · Forum Profile)).
A new subsection within Anniversary Announcements will introduce all members of the committee a bit better to you! Read more about that further down this section.
The Thwacks
Plans have been made to start an internal definition list for the awards, as every so often an award keeps questioning people what exactly defines it and what nominees it should get.
A new staff role, the Awards Record Keeper, has been formed, of which the role will be to check and maintain consistency, accuracy and overall quality in information recorded in the documents and award results. This role will be fulfilled by... me!
Several tournament ideas have also been coined on the public Awards board on the forums, and some discussion has happened during the first meeting, but nothing has been solidified yet. Stay tuned!
Awards
In this part of Anniversary Announcements, I will list all awards that have been discussed, and changes made to them. This includes existing awards, completely new ones and removals, and the additions, removals and changes within each award.
M29 Favorite Classic Game and M30 Favorite Modern Game will be shifting the focus of the consoles they encompass. The Nintendo GameCube and Game Boy Advance will be moved from Modern to Classic. Which games will and will not be carried over will be decided on later.
M9 Favorite DLC is being considered to be changed to encompass add-on content in general.
Talk about sufficiently representing Super Mario Odyssey has been make, but no major changes have yet been put through. Several new award suggestions, including things like Favourite Costume and Capture, have been coined.
Refer to this document for a full list of nominees.
Mario Awards
M1
Best Sound Design
Add
Super Mario Odyssey
Mario + Rabbids Kingdom Battle
Remove
Mario & Luigi: Paper Jam
Paper Mario
Super Mario World 2: Yoshi's Island, Paper Mario: The Thousand-Year Door, Super Mario 64, Super Mario World, Super Mario Galaxy, Super Mario Galaxy 2, Mario & Luigi: Bowser's Inside Story, Super Paper Mario, Donkey Kong Country 2: Diddy's Kong Quest, Super Mario 3D World, Donkey Kong Country: Tropical Freeze, Mario Kart 8 / Mario Kart 8 Deluxe, Mario & Luigi: Dream Team, Paper Mario: Color Splash, Super Mario Odyssey, Mario + Rabbids Kingdom Battle
M2
Favorite Mario Kart Game
Super Mario Kart, Mario Kart 64, Mario Kart: Super Circuit, Mario Kart: Double Dash!!, Mario Kart DS, Mario Kart Wii, Mario Kart 7, Mario Kart 8 / Mario Kart 8 Deluxe
M3
Favorite Mario Platformer
Add
Super Mario Odyssey
Super Mario 64 / Super Mario 64 DS, Super Mario Galaxy, Super Mario Galaxy 2, Super Mario Bros., Super Mario Bros. 3, Super Mario World, New Super Mario Bros., New Super Mario Bros. Wii, Super Mario Sunshine, Super Mario 3D Land, New Super Mario Bros. U / New Super Luigi U, Super Mario 3D World, Super Mario Run, Super Mario Odyssey
M4
Favorite Mario Kart Course
Bowser's Castle (Mario Kart 64), Rainbow Road (Mario Kart 7), Wario Colosseum, Waluigi Pinball, Airship Fortress, Mushroom Gorge, Coconut Mall, Maple Treeway, Electrodrome, N64 Rainbow Road (Mario Kart 8), Mount Wario, Mute City, Animal Crossing, Baby Park, Big Blue
M5
Favorite DK Game
Donkey Kong Country, Donkey Kong Country 2: Diddy's Kong Quest, Donkey Kong Country 3: Dixie Kong's Double Trouble!, Donkey Kong 64, Diddy Kong Racing, Donkey Kong Country Returns / Donkey Kong Country Returns 3D, Donkey Kong Jr. Math, Donkey Kong (Arcade/NES), Donkey Kong Country: Tropical Freeze, Donkey Kong Jungle Beat, Donkey Kong '94 (Game Boy)
M6
Favorite Wario Game
Wario Land: Super Mario Land 3, Wario Land 3, Wario Land 4, WarioWare, Inc.: Mega Party Game$!, WarioWare: Twisted!, WarioWare: Touched!, WarioWare: Smooth Moves, Wario: Master of Disguise, Wario Land: Shake It!, WarioWare: D.I.Y., Wario World, Game & Wario, Wario Land II
M7
Favorite Yoshi Game
Super Mario World 2: Yoshi's Island, Yoshi's Island DS, Tetris Attack, Yoshi's Story, Yoshi Touch & Go, Yoshi's Cookie, Yoshi, Yoshi Topsy-Turvy, Yoshi's New Island, Yoshi's Woolly World / Poochy & Yoshi's Woolly World
M8
Favorite Art Style
Retro style sprites, Yoshi's Island style, Donkey Kong Country style, Main series 3D style, Paper Mario style, Mario & Luigi style, Yoshi's Story style, Yoshi's Woolly World style, Wario Land: Shake It! style, Super Mario RPG style, Super Mario Strikers style, WarioWare style
M9
Favorite DLC
The Legend of Zelda × Mario Kart 8, Animal Crossing × Mario Kart 8, Mercedes-Benz × Mario Kart 8, New Super Luigi U, Peach's Castle stage (SSB4), Super Mario Maker stage (SSB4), Super Mario Mash-Up Pack (Minecraft)
M11
Favorite Major Character
Mario, Luigi, Princess Peach, Yoshi, Wario, Donkey Kong, Bowser, Rosalina, Bowser Jr., Toad
M12
Favorite Supporting Character
Add
Pauline
Cappy
Princess Daisy, Waluigi, Toadsworth, Diddy Kong, Professor Elvin Gadd, Toadette, Captain Toad, Birdo, Kamek, Poochy, Pauline, Cappy
M23
Favorite DK Character (removed)
This award was removed because the results over the past few years have gotten stale, and thus can make place for a new, more interesting award.
M24
Favorite Wario Character (removed)
This award was removed for the same reasons as M23.
Committee Interviews
Welcome to Committee Interviews! In this part of Anniversary Announcements, I will do short interviews with the members of the Awards Committee, so you can get to know them a bit better!
This month: director and Mario Awards host Anton, sub-director and Fail Awards host Turboo, and Community Awards host Meta Knight!
Anton
| | |
| --- | --- |
| | You joined the AC back in 2011. What gave you the intention of doing that? |
| | At the time I was still fairly new to the community. Like, I've been in it for a few years by that point but haven't really involved myself in anything and I just kinda...fell into the AC, somehow. I don't even remember how but I was suddenly joining the meetings. It was kinda my first attempt to do something more than physically exist. |
| | It sure is a good way to get to know people! |
| | Then in 2014 you first ran for director in 2015. What made you make that decision? |
| | I think it was just a factor of stepping upwards. |
| | Turb had been director for a few years now and wasn't really feeling it anymore at the time, and I remember feeling all kinds of "well I'll do it!" since by that point I had experience with hosting UP Awards and such. |
| | It felt more like a community role than being tucked away in chat all the time. |
| | You kinda grew into it and wanted to level up basically, and Turb teached you well. |
| | What is the most fun part of your job in the organisation? |
| | That's hard to answer because I wouldn't say there's a lot of fun to be had with running it, but there's certainly a lot of gratifying parts. |
| | Everything can be very tedious and stressful, with a ton of information and stuff snowballing until the very end, and by the time the Ceremony happens it's just like, a relief, with my favorite part being everyone's reactions to the presentations. |
| | Even if they're not my own presentations, I still feel it. |
| | There is a lot of quality material to react to after all. |
| | Are you planning on running again next year, or is it too early to ask that? |
| | It's a bit too early at the moment; I've just moved across the country and haven't gotten a job here yet, and that could affect my schedule and availability a lot. |
| | Or it totally couldn't! |
| | But in the last few years something I've focused on with the whole Anniversary event was like....streamlining it, making it not so much of an enormous undertaking. |
| | And that's something that's allowed me to Direct this current year, and potentially more. |
| | Would you say you succeeded on that? Or are there still some parts you would like to streamline more? |
| | Oh yeah, definitely, I wasn't ripping my hair out at all last year and the whole thing kinda felt incomplete without that lol, like I had forgotten something. |
| | The only parts left that I feel need to be easier are managing all of the documents and forms, but that feels more like on a personal handling level. |
| | Like, I'm sure there's easier ways I could be managing all of my notes and information, but it's been working for me. |
| | That is good to hear! With that I am through my prewritten questions! Is there anything you'd like to add? |
| | Not too much more. First meeting is in a few days and I've been working on setting up talking points and notes for those. |
| | Super Mario Odyssey sure has given us a ton to work with. |
| | It has, but that keeps the awards fresh. |
| | Well, I'd like to thank you for your time, good luck this season! |
| | Thanks! |
Turboo
| | |
| --- | --- |
| | You joined the AC back in 2011. What was your reason for doing so? |
| | It's been a while, but I think it was just that I wanted to get more involved in the community and had positive experiences commenting on and watching the awards in the previous years. |
| | You became director the following year. How did that go? |
| | Well, originally Ralph had approached me that year about being the sub-director. I accepted, and then there was the whole fiasco about him being unwilling to budge on his decisions. I want to say other people suggested for me to take over as a result of being the sub-director, and I accepted despite not really knowing what I was doing, lol. |
| | I was really impulsive back then, so I feel like I made some pretty bad decisions in retrospect. The awards happened without exploding, though, so that was good. |
| | Sounds pretty exciting! Ralph did see something in you then, otherwise he wouldn't have selected you as sub-director. |
| | What is the most fun part of your job in the organisation? |
| | Hmm... I dunno, probably just getting to watch the awards play out at the end as a result of everyone's work. Like, a lot of the satisfaction and fun is having it go off mostly hitchless. I feel like Anton's done a really good job of that since he's taken the job. |
| | (Also tournaments are fun to play in.) |
| | I can see why that is satisfying. |
| | Are you planning on running again next year, or is it too early to ask that? |
| | I usually like to see what my schedule has in store; I think both Anton and I have usually decided sometime after the ceremony ends for the year, since we have a better idea then. |
| | I will say I'm not opposed to coming back for another year, though. I'm used to the process and it's pretty fun. |
| | Do you have some goals that you had in mind when you first started, and have you achieved them? |
| | I wish I could say I had anything specific in mind, but I think I just wanted meetings to be streamlined more and for everyone to have a good time with the awards process in general. |
| | We get our workload typically finished in the middle of... April or May, I think? So I'd say that first one has definitely been achieved. As for the second, I'd hope we achieved that, lol. |
| | I appreciate how hard a lot of people work to make sure the ceremony goes off without a hitch. It's not just Anton and I/the other directors, it's everyone who's making presentations too. I feel like they've been getting better each year. |
| | There is definitely some excellent quality presentations every year. |
| | With that I am through my prewritten questions! Is there anything you'd like to add? |
| | I dunno, really! This was a fun interview, though. |
| | It's weird to think awards season is starting up again. August feels like just yesterday. |
| | Thank you! I'd like to thank you for your time, and wish you good luck this season! |
| | Thanks! We have a lot of things to retool this year what with Odyssey being released, but I know we can tackle all of it. |
| | Definitely. |
Meta Knight
| | |
| --- | --- |
| | You joined the AC in 2016. What was your reason for doing so? |
| | I was becoming more deeply attached with the community, so I wanted to be more involved and this was the next step. I was also closer with Anton at that time so that also had some influence. |
| | Because you became director for The 'Shroom, and the 'Shroom and User Awards merged into the Community Awards, you automatically became the host of that the following year. How did you feel and go about that? |
| | I knew that the 'Shroom Director was the de-facto host of 'Shroom Awards, but I didn't want to let anyone down. I was informed by Turboo and Anton about the tasks I would have to do. I felt that great care was necessary for the Community Awards because it's celebrating, well, the community. I was nervous at first but with guidance and reviewing previous years I became more familiar with the role. |
| | Would you say running The 'Shroom helped with that? |
| | I think it did because it allowed me to develop leadership and managing skills that are useful for hosting the Community Awards as well such as sending results to presenters, and making sure the ceremony runs smoothly. |
| | It sure does! |
| | What is the most fun part of your job in the organisation? |
| | It was certainly the ceremony. Watching everyone be excited for when I start the ceremony, reading all of the creative presentations, and in general just celebrating a community that myself, and I'm sure many others hold near and dear. |
| | There is some creative presentations every year! |
| | Did you have some goals in mind when you first started, and have you achieved them? |
| | I didn't have many goals other than to do a good job. I had a lot of doubt in myself when I started, but I would say I was able to do it justice. |
| | With that I am through my prewritten questions! Is there anything you would like to add? |
| | Not really, but I'm looking forward to another great year! |
| | That is a good spirit to keep! |
| | Thank you! |
| | Well, with that I'd like to thank you for your time, and good luck this season! |
| | Thanks for having me! |
As you can see, a lot of great minds think alike! The Awards Committee is a great way to extend your roots in the community.
And with that we have reached the end of our first Anniversary Announcements in 2018! I hope you enjoyed it, and I hope to see you again next month! Buh-bye!
All information above was correct as of 11 March 2018.
Upcoming Game
Dragon Marked For Death
Developer
INTI CREATES CO., LTD.
Publisher
INTI CREATES CO., LTD.
Platform(s)
Nintendo Switch
Release date
2018?
Genre
Action, Role-Playing
Rating(s)

| | |
| --- | --- |
| ESRB: | - Rating Pending |

Input

Nintendo Switch:

Joy-Con

Nintendo Switch Pro Controller
Greetings everyone! I'm Alex95 and welcome to this next 'Shroom issue of Upcoming Game! This month's focus is on an INTI CREATES game, Dragon Marked For Death. The game was originally announced back in 2011 as a Nintendo 3DS exclusive, but went dormant for years. It was brought back for a Winter 2017 release, but was pushed back to sometime 2018 to give the developers more time to smooth things out, and will be a Nintendo Switch exclusive. I've never heard of this game until now, so let's see what this game is together, shall we?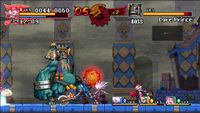 Dragon Marked For Death is handled by the same team that created other titles like Mighty No. 9 and the Gunvolt series, but also had a hand in developing the Mega Man Zero titles since 2002. The game's staff is also made up of veteran programmers that have been around since the start of the team's creation, who have worked on many titles, including Ryota Ito, who directed the Mega Man Zero series and Mega Mans 9 and 10. With an accomplished team like that, this game's got to be good, right?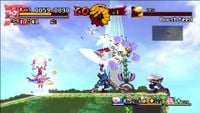 Dragon Marked For Death's story revolves around a group of characters who each bear the curse of the Dragonkin. This so-called "curse" was created when these four characters made a pact with some dragons to give them special powers. That's…all I can find on the story, as details regarding the game is scarce, even on the game's main site. From what I can put together, four characters (a Princess, Warrior, Shinobi, and Witch) each have their own set of skills that can be utilized to progress through the levels and reach specific areas. The Princess is the well-balanced character, the Warrior is the tank character that can deal and take plenty of damage, the Shinobi is a fast and skilled character, and the Witch relies on magic to heal their allies and hurt their foes. If all secrets are to be found and all objectives are to be completed, every character will have to be relied on.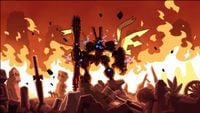 But that doesn't mean one person has to cycle through four characters! This game can be played simultaneously with up to four buddies or people on the internet! Think New Super Mario Bros. Wii or New Super Mario Bros. U, but with RPG elements and online play. Oh, yeah, this is a role-playing game, too. Continuing to fight enemies, taking on quests, and fighting or buying weapons and armor will help power up your characters. And speaking of quests, there are said to be a ton! Thirty main quests with plenty of optional quests and levels that vary between 200 to 400 screens, this game is going to take a long time to one hundred percent! But if players work together, you'll complete everything in no time (or you can fight it out to see who gets the reward)!
Thoughts
Though there may be limited details on this game at the moment, the game looks great and will certainly keep players entertained for a while. If you want an immersive, multi-player experience, then this would be the game for you! We may have to wait a while, however, but you can learn more on the official site.
Interview
Hello, 'Shroom readers! It's Superchao, once again here with another interview to bring you more information about someone you probably know, but probably don't know as well as you will after this interview coaxes some more out of them. Isn't it neat to have real introductions again?
For this month, I'm interviewing Stargazing! Originally joining as "thatmariochick", Star has been around since the middle of 2013... although he didn't really kick into gear until mid-2014. After that, he really took off, settling into the community, forging connections with users both old and new, and slowly becoming someone who you couldn't imagine Marioboards without - even joining the Awards and Poll Committees over time. And for that reason, I've decided to find out more about him for you and for me! Now that I've given you the basic overview, let's get to the meat of this section - the interview itself!
The Interview:
Superchao: Hello, 'Shroom readers! Superchao here once again to ruthlessly interrogate politely interview a member of the community about everything I can think of!
Superchao: And for this month, my luckless subject is none other than Stargazing.
Stargazing: Ahaha... I wouldn't call it luckless! I think it's very lucky to be here tonight.
Superchao: That's what they all say. At first.
Stargazing: No matter how it goes, I'm here, and even if I wanted to escape, you have me by an iron grip, so I'm ready to do this!
Superchao: Excellent, we're in agreement! Then let's begin with the obvious starter question, which remains the obvious for a reason. How did you personally find and subsequently join the wiki? Or, well, forum in your case!
Stargazing: Yep, I did join the forum first. The wiki is the boring one, I joined for an Awards presentation, but the Boards... isn't that much more interesting. I was 12, I was kind of bored, and I wanted to look for one of those "make your own character" little image creators, but for Mario. The only result that came up was for the Boards, so I decided to make an account and make a post in the thread. I don't exactly know what happened and how everything spiralled out of control after that... but it's been about 4.5 years now and I've still stuck with it, so it's obviously been a good experience through and through.
Stargazing: I know I know, 4.5 years isn't that much to some people, haha. But it's still a longer time than I've been anywhere else.
Superchao: You were 12? I'm surprised you weren't totally insufferable as a kid and then got better.
Superchao: Also that thread is really good at attracting people who do a post and then never come back. I'm honestly surprised it stuck!
Stargazing: Yeah, that was 2013, so I should have been 12... I kind of think I was an insufferable kid but most of it was kind of hidden under the fact that I changed usernames.
Superchao: It's for the best. "thatmariochick" would not only be outdated, it's also very, very... Obviously a kid.
Stargazing: Ah wow, you remembered! Ahaha, I was expecting to have to elaborate, but I guess I should have expected that one.
Superchao: One of the most important parts of the interview is the pre-research!
Stargazing: That's a fair point, can't have an interview if you know nothing about the person. That might end up going a bit sour. But it could also be fine! It's one of those things you either play off or don't.
Superchao: It really is. Now speaking of my pre-research, you didn't really become active until around spring 2014, and... pretty much stayed that way since, as opposed to making the occasional drive-by post. What changed?
Stargazing: Hm... I unfortunately can't say I remember the reason for my drive in activity. Maybe I have to be the one to research myself, now... I speculate I may have noticed the awards were going to be a thing and subconsciously stuck around, or I just wanted to talk more about Mario, but I really couldn't say right off the top of my head. Let's see, though...
Stargazing: I'm noticing as I'm scrolling through that I posted in bursts. I had a burst in early August and a burst in October. Maybe that could be part of it too.
Superchao: Perhaps you just needed to turn 13 and consider yourself old enough, who knows
Stargazing: ... Honestly, that makes the most sense to me, as weird as it sounds. I used to be an extremely heavy follower of rules, and the 13 year old internet law exists, so a subconscious voice saying "hey, you're technically here illegally" probably existed. I was... really strange.
Stargazing: But, I don't have that anymore, to the same extent.
Superchao: It's okay! I spent a year and a half lurking GameFAQs until I joined on my 13th birthday because I was a huge stickler for the rule about it, even though I missed out on posting in things I wanted to post in. You're not alone here.
Stargazing: Ah man, I don't feel alone anymore! You actually waited to join... I didn't do that because I really wanted to play my character-simulator-that-was-actually-a-forum-post-visualizer. :P
Superchao: Truly, that topic is inexplicably incredibly tempting to people who aren't part of the forum, and unappealing to people who are. How bizarre.
Stargazing: Yeah now that I'm here... I really have no interest in it, honestly. It's a really strange phenomenon, we should look into it.
Superchao: Quickly! We need to advertise that thread in the wild, and then observe from the bushes without interfering. It'll be like a safari, except really weird!
Stargazing: A really weird safari... well, doesn't sound much different than the average Thursday. I'm in, let's round up and do this sometime this week, haha.
Superchao: Nice. But first, more questions! So... I /probably/ don't need to ask "why did you pick thatmariochick" as a name. It's kind of obviously a starter-level name, the kind of thing anyone would pick when they're 12 by virtue of being 12.
Superchao: Now, why'd you change to Stargazing? After all that's the only name 99% of people even remember.
Stargazing: Yeah, that one you can split up into "I was a girl, and I liked Mario, so hey I'm that mario chick"! Clever when you're 12, not so much after it. Stargazing was picked for the same reason I had Astronomical as a display name in the past (but it didn't stick): I really really love space. My ideal career path was in astrophysics, but it changed because I really hate physics after experiencing it, and I really have a fascination for all the Cool Stuff that has happened or can happen there. It's like I'm Kaito Momota, except Lord Bowser took him as a theme so I can't be.
Superchao: I can't believe LB stole your spirit ronpa. How cruel!
Superchao: Have you always been interested in space just in general, or did stuff in particular inspire it?
Stargazing: It wasn't always there, but it's been there for a long time now, and I don't think any certain events in the community triggered it. In fact, I'd go so far as to say most of my current interests except space were discovered because of this community.
Superchao: Interesting! Like what? Perhaps................ Mario?
Stargazing: Ahahaha okay no not that one
Stargazing: The one lots of people know and call me a weeb for is Love Live. That one I discovered based off of the forum theme fad, where I picked Nozomi to fit in. Time went by, and I watched the entire thing, and because of it, I found similar interests in other things, so they all link back here in the end.
Superchao: So it's NEX all over again, except unlike him you didn't discover your one true waifu for laifu by sheer luck and accident. (For more information, check out my interview with NEXandGBX in the January 2018 issue!)
Stargazing: Technically not an accident but she was one of the only ones left... so it could be a lucky streak. But if we're going meta, check out everything I've ever written ever! Please. Do it.
Superchao: At least you seem to like her well enough still. That's pretty nice!
Superchao: Am I right in assuming Danganronpa is another series you like based on the community? Because it sure feels that way.
Stargazing: Yep, that's one of them too. It's a very very VERY painful series to have gotten into, but the community got me into it.
Superchao: Soul crushing! Fun gameplay! Good characters! And everyone has their own personal favorites! Like you.
Stargazing: What's really good about series like Danganronpa, and series like Love Live, is that not only can you have personal favourites, but you can see exactly why others would like other characters. It's all very calm and peaceful, until the shipping breaks out. Bbbbbbbbut it might get boring to talk about ships all day.
Superchao: We don't talk about shipping in this interview. That's extra heresy.
Superchao: By which I mean it's probably not interesting enough to discuss. So instead...
Superchao: The community has clearly had a major effect on you, correct? Your interests, your friendships, your self-identity?
Stargazing: Not the last part. My self-identity is entirely based on my exploration, although the community did jumpstart it when someone mentioned a term I didn't know and then I went to Google... where I stayed for about 10 hours with an identity crisis. BUT I discovered so many of my interests from here, and yeah, I did make a lot of friends along the way. Like, so many friends. I talk to so many people here on a multiple-times-a-day basis, I've formed lots of bonds and relationships, and I don't regret any of it.
Superchao: Oh, I never knew that first part! See, folks? The interview teaches all of us.
Superchao: But in seriousness, that's one of the main reasons I even considered you for this interview. You're practically an integral part of the community at this point.
Stargazing: Yeah, I'm not 100% open about "hey! the community lowkey gave me an identity crisis!", but it happened and I'm fine with it so there's no use really hiding it. And ah... I guess that doesn't surprise me, even though it did startle me a bit to hear that I'm really tight in the community. It's not one of those things I really think about like "yeah, I'm important", I just kind of... talk with people and have everything form through time.
Superchao: That's really the only way to do it. You can't force something like that, it just doesn't work out.
Superchao: I have noticed, however, that you're very clearly one of the people who's here for the community and NOT the wiki. In terms of not editing the wiki, at least. Is it simply a lack of interest, or something more?
Stargazing: Yeah, there are horror stories of trying to force a bond that wasn't meant to exist.
Stargazing: Oh, right, my non-existent wiki history. Ahahaha. It is unfortunately simply a lack of interest, but also slightly mixed with intimidation that I can't really shake off. The wiki is kind of... scary. I need to recall information from things that I don't quite have. So, it's just been unfortunately cast as my Awards presentation sign-up account until I actually start writing full-time for the Shroom.
Superchao: It's alright, the wiki is... kind of insular, at times? It can feel hard to pry your way into with all the established people and their legion of edits.
Superchao: talking shit about the wiki on the wiki, HOT TAKES
Stargazing: It's not even that, for me. It's just the piecing together information part, because I honestly don't have a lot of it. But, I totally get how it being insular can be a problem for someone else.
Stargazing: D R A M A
Superchao: Do what I do: Buy a bunch of guides when you're ten, realize you never threw them out, and then dig them up. ...Wait, it might be a bit hard to do that now.
Stargazing: To do that, I'd have to be 7 years younger. ... Seems legit.
Superchao: Alternatively, you could just have an interest in a game nobody talks about, and then spend months procrastinating on actually adding the information. SOMEDAY, GOLF PAGES, SOMEDAY
Stargazing: Super Paper Mario probably doesn't count, right?
Superchao: Sadly, no.
Stargazing: Okay, I can't even say I have an interest in it. It's just the one Paper Mario I've played, excluding the controversial Sticker Star.
Superchao: Good thing we excluded that. There's a reason for the controversy, after all!
Stargazing: Sticker Star has as much content as Bowser's dialogue in that game, to be honest haha. But, even through all the hate, I can understand why someone would like it. It still has the paper aesthetic, which is added onto by the addition of using cardboard for props. But, I also 100% understand why people DON'T like it.
Superchao: It felt like a good try, but it was missing a lot of the spark. Such is the fate of a game that Grand High Lord Miyamoto turned his dark gaze upon.
Stargazing: It deserved better, but got treated like dirt.
Superchao: Alas. I take it you mainly stay here entirely for the community, then?
Stargazing: Yeah, that sounds right. The community is a very strong asset to my life so I couldn't pack up and leave it. The friendships I've made and relationships I've had are strong and will probably last a good chunk of my lifetime. But, for other reasons, I also like to see what people are talking about in the boards, except on the Marioverse, funnily enough.
Superchao: Marioverse practically feels like an unrelated board half the time. There's Literally Every Other Board, and then Marioverse.
Stargazing: "Hey, you're on the Mario Boards. Do you like posting in the Marioverse?" "Nah." "what" Ahaha, but yes, it feels really off to me, sometimes. There are some good and bad parts to it, but the central part to a forum always has a different vibe than the rest, to me. It can be offputting.
Superchao: I don't even know if it's the central part, so much as it always just feels much more tied to the wiki community. Kind of weird how the wiki and forums have their own culture, but it's also pretty fascinating. Could probably do a good study of it.
Stargazing: That's a good point, actually. I just figured the frequent community on both parts was different, since the Mario part of the Mario Boards might draw in different people than the rest. But I also haven't done much in there for about 2 years. You have to show up in there much more often than I do, since mods can't just ignore part of a site, so you've probably picked up on a lot more than I have.
Superchao: I try my best to ignore it anyway, but you're correct. It just has a totally different feel, and it's a lot like the wiki in that way.
Superchao: Speaking of your own community experience, one thing I've noticed about your join time; on the one hand, you're relatively new compared to a lot of the longest-term veterans, around since 2006 or 2008... on the other hand, it's been 4 and a half years, which is more than enough time to be a veteran yourself.
Superchao: Does this ever really stand out to you? How do you personally feel, like a newcomer or a veteran, if either?
Stargazing: It's funny how it's that board and not the Wiki Collaboration board. (it might be there too idk i'm not paying much attention)
Stargazing: And hm. That... that might be a bit tough to answer.
Stargazing: Because I've never really drawn attention to myself as a newcomer or a veteran right? It's never been something I've considered to be a core part of what I do here... but being a newcomer or a veteran is subjective based on what someone else thinks of me. Someone could see me as new, and someone could see me as veteran, and they'd both have a good reason to back it up. In that case... I'm probably neither. I'm right in the middle comfort zone, for now.
Superchao: Well, really, that's the big thing, isn't it? It comes down to personal self-view more than anything else.
Superchao: Personally, I'd see you as a long-term user. Not sure if it's a full veteran status, but you left being "new" long ago... even if I have been around for years, whippersnapper.
Stargazing: Yeah, but that gets hard when I never actually think too much about it. Because truth be told, I'm in such a really sketchy spot when it comes to the entire thing, where I could consider myself both. I do internally want to lean more towards veteran though, because there are an influx of new users every year, so that makes me kind of old when I'm slightly below the site's halfway point. Man, when I put it like being only slightly below... it does actually put it into perspective.
Stargazing: Ahaha yeah, I remember making a "thanks everyone for everything" anniversary post and mentioning "hi perch" in it, but you never responded to it.
Stargazing: Rip that.
Superchao: Honestly, though, these days it doesn't feel like there's that many new users. Certainly there's some - Camwoodstock, Pitohui, and Raregold all come to mind - but nowhere near as much as the old times... at least in terms of people who stick around and integrate themselves.
Superchao: M-my radar failed!? How can this be!?
Stargazing: I think it might be because they're not interacting outside of the Boards that much, or they're not making memes out of themselves, so the names don't quite stick in our brains as much as someone like the three you mentioned. But there is still a steady stream of people (if it's as steady as it was in the past is debatable) that exists. And yeah, sorry dude, you might have been changing your batteries and I snuck right past.
Superchao: That's true. They're there, they just haven't stood out as much. But if some of the people I named are any indication, we'll always have a handful of significant newcomers... and lots of veterans.
Superchao: Also, clearly next time I need to react to your declaration of your level extra hard.
Stargazing: Yeah, it's impossible to say that we're going to run out of new users in the foreseeable future. That's not going to happen.
Superchao: And if we do, we'll just MAKE OUR OWN!
Superchao: ...Wait, that's sockpuppeting.
Stargazing: Did you just confess to sockpuppeting? Hm... I don't see anything wrong with that...
Superchao: You saw nothing. Nothing, I say!
Stargazing: hastily hides my report behind my back I believe you, I believe you!
Superchao: Excellent work, Private.
Stargazing: o7
Superchao: Another thing about your community activity that interested me - You've been pretty involved in the staff projects. Despite not participating in the 'Shroom, you've been in the Awards Committee and Poll Committee multiple times, and were in the Mafia Hosts Guild (for all the good that was).
Superchao: What draws you to working in them?
Stargazing: My Mafia Hosts Guild run was me trying to join to attempt to bring Mafia activity back up after Star Mafia was successful. And, well, we know how that went. My draws for being part of the Poll and Awards Committees are both me... wanting to help out and be creative. Being part of them both is an honour, especially now that I have a clean way to access IRC at all times for Awards meetings, and my mental health isn't factoring me away from the Poll Committee. But, avoiding that sidetrack, I really admired the work put into both teams, and wanted to help out on them (plus also making my own polls and doing my own beneficial things). I'm glad I got to do so.
Superchao: At least we gave Mafia a good try. And honestly, I think if anything Mafia has a better chance of an eventual comeback without the baggage of the Hosts Guild behind it. Stargazing: Yeah, in all honesty looking at it now, changing the Mafia board and getting rid of the Guild is going to help not just Mafia, but games like it.
Superchao: As for Awards and Poll Committee, they're probably one of the best ways to do it! Don't need to invest quite as much time as 'Shroom, and they're still a good positive contribution and collaboration. I'd legitimately recommend people who wanna get their community-contribution start use those.
Superchao: I started with the AC only, and look at me now!
Stargazing: Gotta start small for world domination, after all. What do you have next before your plan is complete?
Superchao: The wiki is the only place left I have no power over. Soon, it will be mine! Ignore that I'm hampered by not actually contributing to the wiki and they'd have to be drunk and/or high to promote me there.
Stargazing: It's still possible. Just blank out pages until they have no choice but to promote you to get you to stop. It's foolproof!
Stargazing: note: don't do this
Superchao: Excellent plan. They'll never suspect a thing!
Stargazing: It's genius. Total genius. And it's not like they've ever dealt with it before.
Superchao: But enough about my own plans for the eventual conquest and supplanting of porple with the new emperor, Superchao the First. Do you have any long-term plans?
Stargazing: You're gonna have to tell me more about it later, haha. As for me... I don't have any set goals other than continuing what I'm doing now, really. Opportunities will come by when they're ready to, I think. Really, the only long term plans I have are to keep up my friendships and relationship, keep talking with people, honouring my commitments, and always checking for new opportunities.
Superchao: That's probably the best way to go about it. Just keep doing what you're doing, and the community will become part of your life. Part of your soul.
Superchao: But in seriousness, it's really how you become a regular. Just stay regularly!
Stargazing: The community has part of my soul trapped in a stone, and I can't leave because if I do, it'll die. Help me.
Superchao: I wish I could, but mine's on the pile too.
Stargazing: We have to take them back, man! We need to stage a heist.
Superchao: It's time... for the Persona 5 LARP starring MarioWiki! We just need to steal the Power Moon Revenue from Steve's Palace, and then I'm sure it'll all go well!
Stargazing: It's a lot harder than it seems, but we'll be okay! I hope.
Superchao: Another thing I've noticed you tend to be tied to in the community is forum games. There's certain users who stand out as major in forum games, and, well, you're one of them. What draws you so much?
Stargazing: I was initially drawn to Mafia... somehow. I joined an Awards Mafia for some reason, couldn't defend myself at all, and died Day 5. Then, I somehow wasn't turned off from this horrible experience, and decided I wanted to play more. The experiences I've gotten from Mafia are ones I still chuckle to myself over, like how I was played like a fiddle in Mother 3 Mafia. I was really interested in seeing myself improve, though!
Superchao: I remember that Mafia! I was shaking my head and sighing as the host. Somehow you rebounded!
Superchao: I'm sure if Mafia comes up again you'll be a pretty major player of it.
Stargazing: Yeah, as much as the Mafia spirit has neutralized, I still have the passion to continue forward. I did try and fight someone who wanted to lynch FWD because they were bad in Killing Game, so I definitely still have some form of fighting spirit. For better or for worse.
Superchao: That was a record moment of bad reasoning. I'm impressed.
Superchao: Them, not you naturally.
Stargazing: It's really unfair to lynch someone because they were bad in another game. The difference between Mafia and Killing Game is there are set alignments in Mafia. So, lynching someone who can't control their alignment because they could control it in another game is a really trippy way to go about it. What really made me mad is people started agreeing with it and voting for FWD again!
Superchao: And that's part of why Mafia can be frustrating when it IS active - sometimes it has just the stupidest reasoning.
Superchao: At least it's fun, though!
Stargazing: Yeah, as much as that can really suck some fun out of it, Mafia itself is a good game.
Superchao: I feel like Mafia's probably one of the best ways to meet people, too. Lots of people I connected to via Mafia games!
Stargazing: Yeah, it's also a good way to laugh about experiences you've had with others! Like if I ever mention Xenoblade Mafia to Icemario, we both know that it was an... well, an experience, ahaha. And again, Freakworld sometimes makes fun of me for being incredibly gullible in Mother 3 Mafia. It's things like that, but you can also use them to connect and understand the intent behind a word. For example. If someone acts really weird in a game, and then a few months later explains why they acted a certain way in casual convo, you can drop any hard feelings about it and understand why they did so.
Superchao: Really, that leads well into my next point. You've clearly made lots of friends, but I'm curious if anyone in particular stood out?
Stargazing: Ah oh no, now I have to pick favourites, ahaha... ok ok it's not quite picking favourites. This is just the hardest part of being asked "name a friend" because I subconsciously feel bad for not picking someone when I send the list up. But, I'm going to ignore that part of my brain as it screams in agony and answer it for the interview. You're one of the people who I'd consider a good friend of mine, for starters, along with Freakworld, Lord Bowser, Meta Knight, Packy, MsRetroGeek, DragonFreak... there are so many more but if I listed every single one, I'd probably be listing for a good hour.
Superchao: If we needed padding time-wise, I'd encourage you to go on! But we don't.
Stargazing: Yeah, we have so much to talk about, padding isn't necessary.
Superchao: Like... WHY YOU LIKE EACH OF THOSE PEOPLE! (No.)
Stargazing: Oh Jesus, how personal do you want me to get????? Hahaha
Superchao: We'd be here all night if I did that, anyway.
Stargazing: Yeah, there's so much I can talk about in regards to my friends. But we both probably need an ok amount of sleep tonight.
Superchao: Sleep is either for the weak or for a week, but we should at least try to find a balance
Stargazing: Yeah, haha. Balancing a sleep schedule is something I absolutely have not been doing.
Superchao: But if we're talking things that keep you up too late, what about video games? For example, Mario! It did affect you joining this community, and it makes me wonder - what's your favorite Mario game?
Stargazing: The most shocking twist is that it's probably Super Mario Galaxy for the mainline games. I know, nothing could have predicted that one. I am really fond of most of the M&L series, too! While SMG is my favourite mainline, all of the M&Ls (except Paper Jam) that I've played rank higher than it. My opinion may also not be up to date because I still don't have Super Mario Odyssey.
Superchao: Neither do I. We are Partners in Time Not Having Odyssey.
Superchao: Pretty neat taste, though! Especially M&L. The original trilogy was so good.
Stargazing: Oh wow! So many people have Odyssey and say it's the best Mario, so I guess I just autoassumed you had it, too.
Superchao: I don't even have a Switch, to my dismay. But someday.
Stargazing: I actually... haven't played Superstar Saga yet. But PiT and BiS were both amazing! I also really liked DT, as much as some people might hate me for it. PJ was kind of boring in comparison, but it still has most of the charm.
Stargazing: Oh wait what?? I'm gonna crowdfund you, we're gonna get you one.
Superchao: GoFundPerch: Get this man a Switch
Superchao: Also I highly recommend Superstar Saga! At least GBA Saga. Can't speak for the remake.
Stargazing: I don't really know how I'm gonna play the GBA one, so I might get the remake at some point. I'm pretty sure the remake doesn't kill the entire game, but I can tell that there's always some form of charm to the original of a game.
Superchao: There's ways! Ways I can't talk about. I've heard mixed things about the remake, but of course I'm biased.
Stargazing: Oof right, the forbidden ways. Ahahahaha! But yeah, bias is always gonna be a thing when you see a remake. The original is always going to have a soft spot in your heart. And that's not necessarily a bad thing!
Superchao: It's not! Sometimes a remake just..... really isn't the same.
Superchao: Why FF7 decided to completely ditch its combat in a remake, I'll never know.
Stargazing: I have no experience with the FF series, but ditching a style of combat... doesn't sound smart.
Superchao: It doesn't.
Superchao: Besides Mario itself, are there any other major game series you follow? Well, besides Danganronpa, and... does Love Live even count? Either way, we did talk about them!
Stargazing: Love Live counts, technically. But, I already mentioned both of those, so! Lots of things I follow are part of Nintendo, funnily. Splatoon, Animal Crossing, and partly Fire Emblem and Pokemon are the big ones. When I was younger, I followed the Brain Age series though... I joke that I didn't like fun that much, but they were actually kind of fun.
Superchao: An actual Nintendo fan on Marioboards? Perish the thought!
Stargazing: I know I know, absolutely scandalous!
Superchao: Unsurprisingly, with how big Nintendo franchises are here, none of these are that big a surprise. I believe I've heard all of them a few times from you!
Stargazing: Yeah, you probably have. I think I was yelling about hermit crabs in ACNL tonight, and whichever soul dragged everyone into Fire Emblem: Heroes is now responsible for you hearing about it 50 times a day.
Superchao: I survive! It's my fault everyone talks about Danganronpa, after all. Or at least that there was an initial Danganronpa hype back in the day.
Stargazing: But there's no regrets.
Superchao: NOT A ONE.
Superchao: One thing I just feel wraps this up well, though.
Superchao: What keeps drawing you to the community? What carries you back time and time again?
Stargazing: The one thing that keeps drawing me in, huh... Well, I feel like there are many different things, but leaving is never something that crosses my mind. I guess I just... I enjoy being here and interacting with the community and doing my thing that, my brain has clicked it into a normal part of my being, and checking up has internalized as part of my daily routine. There's nothing that's drawing me in as I try to leave, but rather, there's a force of community bonding that remains with me. And a strong sense of that is all I can ask for.
Superchao: That's the same thing that's kept me coming back year after year, and I honestly feel like it's the community sense that drew me to interview you in the first place.
Stargazing: Yeah, a strong community can lead to many different opportunities, doesn't it? If it hadn't existed, I don't think you nor I would have stayed here long enough to have this entire thing happen.
Superchao: Definitely not. Hell, the 'Shroom wouldn't have survived 2008 if it wasn't for community force. And here it is, ten years later!
Stargazing: Ah man, 2008 was 10 years ago!!!!!
Superchao: Feel old, Star. FEEL OLD.
Stargazing: It's really hard to tell how long ago something was until the realization sinks in but now I'm just reeling... 2008 was 10 years ago...........
Superchao: Anyhow, at this point, the answer to this is probably obvious. But I will still ask it anyway.
Superchao: Is this the last question?
Stargazing: Only if this is the last answer.
Superchao: It probably is just because of how long this has been running.
Superchao: Four hours, seriously?
Stargazing: Holy shit that means it's 3am
Superchao: OH BOY 3 AM *eats a burger*
Stargazing: Well, I'm getting up in 4 hours. Ahaha. Well. At least this was totally worth it!!!!!!!!
Superchao: Try not to die!
Stargazing: Oh, I'm already dead inside. Thanks though.
Superchao: Thanks for being here!
Stargazing: Ah, no problem! Thanks so much for having me. :)

In Closing:
Another user who hasn't been around for ages, but who's still made a notable impact and has a real presence around the wiki - just like the last two. Star's not even a big-shot within the staff, but he just feels integral to the forum and the community. He's really a good example of how someone doesn't have to be super important to be, well, super important, and I hope this interview helped you appreciate him too!
NIWA Spotlight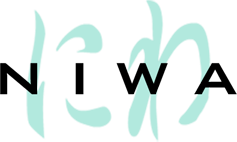 Hello everyone and welcome back to NIWA Spotlight, a NIWA-focused spotlight that covers one article from all of our partnered wikis that need help. These can range from articles that need more information or created to images that need replacing or uploaded. Notice something on a different wiki you can't fix and want to get the word out? Let me know on my talk page or in this forum topic (or maybe contact someone from that wiki, that's a good choice, too). For our Mario-related topics, check out the current The 'Shroom Spotlight!
Last month was slow, but that's to be expected from an article that just started like this. Lukey140701 on Inkipedia removed the requested citation from Bomb Launcher, as it was apparently outdated, and Link Lab and I both fixed up the Grip Ring article on Zelda Wiki. And that was it. I realize most users here on the Mario Wiki know mostly Mario things, but hey, it's never a bad thing to get into something new. So pick an article, help out a wiki, and you may end up finding another franchise you enjoy!
Disclaimers: The F-Zero Wiki's CAPTCHA is currently broken, preventing any new account creations, a situation I hope to have resolved soon. If you don't already have an account, contact me through the forums (or someplace else you can private message me) and I will get one set up for you.
Category
Wiki
Subject
Direct Link
Wanted Article
Dragon Quest Wiki
Though yonder Savella Region from Dragon Quest VIII is a small, late-game island in the northern part of the world, tis integral to the Hero's storyline. Whilst thou create this article?

Savella Region

Nintendo Wiki
A Mario Golf: World Tour article was requested to be created, so someone make sure this article is worthy of a hole-in-one!

Mario Golf: World Tour

Pikipedia
Hey! Pikmin features a variety of breakable blocks, one type being the dirt block that can be destroyed by a single Pikmin. Let's give it a page so readers know the difference between it and other blocks!

Dirt block

WiKirby
Cook Potluck is one of the new ally combination moves in the recently released Kirby: Star Allies. New games need new articles!

Cook Potluck

Stub Article/Section
ARMS Institute
This article is most certainly not wrapped up. Someone help wrap this article up as tight as Master Mummy!

That's a Wrap

Fire Emblem Wiki
Azura is a beautiful songstress from the Fire Emblem: Fates games who is one of the central characters. But her roles in the trio of games are as mysterious as the songs she sings.

Azura

Lylat Wiki
Pepper: I noticed our Shigeru Miyamoto article is rather lacking in information. Some content isn't relevant to Star Fox, and it's missing content that is relevant.
Fox: Roger that. I'll find out what I can and report back.

Shigeru Miyamoto

Starfy Wiki
Shakke is an enemy from the Japanese Game Boy Advance Starfy games and it climbs waterfalls… Yeah, that's it. That-That's all we got. More info please!

Shakke

Wars Wiki
To welcome the newly reopened Wars Wiki, here's an article that only has a map and its infobox, but absolutely no article content whatsoever! Enjoy!

Little Lion

Wikibound
Bracelets are equippable items in Earthbound and Mother 3 with each having their own special effects. Unfortunately, information on some of these bracelets are missing.

Bracelet

Rewrite
Bulbapedia
The article on Nurse Joy's Comfey in the Pokémon Sun & Moon anime is uncomfortable. It's going to need to be continuously updated as the series is still ongoing, but a proper rewrite should make adding additional information in the future easier.

Nurse Joy's Comfey

Metroid Wiki
Adam: The information we have on the android known as MB is overly descriptive, detailing story events with flowery writing. Any objections to rewriting it?

MB

Nookipedia
In the Animal Crossing series, friend codes allow you to…uh… Well, I'm not sure. But I'm positive they do something!

Friend Code

Additional Images
Donkey Kong Wiki
Cranky Kong: BAH! I'd rather not go back to the frozen Autumn Heights just to snap an image. So I'll make someone else do it! Ha! Ha!

Autumn Heights

F-Zero Wiki
Isshin Shimizu was one of the lead designers for the original F-Zero game and the F-Zero AX arcade. The question is: what does he look like?

Isshin Shimizu

Golden Sun Universe
Craggy Peak is quite possibly the tallest mountain in Golden Sun: Dark Dawn's Khiren Mountain Range. This must be a sight to behold, but alas, we don't have an image of its glorious appeal.

Craggy Peak

Inkipedia
The Sunny Climbing Shoes article doesn't look too sunny with an image template on it. Perhaps adding an image or two of the equipment in game would brighten up the article.

Sunny Climbing Shoes

Smash Wiki
Character customization is a new feature introduced into Super Smash Bros. for Nintendo 3DS / Wii U. Unfortunately, the only image Smash Wiki has is a pre-release image of the Wii U version menu. Up-to-date images of both versions would be positively smashing!

Character customization

Strategy Wiki
Several pages that make up the walkthrough for Devil May Cry 4 are missing images of the specified objectives, from characters, to enemies, and the areas you explore.

Devil May Cry 4/Walkthrough

Image Quality
Icaruspedia
Palutena: Pit, you're going out with that weapon?
Pit: Yeah, why? What's wrong with my Aurum Orbitars?
Palutena: Well, it's just that they look rather…blurry.
Pit: I knew that Black Marketer looked shady…

File:Aurum orbitars.jpg

Citation Needed
Hard Drop Tetris Wiki
In the character section of Puyo Puyo Tetris, the article claims that Tee has gained a crush on Ringo by the story's epilogue, but is this meant to be? …Wow, Tetris has some deep lore I never realized.

Puyo Puyo Tetris

Zelda Wiki
The page covering the Zelda Manga series makes some pretty dubious claims. Apparently, Eiji Aonuma supports the gap-bridging that is done, and the Manga helped inspire the Rito?

Manga
Poll Committee Discussion
Hello, 'Shroom readers! It's your lovely host Superchao again, returning to Pipe Plaza an unprecedented-since-January second time in one issue! In this section, I pretend to know what I'm doing as I analyze the polls! There's no special news about the committee, beyond our usual reminder that if you'd like to contribute to the PC, please send us polls on the forum! Please. We're begging you. The people are going hungry, starved of good polls. Won't you help them?
Archives
Do you think the New Super Mario Bros. series lacks originality? (Fun With Despair (talk), February 5th, 2018)
Do you think the New Super Mario Bros. series lacks originality?
Yes, the NSMB games are copies of each other, and thus they are bad games. 5.9% (116 votes)
Yes, and it impacts my experience to the point where I don't enjoy them as much. 15.51% (305 votes)
Yes, but I enjoy the formula enough, so I like them anyway. 35.49% (698 votes)
No, despite asset reuse, the level designs make them different enough for me to enjoy. 21.25% (418 votes)
No, they are all individual, good, and unique games in their own right. 13.22% (260 votes)
No, but I dislike the franchise for other reasons. 0.66% (13 votes)
I have no opinion on the matter. 5.85% (115 votes)
No, they are all individual, good, and unique games in their own right. 2.12% (42 votes)
Total Votes: 1,967
What is your opinion on the "Baby" versions of characters? (Smasher (talk), February 12th, 2018)
What is your opinion on the "Baby" versions of characters?
I love them, and would like to see more babies in future titles. 18.58% (394 votes)
I like them enough, but I don't think any more are needed. 32.12% (681 votes)
I'm not a fan, but I can live with the ones that we already have. 26.04% (552 votes)
I don't like them at all, and I think there's far too many. 15.61% (331 votes)
I have no strong opinion. 7.64% (162 votes)
Total Votes: 2,120
Do you see yourself revisiting Super Mario Odyssey if DLC kingdoms are announced? (Fun With Despair (talk), February 19th, 2018)
Do you see yourself revisiting Super Mario Odyssey if DLC kingdoms are announced?
Yes, I would return for them whether they are paid DLC or free. 55.06% (1,121 votes)
Yes, but only if they are free. 15.18% (309 votes)
Maybe, it depends on the content. 10.85% (221 votes)
No, I don't support DLC. 1.13% (23 votes)
No, I've had my fun with Odyssey and I don't see myself revisiting it for any reason. 0.54% (11 votes)
No, I did not enjoy Super Mario Odyssey. 0.93% (19 votes)
I don't own Super Mario Odyssey. 16.31% (332 votes)
Total Votes: 2,036
Mario Kart Tour, the series' first mobile game, was recently announced. While only the name is known, what are your expectations for the game? (Henry Tucayo Clay (talk), February 26th, 2018)
Mario Kart Tour, the series' first mobile game, was recently announced. While only the name is known, what are your expectations for the game?
I expect it to be better than the console games. 4.9% (79 votes)
I expect it to be equal in quality to the console games. 14.77% (238 votes)
I don't expect it to be as good as the console games, but I think it will still be good. 55.43% (893 votes)
I don't expect it to be a good game. 8.57% (138 votes)
I have no expectations yet. 12.35% (199 votes)
I have no opinion on this subject. 3.97% (64 votes)
Total Votes: 1,611
Do you think Nintendo should invest in making virtual reality games and headsets? (LudwigVon (talk), March 5th, 2018)
Do you think Nintendo should invest in making virtual reality games and headsets?
Absolutely! Nintendo franchises can offer fun virtual reality experiences. 21.89% (407 votes)
There is potential, but it all depends on the quality of the hardware and games. 43.95% (817 votes)
No. Nintendo should focus on other things rather than virtual reality. 25.66% (477 votes)
I do not have an opinion on this subject. 8.5% (158 votes)
Total Votes: 1,859
Analysis
Do you think the New Super Mario Bros. series lacks originality?: As it turns out... generally, yes! From the overall votes for the first three responses, over half our votes agree that the series is unoriginal. Now, the question becomes, is that a bad thing? That opinion is much less represented, considering how many people said "it's unoriginal but that's fine", "it's not that unoriginal", or "it's not unoriginal at all!". Between those three, 70% of the voters say the series is good whether or not they agree with the unoriginality. Looks like it's not quite the detriment it's been said to be!
What is your opinion on the "Baby" versions of characters?: THE BABIES are known for being pretty plentiful. Are people fine with how many there are? Well... not really! We've only got a small fraction of people who actually want to see more babies (who's hype for Baby Pauline?) compared to how many people Don't. While plenty of people appear to like them or at least tolerate them, rather than wanting them gone, the main takeaway I'm getting is how many people just... don't want more babies. You hear that, Nintendo? Time to give it a break!
Do you see yourself revisiting Super Mario Odyssey if DLC kingdoms are announced?: Considering how well-received and beloved Odyssey was, is it any surprise that over half our responders said they'd come right back for more Odyssey? I'd do that, and I haven't even played the game! Even then, most of the people who didn't say "absolutely" were just people saying they didn't have it, would only take it for free, or would wait and see what it was. The people fully opposed to it on any grounds? About 2 and a half percent. If Nintendo makes Odyssey DLC, they'll have a great market awaiting them. The people are practically clamoring for it!
Mario Kart Tour, the series' first mobile game, was recently announced. While only the name is known, what are your expectations for the game?: It's a bit hard to judge a game when you're basing it off name and platform, but we do our best here in the Poll Committee to make it feasible. And... the most common result, over half of our voters, is that it won't be as good as the console ones. But still good. Overall, people honestly seem pretty optimistic! With three-quarters of respondents saying that they think it'll be at least some level of quality, hopes are high. Let's see if that changes once we learn more about it!
Do you think Nintendo should invest in making virtual reality games and headsets?: Virtual reality, the way of the future! Or is it? Well, that's hard to determine, considering that our voters think we should be hedging our bets. Heck, our poll is basically evenly split! Nearly half of our voters think it's going to depend on hardware and games, and while slightly more people think it's a bad idea than a good idea to begin with, it's almost even there. We have one of our most split opinions around, and it doesn't surprise me. Who knows where VR is going to go from here?
That's all for me, peeps! Don't join me next month, because Roserade (talk) will be writing this in my place!
Retro Feature
Hello, readers! I'm your Spotlight manager Yoshi876. Welcome to Retro Feature, a section in which I delve deep into the archives to bring you the best blasts from the past.
And this time I do mean a blast from the past, as this month we're going straight back to 2008. And we're going to be taking a look at what may have been one of my favourite sections. Now, as I've said before in this section, it was Should Have Been which got me interested in The 'Shroom. But, as I scrolled through years and years of amazing sections, I stumbled across Character Comparison, which I took a major interest in.
In all honesty, I do not know what piqued my interest in the section, all I know is that it was one of the sections that I always enjoyed reading when I was scrolling through the archives, and it's one that I occasionally revisit. The one I have chosen compares two of the most frequently confused characters, Baby Bowser and Bowser Jr.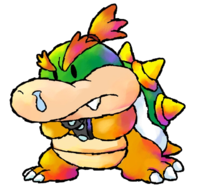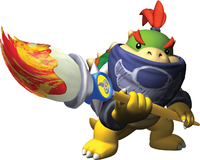 Sorry that I ditched y'all could not write a section for July's issue, due to a family trip. I'm back now. Anyway, father against son. I thought it would be fun to do this. Also, I might not follow the exact same categories each comparison, so don't sue me. Here we go, the runny-nosed guy, and the masked dude.
Physical Appearance
Baby Bowser
Baby Bowser, as you can see, carries many of Bowser's simple characteristics(well, duh). Spiky shell, tannish stomach, overall yellowish body, red hair, black bands on his arms, all that stuff. In Yoshi's Island, he has a runny nose, which, in Japan, represents, well, a "fool"? I can't think of the right word, but he's just a little out of it. So, somewhat like Bowser, Baby Bowser is not the smartest turtle out there. And now let's look at Bowser Jr.
Bowser Jr.
Okay what's this guy have? Spiky shell, red hair, yellow body, tannish belly, black bands, green head… wait… WHAT THE HECK? What's going on? They're the exact same!! I mean, just compare the two images below. See what I mean? Who knew the Mushroom Kingdom had cloning technology? Bowser cloned himself to make his son look exactly like him! How creepy. Anyway, gamers usually don't go far into that kind of stuff(But I do. Like, who's Jr.'s mother? According to Bowser in SMS, it's Peach. It's no wonder Mario switched off to Rosalina in the next game! :p). But yeah, on the outside, they're pretty much equal. Not much to compare (Or rather too much).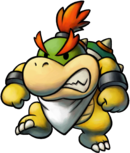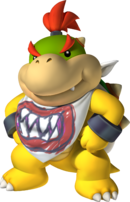 The REAL Boss
Baby Bowser
Baby Bowser has appeared in three games as a boss. His first being Yoshi's Island, the second Yoshi's Story, and then Mario & Luigi: Partners in Time. The thing about Baby Bowser is that you can only see him in the games about the past. PiT is a special case, but normally you can't see Adult Mario and Baby Bowser in the same game; which might be why they came up with such a similar character, Bowser Jr., to replace Baby Bowser. To recreate those battles, but this time with Mario, not Baby Mario.
Bowser Jr.
This guy definitely has more appearance in games, because, as mentioned, he lives in "the present". Debuting in Super Mario Sunshine, he's appeared in New Super Mario Bros., Super Mario Galaxy, and is sure to appear in more platformers. Another is that he is in nearly any of the newer Mario sport spin-offs. Baby Bowser, unfortunately, can't do that, because of the time (But wait… yeah they can! Why are Baby Mario and Mario in the same sport games? Are they different people?). Bowser Jr. has never been seen as a main boss, however, because where there's smoke, there's fire – meaning Bowser.
Relationships with other Characters
Baby Bowser
Baby Bowser, as able to be seen in the games he's been in, seems spoiled. He usually gets everything he wants, making Kamek do errands, all for the good of himself. It looks like he works alone, with not many friends; though he has minions. He rules Bowser's Castle, though it is unknown why he, as a baby, is the king. Since there doesn't seem to be any kind of "father" Bowser, I guess the little one gathered minions on his own.
Bowser Jr.
In contrary to the leader-type Baby Bowser, Jr. seems more attached to his father, Bowser. He is seen at the end of sunshine, calling Bowser "Dad"(if my memory is correct), and Bowser calling him "Son". Besides that, not many connections can be made between Jr. and others. He definitely has a rivalry relationship with the Mario Bros., and maybe respect for Peach, as Bowser told him was his "mother". According to Jr., he was not kidnapping peach, but rescuing her. So it's more of Bowser's fault than Jr. himself. He might be better-hearted than we might think.

Wrapup
Wow, this one was hard(unlike last time, lol) to decide between! Yeah, but as I said the first time(and will probably say every time), don't come to my talk page and say "The other one should have won! You suck!" or something like that. Take your stress management somewhere else(try newuserpedia Grin). Click "Show" to find out who the lucky winner is! WINNER

BABY BOWSER – I think he's worthy, mostly because of his character. He's always trying to get the benefit, whether that means snatching it away from someone! Lying, tricking, these behaviors later lead to evil, and grew up to be Bowser! I still think Bowser Jr. is a nicer guy. But Baby Bowser is stupid, evil, and funny. What more could you ask for?

The 'Shroom Report
Hi, 'Shroom readers! It's your Statistics Manager, LudwigVon, who brings you back The 'Shroom Report in the newspaper. As you may already know, Henry Tucayo Clay (talk), who was your previous Statistics Manager, resigned from writing this section. Therefore, I'm more than happy to bring this section back in Pipe Plaza.
Let me remind you how this works: in the First-time Writers section, I will mention writers who had their first ever section featured in our last issue. For the Milestones section, writers will get mentioned every 10 team sections and every 50 overall sections, team will get mentioned every 100 sections, and The 'Shroom will get mentioned every 500 sections. Finally, for Most Sections Written, every section ever written by that user is counted. All information in this section is based off our Historical Sheets. This section will cover Issues 130 and 131.
Tables are based off the End-of-the-Year Awards tables, so credit goes out to Crocodile Dippy (talk).
'Shroom Trivia
Starting with Issue 131, Yoshi876 (talk) holds the record for Most Sections Written for Critic Corner with 77 sections. The previous record was held by Crocodile Dippy (talk) with 76 sections.