User:Meta Knight
From the Super Mario Wiki, the Mario encyclopedia
Jump to navigation
Jump to search

About Me
Written by: Meta Knight (talk)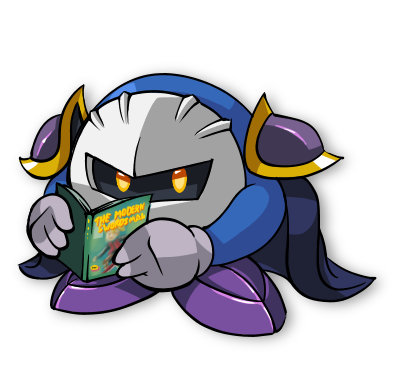 It's me your friendly neighborhood Meta Knight! Usually though I just go by Meta, or MK, but I don't really care which moniker you refer to me by. As the Statistics Manager for The 'Shroom, I'm obligated to tell you all to please sign up! If you've got a hot new idea, or a fresh take on an old classic, feel free to send me an application. You can contact me either through my talk page, the forums, or through Discord if you're in the Super Mario Wiki server.
As for myself, I joined the forums in 2013 but wasn't involved until late 2014. From there, I got invested in other aspects of the community until inevitably joining The 'Shroom in November 2015 as a writer. I was promoted to Strategy Wing Director and Sub-Director in 2016 before taking the helm as Director for the 2017-2018 terms. I was mostly withdrawn from the wiki after retiring from The 'Shroom, but I'm back in full throttle now.
---
---
Take a look at some of my favorite things regarding the Mario series
[read more]
Mario Favorites
I NEED TO UPDATE THIS
Within the Mario franchise, I've played quite a few. I have played all of the classics, most of the spinoffs, and more. My favorite character is Yoshi because I am a big fan of reptiles, and I fell in love with Yoshi's design the moment I first saw him over a decade ago. He's pretty nostalgic for me. Out of the 2D games, my favorite dwindles between Super Mario World and Super Mario Bros. 3. Depending on the mood it will be either of the two, but I have many fond memories of it. For the 3D games, it's once again a tie. I can't decide whether I like Super Mario 64 or it's remake more. No matter which one it is, I just have so much fun roaming around the various worlds, and I would use my imagination to do various shenanigans as well. Of course, there's plenty of sub-series within this gargantuan franchise. I've played all the Mario Kart games that don't require inserting quarters. My favorite of those is probably... uh... probably... honestly I can't decide. There's things I like about all of them. I would have to say though that I have really enjoyed Mario Kart 8. It just looks so slick, and I like a lot of the courses. As for the RPG series, I definitely prefer Paper Mario. Despite Sticker Star, I still enjoy the first three games a lot. My favorite though is Paper Mario: The Thousand-Year Door. Predictable yes, but whatever. My favorite game in the Mario Party series is Mario Party 6. Maybe that's just nostalgia talking, but it was the first one I played, and to this day, I still like some of the minigames. I also enjoy the Day/Night mechanic. There's a lot more I could probably go into about specific spinoffs and things like that, but there's just too much to cover of this pudgy plumber.