Peach's Castle (Super Smash Bros.)
From the Super Mario Wiki, the Mario encyclopedia
Jump to navigation
Jump to search
This article is about the stage that originated from Super Smash Bros. For other uses, see Peach's Castle.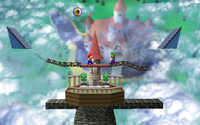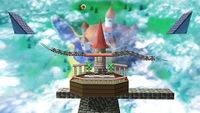 Peach's Castle is a stage in Super Smash Bros., and is heavily based off of Princess Peach's actual castle. The castle is actually a very small arena suspended in the air. In actuality, the stage may just be a piece of land that is part of Princess Peach's Castle, as the actual castle can be viewed far below the arena. This arena has a moving board that wends into the castle and comes out on the other side, making temporary platforms on both sides. It also has two Bumper-like platforms at the top, which will stop players from being knocked out of the stage. There is also a Bumper in the middle, which moves back and forth. A Lakitu also makes a cameo appearance in the background after a few minutes. The "Challenger Approaching!" match to unlock Luigi in Super Smash Bros. takes place here.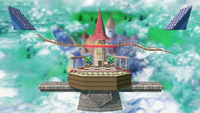 This stage was also released as a downloadable stage for Super Smash Bros. for Nintendo 3DS and Super Smash Bros. for Wii U on July 30, 2015, under the name Peach's Castle (64). While the stage has been recreated near-exactly, the ledges on the moving platform can now be grabbed. The new Omega form of this stage is set on a larger form of the base platform, though the platform now lacks the railing in the foreground and background; a red carpet has also been placed on both sides of the tower. The Lakitu that appears in the background is additionally absent.
Peach's Castle also returns in Super Smash Bros. Ultimate, with its design remaining mostly unchanged from previous installments.
Although the original Peach's Castle stage did not appear in Super Smash Bros. Melee, a similarly named stage which was situated upon the actual castle appeared, and was referred to as Princess Peach's Castle and the music was reused for the Luigi cutscene in Adventure Mode.
Super Smash Bros. for Nintendo 3DS

[

edit

]
Name
Source
Credits
Peach's Castle Stage
Super Smash Bros.
(Super Mario Bros.)
Arrangement Supervisor: Hirokazu Ando
Composition: Nintendo
Arrangement: HAL Laboratory
Main Theme (Super Mario 64)
Super Mario 64
Arrangement Supervisor: Hiroyuki Kawada
Composition: Nintendo
Arrangement: BANDAI NAMCO Studios Inc.
Super Smash Bros. for Wii U

[

edit

]
Name
Source
Credits
Peach's Castle Stage
Super Smash Bros.
(Super Mario Bros.)
Arrangement Supervisor: Hirokazu Ando
Composition: Nintendo
Arrangement: HAL Laboratory
Main Theme (Super Mario 64)
Super Mario 64
Arrangement Supervisor: Hiroyuki Kawada
Composition: Nintendo
Arrangement: BANDAI NAMCO Studios Inc.
Slide
Super Mario 64
Original
Ground Theme (Super Mario Bros. 3)
Super Mario Bros. 3
Original
Ground Theme (Super Mario Bros. 2)
Super Mario Bros. 2
Original
Names in other languages
[
edit
]
Language
Name
Meaning
Japanese
ピーチ城 上空
Pīchi-jō Jōkū
Peach Castle: Sky (alternatively "In the Sky of Castle Peach" in the original Super Smash Bros.)
Chinese (Simplified)
桃花城堡 (SSB)
Táohuā Chéngbǎo
桃花公主城堡 上空 (SSBU)
Táohuā gōngzhǔ chéngbǎo shàngkōng
Peach Castle

Princess Peach Castle: Sky
Chinese (Traditional)
碧姬公主城堡 上空
Bìjī gōngzhǔ chéngbǎo shàngkōng
Princess Peach Castle: Sky
Dutch
Peach' Kasteel
Peach's Castle
French
Château de Peach
Peach's Castle
German
Toadstools Schloß (SSB)
Peachs Schloss
Toadstool's Castle
Peach's Castle
Italian
Il castello di Peach
Peach's Castle
Korean
피치 성 상공
Pichi Seong Sanggong
Peach Castle Sky
Portuguese
Castelo da Peach
Peach's Castle
Russian
Замок Пич
Zamok Pich
Peach's Castle
Spanish
Castillo de Peach
Peach's Castle
References
[
edit
]