Delfino Plaza (stage)
From the Super Mario Wiki, the Mario encyclopedia
Jump to navigation
Jump to search
This article is about the stage in the Super Smash Bros. series. For the Plaza in general, see Delfino Plaza.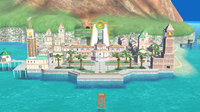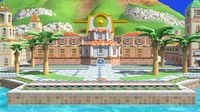 Delfino Plaza appears as a stage in Super Smash Bros. Brawl, Super Smash Bros. for Wii U, and Super Smash Bros. Ultimate. It takes place mostly in the skies of Delfino Plaza, on a set of floating platforms. However, not all gameplay is on the platforms; they frequently land in different areas of the Plaza, allowing a proper fight to take place. For example, the platform may land in front of where the Grand Pianta Statue should be. The platforms soon appear again and take the fighters to a different area.
Other places the platforms may land are as follows: on top of the Shine Gate, on the different sized pillars near the pipe to a secret level, outside the building containing the crate-smashing game, on the small island where a Pianta was looking for fruit, on the boat canal area, and on top of the house with the pipe leading to Sirena Beach. After the platform has been to every Delfino Plaza location, the platform will then return to the initial position, over the sea, before starting over and returning to the Plaza for another round. The order the places are visited is random.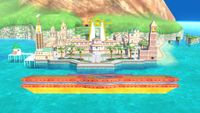 A few minor adjustments to the city have been made, such as the Grand Pianta Statue being removed and the two platforms mounted on both sides of the Shine Gate. Also, the Shine Sprite within the Shine Gate looks different from its Sunshine counterpart and also spins constantly, whereas it was immobile in Sunshine. Other differences include the absence of Piantas, the change in the appearance of various trees, and the disappearance of the red pipe to Sirena Beach. Just south of the location of the Grand Pianta Statue, there is a square-shaped extension of the stone dock that is not in the original game. The Ω form of the stage features a thicker main platform that cannot be passed through from below. The soft platforms are removed, and the touring platform never stops at a particular location.
Dr. Mario is fought here for his unlock battle in Wii U, and Bowser Jr. is unlocked here in Ultimate.
Themes in My Music
[
edit
]
Super Smash Bros. Brawl

[

edit

]
Super Smash Bros. for Wii U

[

edit

]
Names in other languages
[
edit
]
Language
Name
Meaning
Japanese
ドルピックタウン
Dorupikku Taun
Dolphic Town
Chinese (Simplified)
德尔皮克镇
Dé'ěrpíkè zhèn
Dolphic Town
Chinese (Traditional)
德爾皮克鎮
Dé'ěrpíkè zhèn
Dolphic Town
Dutch
Delfino Plaza
-
French
Place Delfino
Delfino Plaza
German
Piazza Delfino
Delfino Square (piazza is Italian for square)
Italian
Delfinia
Delphinia
Korean
돌픽 타운
Dolpik taun
Dolphic Town
Portuguese
Praça Delfino
Delfino Square
Russian
Площадь Дельфино
Ploshchad' Del'fino
Delphino Plaza
Spanish
Ciudad Delfino
Delfino Town