Mushroom Kingdom U
From the Super Mario Wiki, the Mario encyclopedia
Jump to navigation
Jump to search
This article is about the stage from Super Smash Bros. for Wii U. For uses of the name "Mushroom Kingdom", see Mushroom Kingdom (disambiguation).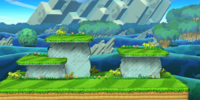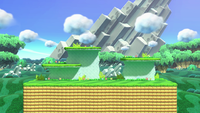 Mushroom Kingdom U is a stage that appears in Super Smash Bros. for Wii U and Super Smash Bros. Ultimate. It is based on several elements from New Super Mario Bros. U.
The match starts off on a stage based on Acorn Plains with Stretch Blocks. At certain points during a match, however, Kamek will appear and change the layout of the stage, in a manner similar to his role in the New Super Mario Bros. games. The stage variations that randomly appear after the initial layout are based on Rock-Candy Mines, Meringue Clouds, and the Tower levels (Slide Lift Tower in particular).
In the Rock-Candy Mines variation, characters fight on a wide Wobble Rock. In the Meringue Clouds variation, the match is set in an area similar to the Bouncy Cloud Boomerangs level. In the Tower variation, the stage takes place on a Slide Lift. Occasionally, in all stage layout variants, Water Geysers (sometimes with Big Urchins floating on top), falling icicles, and the beanstalk from the Skyward Stalk level spawning extra platforms may appear.
Nabbit occasionally appears in the stage, and he can stuff fighters into his bag and attempt to retreat to KO the player. Once captured, fighters can struggle to escape, but the higher percentage they have, the more difficult it is to escape. Fighters can also directly attack him and send him flying. Nabbit can be defeated as well, and he respawns after a set amount of time.
In Super Smash Bros. for Wii U, Kamek's trophy states that when he appears in the Mushroom Kingdom U stage, he might tease the player(s) by not casting any magic at all. This is not true, as every time he appears, he will cast the spell that activates the stage transition.
Name
Source
Credits
Requirements
Ground Theme / Underground Theme
Super Mario Bros.
Arrangement Supervisor: Tetsuya Shibata
Super Mario Bros. Medley
Super Mario Bros.
Arrangement Supervisor: Koji Kondo
Super Mario Bros.: The Lost Levels Medley
Super Mario Bros.: The Lost Levels
Arrangement Supervisor: Katsuro Tajima
Super Mario Bros. 3 Medley
Super Mario Bros. 3
Arrangement Supervisor: Shota Kageyama
KO rival 2 or more times in a single Rival Smash
Fortress Boss (Super Mario World)
Super Mario World
Arrangement: ACE (TOMOri Kudo / CHiCO)
Athletic Theme / Ground Theme
New Super Mario Bros. 2
Arrangement Supervisor: Yusuke Takahama
Ground Theme (Super Mario Bros.)
Super Smash Bros. Brawl
(Super Mario Bros.)
Arrangement Supervisor: Koji Kondo
Underwater Theme (Super Mario Bros.)
Super Smash Bros. Brawl
(Super Mario Bros.)
Arrangement Supervisor: Shogo Sakai
Collect CD
Ground Theme (New Super Mario Bros. U)
New Super Mario Bros. U
Original
Ground Theme (New Super Mario Bros. 2)
New Super Mario Bros. 2
Original
Super Bell Hill
Super Mario 3D World
Original
Gallery
[
edit
]
Names in other languages
[
edit
]
Language
Name
Meaning
Japanese
マリオUワールド
Mario Yū Wārudo
Mario U World
Chinese
瑪利歐U世界 (Traditional)
马力欧U世界 (Simplified)
Mǎlì'ōu U shìjiè
Mario U World
Dutch
Paddenstoelenrijk U
Mushroom Kingdom U
French
Royaume Champignon U
Mushroom Kingdom U
German
Pilz-Königreich U
Mushroom Kingdom U
Italian
Regno dei Funghi U
Mushroom Kingdom U
Korean
마리오 U 월드
Mario U Woldeu
Mario U World
Portuguese
Reino Cogumelo U
Mushroom Kingdom U
Russian
Грибное королевство U
Gribnoye korolevstvo U
Mushroom Kingdom U
Spanish
Reino Champiñón U
Mushroom Kingdom U