Gamer (stage)
From the Super Mario Wiki, the Mario encyclopedia
Jump to navigation
Jump to search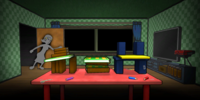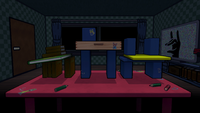 Gamer is a stage that appears in Super Smash Bros. for Wii U (where it is stylized as GAMER in the PAL version) and Super Smash Bros. Ultimate. This stage is based on the stage of the same name from Game & Wario, and it takes place in 9-Volt's room at night. The unlock match for Wario takes place here.
Like in the original game, 5-Volt appears in this stage, watching over the fighters. Her line of sight is indicated by the beams of light emitted from her eyes; any fighters caught in her line of sight will take great damage and suffer high knockback, potentially blasting them off the stage at high percentages. Players can avoid her gaze by hiding behind the stacks of books on the stage, the formation of which changes with every match.
Just like in the original Gamer, she can appear in the window, from the bedroom door, and in the TV. If the stage has a sketchbook on it, she can also appear on one of the pages; if there is a Balloon Fighter game system on the desk, she sometimes appears on the small screen before suddenly enlarging. Some of the fake outs from the original game will also appear; an old man wearing a wig may open the window instead of 5-Volt, and a cat can open the door instead of her. For the Omega form of the stage, 5-Volt will only appear outside, and will not open the window.
In various variations of the stage, there are stickers depicting characters from the WarioWare series. In Super Smash Bros. for Wii U, the artwork is taken from Game & Wario, while Super Smash Bros. Ultimate uses artwork from WarioWare Gold.
Gallery
[
edit
]
Songs in My Music
[
edit
]
Name
Source
Credits
Gamer
Game & Wario
Original
Ashley's Song (JP)
Super Smash Bros. Brawl
(WarioWare: Touched!)
Arrangement: Tomoko Sasaki
Vocals: Tomoko Sasaki and the Small Circle of Friends
Composition: Nintendo
Ashley's Song (JP) Ver. 2 (exclusive to Japanese version)[1]
Sawaru Meido in Wario
Arrangement Supervisor: Keiichi Okabe
Composition: Nintendo
Arrangement: MONACA
Ashley's Song (exclusive to American and European version)
Super Smash Bros. Brawl
(WarioWare: Touched!)
Arrangement: Tomoko Sasaki
Vocals: Emily McIntosh, Terry Lauber, James Cowan
Composition: Nintendo
WarioWare Inc.
Super Smash Bros. Brawl
(WarioWare, Inc.: Mega Microgame$!)
Arrangement Supervisor: Keigo Ozaki
Composition: Nintendo
Arrangement: GAME ARTS Co., Ltd.
WarioWare, Inc. Medley
Super Smash Bros. Brawl
(WarioWare, Inc.: Mega Microgame$!)
Arrangement Supervisor: Ryoji Yoshitomi
Composition: Nintendo
Arrangement: Nintendo
Ruins (Wario Land: Shake It!)
Wario Land: Shake It!
Original
PERFORMANCE
Jam with the Band
Original
Dragon Battle
AR Games
Original
Names in other languages
[
edit
]
Language
Name
Meaning
Japanese
ゲーマー
Gēmā
Gamer
Dutch
Gamer
-
French
Gamer
-
German
Gamer
-
Italian
Gamer
-
Korean
게이머
geimeo
Gamer
Russian
Геймер
Geymer
Gamer
Spanish
Gamer
-
References
[
edit
]