Jungle Hijinxs (stage)
From the Super Mario Wiki, the Mario encyclopedia
Jump to navigation
Jump to search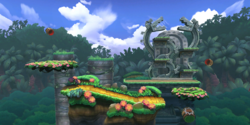 Jungle Hijinxs is a stage which appears in Super Smash Bros. for Wii U. It is based on the level of the same name from Donkey Kong Country Returns.
This stage is different to other stages in that it features two planes in which players can fight: the foreground and the background. Players can use the Barrel Cannons on either side of the stage to launch from one plane to the other. The launch power can damage any opponents at its destination. However, immediately after launching, the player is covered in flames indicating they cannot use the cannon during that time, otherwise it explodes and damages them. A Screaming Pillar may appear between the two planes; launching into it topples it over and can damage players.
Occasionally, the platforms on which players fight (either in the foreground or background) are temporarily replaced by Barrel Cannons, forcing players to launch to the other plane and fight there. To compensate for the wider launching range in the background, players fly farther when hit by opponents.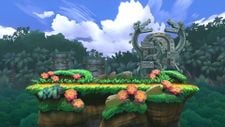 Like other stages in the game, Jungle Hijinxs has its own Ω form. The Ω form of the stage takes place on the main platform of the front plane. The platform is flat, the soft platforms and barrel cannons do not appear and the rear plane is inaccessible, though it can still be seen in the background.
Songs in My Music
[
edit
]
Names in other languages
[
edit
]
Language
Name
Meaning
Japanese
バナナジャングル
Banana Janguru
Jungle Hijinxs
Dutch
Regenwoud-ruïne
Rainforest ruin
French
Jungle déjantée
Jungle Hijinxs
German
Dschungelfieber
Jungle Hijinxs
Italian
Giungla selvaggia
Jungle Hijinxs
Portuguese
Macacadas na Selva
Russian
Дремучие ДЖУНГЛИ
Dremuchiye Dzhungli
Dense Jungle
Spanish
Jungla escandalosa
Jungle Hijinxs