Long Lost Love
From the Super Mario Wiki, the Mario encyclopedia
Jump to navigation
Jump to search
Long Lost Love

WarioWare, Inc.: Mega Microgame$!

WarioWare Gold
Appears in
WarioWare, Inc.: Mega Microgame$!
WarioWare, Inc.: Mega Party Game$!
WarioWare Gold
Type
IQ (Mega Microgame$!)
Dribble & Spitz (Gold)
Command(s)
Navigate! (Mega Microgame$!)
Reunite! (Gold)
Info
"Find your way through the maze! Use the molecule transferring units as pathways when needed!" (Mega Microgame$!)
"Unite these two lovebirds so they can fly up into space together. You don't want to stand in the way of true love, do ya?" (Gold)
Controls
// – Move
Points to clear
15
Long Lost Love is a microgame found in the IQ folder in WarioWare, Inc.: Mega Microgame$! (where it was originally known as Maze Daze), and later in Dribble & Spitz's set in WarioWare Gold.
Gameplay
[
edit
]
The objective of the game is to get the ballerina over to her partner by using the warp zone to get through the maze.
1st level difficulty: There are no portals in the maze.
2nd level difficulty: There is one portal in the maze.
3rd level difficulty: There are two portals in the maze.
In WarioWare Gold, the characters are a princess and a prince (named Long-Lost Love and Distant Darling, respectively, in the Wario Kard mode), recurring characters in the game who also appear in Rocky Reunion, Tearful Reunion, Love Tester and Hookin' Up. If they meet each other, they fly away in a rocket and a constellation representing both characters fills the screen.
Names in other languages
[
edit
]
Language
Name
Meaning
Japanese
めいろ (Mega Microgame$!)
Meiro
めいろでさいかい (Gold)
Meiro de Saikai
Maze

Reunion in the Maze
Chinese
迷宫脱险
Mígōng tuōxiǎn
Maze Escape
French
Amour égaré
Lost love
Italian
Labirinto
Maze
Spanish (NOA)
Mi amor perdido
My lost love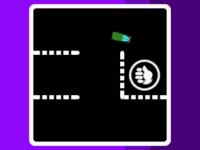 The minigame MAZE from Mario Artist: Polygon Studio serves as a direct precursor and inspiration to what would eventually become the Maze Daze microgame.