Bowser's body
From the Super Mario Wiki, the Mario encyclopedia
Jump to navigation
Jump to search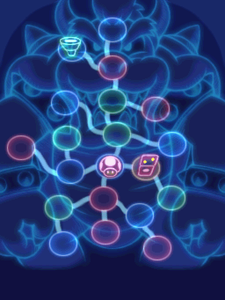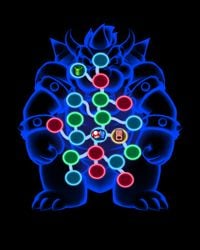 Bowser's body is a location from Mario & Luigi: Bowser's Inside Story and its remake. After Bowser, under the influence of the Vacuum Shroom, inhales everyone at Princess Peach's meeting, Mario and Luigi must search for the missing princess within his body.
On the map of Bowser's body, large areas that typically contain many enemies are represented by green circles. Smaller areas that consist of a few screens are denoted with blue circles. Single-screen areas where Mario and Luigi play minigames are marked with red circles. Challenge Node, the only location with a unique color, is marked by a yellow circle.
When an enemy is inhaled by Bowser in the DS version, the battle background corresponds to the current location of Mario and Luigi on the map of Bowser's body. A generic background with an appearance similar to the final cutscene is used for areas where no battles would otherwise take place. Despite having proper battles take place here, being in the Flame Pipe or Memory Banks will use the generic background. Similarly, the Challenge Node does not use the background of the Gauntlet or Cholesteroad. In the 3DS version, the generic background is used for all battles, except for the final battle.
Locations
[
edit
]