Brawl Attack
From the Super Mario Wiki, the Mario encyclopedia
Jump to navigation
Jump to search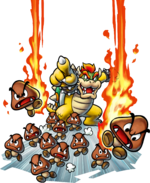 Brawl Attacks, originally called Special Attacks, are special moves that only appear in Mario & Luigi: Bowser's Inside Story and its 3DS remake, Mario & Luigi: Bowser's Inside Story + Bowser Jr.'s Journey. Bowser is able to use these, with each Brawl Attack using a certain amount of Brawl Points (shortened to BP; known as Special Points/SP in the original). Brawl Attacks have a menu section in the star menu, where the player can watch demos and practice the attacks just like the Bros. Attacks Mario and Luigi can use.
Bowser has a total of six Brawl Attacks that he gathers throughout the game. Like Mario and Luigi, Bowser has to unlock them in many areas of the game, though they are unlocked in a different way. To unlock these types of attacks for Bowser to use, the player must liberate Bowser's loyal, non-brainwashed troops. The player finds them in cages all around the Mushroom Kingdom. Out of the six, five of them are found inside one of the cages. The last one is when the player collects all fifteen Blitties from enemies through the Vacuum Block. Unlike Mario and Luigi's Bros. Attacks, which use

and

respectively, Bowser's Brawl Attacks use
and the Touch Screen.
List of Brawl Attacks
[
edit
]
All six of Bowser's Brawl Attacks are shown in the table below (Note: when using an attack with the Economy Ring, the SP / BP cost is halved):
Gallery
[
edit
]