Yoshi Theater (Mario & Luigi: Superstar Saga)
From the Super Mario Wiki, the Mario encyclopedia
Jump to navigation
Jump to search
This article is about the location found in Mario & Luigi: Superstar Saga. For the series of animated shorts from Poochy & Yoshi's Woolly World, see Yoshi Theater (Poochy & Yoshi's Woolly World).
The Yoshi Theater is a theater in Mario & Luigi: Superstar Saga and its Nintendo 3DS version. It is located in Beanbean Fields, north of Beanbean Castle Town. The Yoshi Theater is both curated and owned by Boddle, who had it built specially to honor the Yoshis. The Yoshi Theater is also the only place where Yoshis appear in the game.
History
[
edit
]
The Yoshi Theater first appears during the quest to retrieve the four Beanstar pieces; one of them ends up in the possession of Boddle, who is overseeing preparations for the theater along with his assistant, Tuki. The Mario Bros. head to the theater and find Boddle using it to decorate the sign. Despite Tuki's best attempts to stop them, Boddle listens to Mario and Luigi's request for the Beanstar piece, and agrees to trade it if they find seven Neon Eggs to decorate the sign with. The Bros. are then directed to Fava, who is found within the theater and provides them with his expertise on Neon Eggs, tasking them to find Bean Fruits for the Yoshis.
Once the seven Neon Eggs are given to Boddle, he places them on the sign and has it hung up as the Yoshis celebrate. He and his assistant then retreat within the theater to prepare for the grand opening. At the end of the game, it is revealed that the events of the plot were made into a movie that is shown in the Yoshi Theater, and the Yoshis cheer wildly at the ending.
In Mario & Luigi: Superstar Saga + Bowser's Minions, the Yoshis watching the events of the game as a movie in the Yoshi Theater is now established in a pre-intro cutscene. The Yoshis also watch the events of Minion Quest: The Search for Bowser unfold within the theater.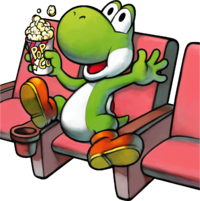 All of the movies showing at the Yoshi Theater are based on games within the Nintendo universe (including Mario & Luigi itself).
In the Nintendo 3DS remake Mario & Luigi: Superstar Saga + Bowser's Minions, new posters featuring movies based on later games in the Mario & Luigi series replace the original posters.
Gallery
[
edit
]
Mario & Luigi: Superstar Saga

[

edit

]
Mario & Luigi: Superstar Saga + Bowser's Minions

[

edit

]
Names in other languages
[
edit
]
Language
Name
Meaning
Japanese
ヨッシー・シアター
Yosshī Shiatā
Yoshi Theatre
Chinese
耀西剧院
Yàoxī Jùyuàn
Yoshi Theater
French
Cinéma Yoshi
Yoshi Cinema
Italian
Teatro Yoshi
Yoshi Theatre
Korean
요시 시어터
Yosi Sieoteo
Yoshi Theater
Spanish (NOE)
Cine de Yoshis
Yoshis cinema