Oho Ocean
From the Super Mario Wiki, the Mario encyclopedia
Jump to navigation
Jump to search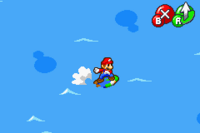 The Oho Ocean is the large sea to the east of the Beanbean Kingdom. The Oho Oasis is an island in this ocean. Mario and Luigi have to dive to the bottom of the Oho Ocean (the Seabed) during their adventure in Mario & Luigi: Superstar Saga.
It is also possible to surf here using Luigi in surfboard form after obtaining the Ultra Hammers, which is the only way other than pipe to get to Joke's End or Gwarhar Lagoon.
Many balloons filled with coins dot the surface of the ocean. By jumping, the Mario Bros. can pop these, and get the coins inside, ranging anywhere from two to ten coins per balloon. Additionally, two whirlpools lead to Chuckle Bean-filled areas of the Seabed, as well as a small island where the heroes can receive a 1-Up Mushroom from a Presenter.
The Surfing Game is also located here, in the southeastern corner.
Bordering or connecting locations to the Oho Ocean include:
Names in other languages
[
edit
]
Language
Name
Meaning
Japanese
クスオーシャン
Kusu Ōshan
From「クスクス」(kusukusu, a type of sarcastic laugh) and "ocean"
French
Ile Kusu
Kusu Island
German
Kichermeer
Giggle Ocean
Italian
Risoceano
From "riso" (laugh) and "oceano" (ocean)
Spanish
Océano Buajajá
Mwahaha ocean