Pyramid Park
From the Super Mario Wiki, the Mario encyclopedia
Jump to navigation
Jump to search
Pyramid Park

Party Cruise layout

Solo Cruise layout
Appears in
Mario Party 7
Availability
Default
Description
"Hop on the Chain Chomps and take Stars from your rivals!"
"Welcome to Pyramid Park! Take a trip through time as you explore ancient temples and ruins. Pyramid Park is a bit different than the other boards. There are no Stars here! Everyone begins with 5 Stars, and you must use Chain Chomps to steal them from each other! The Chain Chomp will give you a ride for 10 coins. While on a Chain Chomp, you can crush your rivals and take their Stars. Splendid! I've even heard tale of a terribly vicious Chain Chomp that lives around here... Oh, and sometimes Bowser will steal Stars during Bowser Time. Yes, quite unpleasant, that."
Pyramid Park is an Egypt-themed board in Mario Party 7. Here, Desert Goombas are found everywhere, and are in charge of the Orb Shops and attractions. This board's rules are the exact same as Snowflake Lake from Mario Party 6: players have to use Chain Chomps – found in pyramid dog houses – to steal Stars from opponents. There are three Chain Chomps on the right side of the board that let players ride on them for a price of 10 coins for one Dice Block (5 coins in the last four turns) or 20 for two (10 in the last four turns), and a Red Chomp on the left side located at the top that lets players use three Dice Blocks for ten coins (five coins in the last four turns). A Whomp is also here blocking the path to the Bowser Sphinx (which is really a sphinx, not the Bowser Sphinx from Mario Party 2) and charges 10 coins to let players pass. What appears to be a Bone Dragon can be seen in the bottom-right corner of the board.
In Solo Cruise, players have to beat their opponent by using a Chain Chomp to take the Star Bandit stole from the Bowser Sphinx, then bring it back to the Sphinx before the opponent steals it from them. After four turns, Bandit changes locations. If the player passes by the Bowser Sphinx without a star, it puts a curse on the player (see Events below).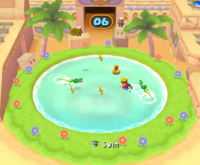 Bowser Time
[
edit
]
When Bowser Time comes along, Bowser does one of four things:
Takes a souvenir photograph of all of the players, and makes them pay ten or twenty coins each for it. Then, he leaves without giving anyone the photo. This can also occur on all other boards except for Bowser's Enchanted Inferno!
Flattens one of the Orb Shops, and replace it with one of his own (called Bowser City). Koopa Kid then stops anyone who goes by and throws them in the shop, where Bowser sells them a useless item (or a Koopa Kid Orb) for twenty coins. This can also occur in Grand Canal and Pagoda Peak.
Summons a sandstorm to destroy the bridges. Players are then stuck on the side they were on for three turns. All Character Spaces and Koopa Kid Spaces that were placed on the bridges are removed upon doing so, and all players who are standing on either bridge when it happens are blown back to start. The Orb Shops are also destroyed for three turns since they are on the bridges. If Bowser had replaced an Orb Shop during the previous Bowser Time and no one bought anything there, his shop remains even after the bridges have been repaired.
Steals a Star from the player in first place, and gives it to Koopa Kid, who is somewhere on the board. Players are able to steal it back with a Chain Chomp. Nothing happens if a player walks past him when not riding a Chain Chomp. If at least two players are tied for first place, Bowser randomly chooses the player he steals a star from.
Spaces (Party Cruise)
[
edit
]
Spaces (Solo Cruise)
[
edit
]
Gallery
[
edit
]
Names in other languages
[
edit
]
Language
Name
Meaning
Japanese
ハラハラさばく
Harahara sabaku
Thrilling Desert; possibly a pun on "Sahara Desert"
French
Parc Sec Sec
Dry Dry Park
German
Sphinx-A-Hara
Portmanteau of "sphinx" and "Sahara"
Italian
Parco Piramide
Pyramid Park
Spanish
Parque Pirámide
Pyramid Park
Although Toadsworth states that players cannot earn Stars on this board, it is possible to earn a Star by winning a single-player DK minigame.
If not counting earning stars from Donkey Kong from the DK Space, this is the second of three boards in the entire series that has a fixed and limited number of stars to steal; the other two being Snowflake Lake in Mario Party 6 and Bowser's Warped Orbit in Mario Party 8.
In addition to having the same method for acquiring stars as Snowflake Lake, Pyramid Park parallels the previous board by also containing a reference to the Paper Mario series. The Bowser Sphinx's nemes and crown are the same as Tutankoopa's, complete with the same colors (in the same pattern) and a Chain Chomp ornament at the center of the crown.