Pirate Dream
From the Super Mario Wiki, the Mario encyclopedia
Jump to navigation
Jump to search
Pirate Dream
Appears in
Mario Party 5
Availability
Default
Description
"A board born of dreams about treasure hunting."
"Treasure hunting and exotic locales make up this board. Search for a large cavern with a waterfall, enjoy the treasure-hunting events, and get swept away by a waterfall to another part of the board. It's bound to shiver yer timbers!"

—Mario Party 5 instruction booklet, page 27

"Welcome to the Pirate Dream! This is a world inspired by dreams of treasure hunting! Caves full of riches, pirate ships… That's what awaits you in this swashbuckling stage!"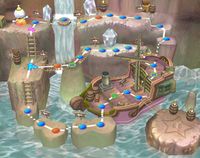 Pirate Dream is a board map from the Dream Depot in the game Mario Party 5. It was created from dreams of adventure, and resembles a grotto similar in layout to the waterfall room in Pirate's Grotto from Keelhaul Key, a location in Paper Mario: The Thousand-Year Door. Additionally, the map is reminiscent of an abandoned mine and a seaside cliff.
Landing on a Happening Space on the mine track causes a boulder to come rolling out of the mine, chasing players in its way off the track. Landing on one of the Happening Spaces on the waterfall causes it to give way and the player falls down the waterfall to a space in front of the pirate ship. The Happening Space on the pirate ship makes players jump into its cannon and blast off to a space with a cannon sign next to it. Finally, landing on the Happening Space at the top of the board makes Monty Mole come out to give players a chance to dig for coins. All they have to do is tap the

button constantly to dig coins out with the pickax.
This is the only board in the game to have a Thwomp and a Whomp. The Thwomp gives players a lift to a higher part of the board for 10 coins. For the same price, the Whomp lets players use the ladder it is blocking.
Party Mode
[
edit
]
Story Mode
[
edit
]
Gallery
[
edit
]
Names in other languages
[
edit
]
Language
Name
Meaning
Japanese
アドベンチャー・ドリーム
Adobenchā Dorīmu
Adventure Dream
French
AventuRêve
Portmanteau of aventure (adventure) and rêve (dream)
German
Abenteuer-Traum
Adventure Dream
Italian
Sogno Avventura
Adventure Dream
Spanish
Expedición pirata
Pirate expedition