Undersea Dream
From the Super Mario Wiki, the Mario encyclopedia
Jump to navigation
Jump to search
Undersea Dream
Appears in
Mario Party 5
Availability
Default
Description
"A board inspired by dreams of the Tropics."
"It's 10,000 laughs under the sea! With colorful coral reef, a sunken ship, Cheep Cheeps, and even a friendly whale, it's a deep-sea dive only Mario Party can deliver!"

—Mario Party 5 instruction booklet, page 27

"Welcome to the Undersea Dream! This is a world inspired by walking along the sea floor! Enjoy yourself as you stroll alongside fish and coral in this dream!"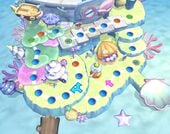 Undersea Dream in Mario Party 5 is a board map from the Dream Depot. It was created from dreams of the ocean. The flavor text in the instruction booklet references Twenty Thousand Leagues Under the Sea. Resembling a coral reef, the board is divided into two sections connected by bridges. Noteworthy features are the sunken ship, the whale, and the tiny shops set up by Cheep Cheeps. If a player lands on the Happening Space on the sunken ship, a dolphin swims out and forcefully takes the player to another part of the board. Landing on the Happening Space next to the whale allows players to be blasted to a space nearer to the Star; however, it is also possible to be blasted in front of the Star, meaning that the player will have to go all the way around the board again to get it. The Happening Space next to the Cheep Cheep on the right-side reef let players get a chance to earn a Capsule, an empty can, or an old boot from one of the shells (with the latter two being worth nothing). Finally, the Happening Spaces next to the logs on either side of the board gave players a chance to ride a manta to the other side of the board and collect coins along the way.
Party Mode
[
edit
]
Story Mode
[
edit
]
Gallery
[
edit
]
Names in other languages
[
edit
]
Language
Name
Meaning
Japanese
アクア・ドリーム
Akua Dorīmu
Aqua Dream
French
AquaRêve
Portmanteau of aqua and rêve (dream)
German
Tiefsee-Traum
Deep Sea Dream
Italian
Sogno Acqua
Water Dream
Spanish
Paseo submarino
Underwater walk
Air bubbles are shown coming out of the characters occasionally during gameplay.
The Happening Space with the Cheep-Cheep is one of the few examples in the entire Mario Party series where a character can get an item on the last turn (aside from doing an event themselves).
This is the only board in Mario Party 5 with two capsule machines instead of three.