The Hunter of the Mesa
From the Super Mario Wiki, the Mario encyclopedia
Jump to navigation
Jump to search
"Look! Whoever that is took the REAL Momma prisoner! I told you that last transmission sounded fishy!"
The Hunter of the Mesa is the second Darkmess Tentacle battle on Barrendale Mesa in Mario + Rabbids Sparks of Hope. This battle is part of the main quest Momma's Payback. It is located beneath Momma's garage, although it rises up from the ground after Daphne captures Momma. In this battle, the heroes must defeat Daphne, the last of Cursa's Spark Hunters. Like Midnite, the battle is fought in three phases, each with a different layout. After the battle, the heroes obtain the final Purified Darkmess Energy Crystal, along with the Memory for Daphne. Momma is also rescued, and Daphne is defeated. The heroes also briefly see Rosalina break free from Cursa. This is the final Darkmess Tentacle battle.
Each phase of the battle has a different layout, but Daphne is always on the opposite side of the battlefield, on high ground.
Phase 1
[
edit
]
The path is a straight path to Daphne with pipes at the sides connecting to reach closer to Daphne. There is high ground close to Daphne, and it is also present on the right side. There are two Sea Stooges and two groups of Goombas close to Daphne, being in two groups of three.
Phase 2
[
edit
]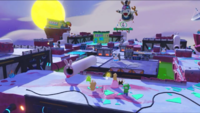 This battlefield is larger than the first battlefield, consisting of multiple Jump Panels, pipes, and high ground scattered throughout. There are also five Squashettes on the lower ground, with two Lone Wolves on higher ground; one at the left, the other at the right.
Phase 3
[
edit
]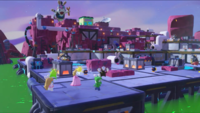 The area is the biggest battlefield of the battle, consisting of pipes, Jump Panels, and lots of elevation to reach Daphne, located at the very top. There are four Bob-ombs at the start, along with four Magnafowls scattered throughout the battlefield. Three Scopers are located at the middle area, along with two Medicians close to Daphne. Barrels containing the Burn and Ooze Super Effects are located on the higher ground of the battlefield.
During the first phase, Darkmess portals containing Sea Stooges will appear. The second phase also has Darkmess portals, containing Squashettes instead. The third phase does not have any Darkmess portals.
Enemies
[
edit
]
Names in other languages
[
edit
]
Language
Name
Meaning
Japanese
砂漠のハンター
Sabaku no Hantā
Desert Hunter
German
Die jägerin des tals
The huntress of the valley
Italian
La cacciatrice della sabbia
The huntress of the sand
Spanish
Cazadora de la meseta
Hunteress of the plateau