Roots of Corruption
From the Super Mario Wiki, the Mario encyclopedia
Jump to navigation
Jump to search
"Target ALL three of its weak points at once, then you'll be able to get to the bottom of things down below."
Roots of Corruption is a Darkmess Tentacle battle in Mario + Rabbids Sparks of Hope, located inside the Abandoned Well in Palette Prime. The heroes must destroy Darkmess Taproots and make their way down an elevator to the bottom, while surviving against enemies. Clearing the battle will grant the heroes a Purified Darkmess Energy Crystal, along with the Spark Electrogeddon joining the heroes. The color to the trees of Spellbound Woods also receive their color back. This battle can be done in any order by the player.
Elevator
[
edit
]
The elevator is very small in size, consisting of two Squashettes and two jump Panels, while having a teardrop shape. A Darkmess Taproot is in the center of the elevator, and destroying it will clear the jump panels, along with activating the elevator to go down.
Bottom of the well
[
edit
]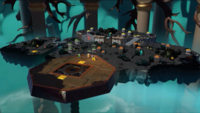 This area is much bigger, spreading across to three different sections, with a Darkmess Taproot in each of them. The middle Darkmess Taproot is on higher ground. Destroying a Darkmess Taproot will reveal jump Panels, but also cause some cover to disappear. There are several Flamin' Stooges and Ghostly Walkers at this part, with six Flamin' Stooges total; three at the left, one in the middle, and two on high ground. There are three Ghostly Walkers, two at the right, and one on high ground.
The heroes must destroy the Darkmess Taproot on the elevator, and doing so will cause it to activate and move down. The heroes must then survive for five turns, while indestructible Darkmess portals containing Wildclaws will appear. After surviving these five turns, the elevator will reach to the bottom of the well.
At the bottom of the well, the heroes must destroy all three Darkmess Taproots to win the battle. Indestructible Darkmess portals will appear, containing Ghostly Walkers and Flamin' Stooges.
Enemies
[
edit
]
Names in other languages
[
edit
]
Language
Name
Meaning
Japanese
腐敗の根
Fuhai no Ne
Roots of Curruption
German
Die wurzel allen übels
The root of all evil
Italian
All'origine del male
At the origin of evil
Spanish
La raíz de la corrupción
The root of corruption