Super Mario Bros. 3: Happy Birthday, Princess Toadstool!
From the Super Mario Wiki, the Mario encyclopedia
Jump to navigation
Jump to search
It has been requested that more images be uploaded for this article. Remove this notice only after the additional image(s) have been added.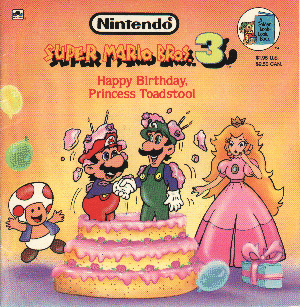 Super Mario Bros. 3: Happy Birthday, Princess Toadstool! was a Golden Look-Look Book written by Jack C. Harris and published in 1990 by the Western Publishing company.[1][2] It is targeted for young readers.
Mario and Luigi are heading to Princess Toadstool's birthday party, but Mario feels sad. He wanted to give Toadstool a Starman, which Luigi also wanted to give her. They decide to race for one. To make it easy, Mario eats a Super Mushroom and grabs a Fire Flower. However, instead of doing Super Mario Bros. 3 actions, Mario slides down a flagpole, runs inside a crumbling castle like in the original Super Mario Bros., he jumps into a pipe leading to the sewers, uses all his Mushroom-and-Flower energy and soon finds a Starman. But at that moment, the power-ups wear off, and Mario follows the Starman, which lands in Luigi's pocket. Mario feels sad again until Luigi suggests that they can both give it to Toadstool. Feeling happy, Mario jumps on Luigi's shoulders and they head to Toadstool's birthday party. Mario tells Toadstool it was nothing at finding her gift. Luigi glares at him though, so Mario says Luigi helped him find it.
See also
[
edit
]
References
[
edit
]