Cog (Donkey Kong Country 3: Dixie Kong's Double Trouble!)
From the Super Mario Wiki, the Mario encyclopedia
Jump to navigation
Jump to search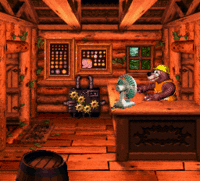 A cog is a golden item that appears in Donkey Kong Country 3: Dixie Kong's Double Trouble! They are essential for accessing the Knautilus.
There are five cogs, and each one is obtainable if Dixie and Kiddy Kong clear a Krematoa level for the first time, by raising the Level Flag. The Kongs can take every cog to Boomer's Bomb Shelter, where Boomer inserts them onto a machine. The Knautilus only rises when all five cogs are inserted, which also reawakens the dormant volcano within Krematoa.
In the Game Boy Advance remake, the cogs were recolored to silver.