Hermit crab
From the Super Mario Wiki, the Mario encyclopedia
Jump to navigation
Jump to search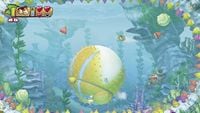 Variously-colored hermit crabs[1] appear as underwater obstacles in Donkey Kong Country: Tropical Freeze. They are almost completely hidden by a spiral shell, with only their eyes visible, and come in red, purple, and yellow coloration. They are only present in Fugu Face-Off, where colonies of them cover the surface around the area in its entirety, making it harmful to touch. Hermit crabs cannot be destroyed and are able to defeat green fish and Sea Urchins that come into contact with them. For most of the battle, they remain stuck in place. However, during the third phase of the battle, Fugu propels himself around the area and bonks into the walls, which causes multiple hermit crabs to slowly drop from above with their eyes shut.
A few hermit crabs can also be seen standing on some rocks on the map of Sea Breeze Cove around the Fugu Face-Off level.
Though they are referred to as hermit crabs, their lack of legs, as well as their ability to stick to walls and ceilings, make them much more resemble snails.
References
[
edit
]