Spear-Mask
From the Super Mario Wiki, the Mario encyclopedia
Jump to navigation
Jump to search
"Who named these guys?! Try being a little more creative! Whatever!! They get tougher as they go from yellow to blue to red, so watch out!"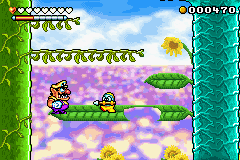 Spear-Masks[1] are enemies found in the Game Boy Advance game Wario Land 4. Spear-Masks wear either yellow, blue, or red robes. Spear-Masks are the most common enemy in the Emerald Passage and the Entry Passage. Like Marumen, performing a smash attack near a Spear-Mask will change their color and the amount of coins that they drop. Yellow Spear-Masks will turn blue, blue Spear-Masks will turn red, and red Spear-Masks will turn yellow. Unlike Marumen however, the behavior of Spear-Masks also changes depending on their color.
Yellow Spear-Masks simply patrol a given area, and Wario will get damaged if he touches their spear. They drop a Small Coin upon defeat. Blue Spear-Masks share the same behavior as yellow Spear-Masks, but they will spin their spear before they start to walk or if they change direction. They drop a Bronze Coin upon defeat. Red Spear-Masks share the same behavior as blue Spear-Masks, but they will raise their spears and charge at Wario when they see him. They drop a Silver Coin upon defeat.
The initial color of Spear-Masks depends on the game mode. In Normal mode, yellow Spear-Masks are the most common form, with only one red Spear-Mask being found in Monsoon Jungle. With harder difficulties, blue and red Spear-Masks become more common, and red Spear-Masks are the most common form in S-Hard mode.
A Spear-Mask makes a cameo appearance in one of 18-Volt's microgames, simply titled Wario Land, which was featured in WarioWare: D.I.Y. Showcase. The objective of the microgame is to do a body slam with Wario onto the enemy, minding its pointy spear at the same time.
Spear-Masks were likely modeled after the Pirate Gooms of Wario Land and Wario Land II. With Spear-Masks, each of all four handheld Wario Land games features an enemy holding a spear. Spear-Masks also resemble Shy Guys since both have similar body shapes and clothing.
Gallery
[
edit
]
Names in other languages
[
edit
]
Language
Name
Meaning
Japanese

面

ヤリ[2]
Men'yari
From「槍」(yari, spear) and「

面

」(men, mask)
Chinese
面具矛仔[3]
Miànjù Máo Zǎi
Masked Spear Guy
French
Spear-Mask[4]
-
German
Spear-Mask[5]
-
Italian
Mascherone[6]
Big mask
Spanish
Lancero enmascarado[7]
Masked Spearman
References
[
edit
]