Clear Pipe Cruise
From the Super Mario Wiki, the Mario encyclopedia
Jump to navigation
Jump to search
Clear Pipe Cruise, otherwise known as World 6-1, is the first course in World 6 in Super Mario 3D World and its Nintendo Switch port Super Mario 3D World + Bowser's Fury. It is unlocked via completing King Ka-thunk's Castle, and its own completion unlocks Spooky Seasick Wreck. This level also appears as the fourth course of the Bonus Episode in the Wii U version of Captain Toad: Treasure Tracker.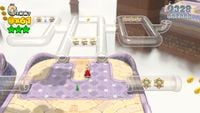 The level starts on a set of platforms with some Fire Piranha Plants, spike balls, and Clear Pipes nearby, followed by a Warp Box which transports the player to the next area. After avoiding some enemies, the player reaches the Checkpoint Flag. A nearby Clear Pipe takes the player to an upwards slope filled with Clear Pipes with Fuzzies in them. A Warp Box and a Piranha Plant-infested area follows, allowing the player to reach an area where five Key Coins need to be collected in order to progress. The last Warp Box of the level transports the player to an area with Captain Toad and the Goal Pole.
Green Star 1: Near the beginning, the first Green Star is inside a Clear Pipe between two spike balls, which can be destroyed by a Star.
Green Star 2: Immediately before the checkpoint, the second Green Star is seen inside a Clear Pipe infested with Fuzzies.
Green Star 3: The player must take a Cloud Cannon to find the Green Star in a Coin Heaven.
After the Checkpoint Flag and before the next area, the stamp is suspended above the Clear Pipe. The stamp is Captain Toad hanging on a rope.
Enemies
[
edit
]
Luigi sightings
[
edit
]
An 8-bit Luigi can be found on the clear pipe on the curve, under the stamp.
In Captain Toad: Treasure Tracker, another 8-bit Luigi is at the bottom of a pillar near the first Fuzzies.
Names in other languages
[
edit
]
Language
Name
Meaning
Japanese
とうめい土管ツアー
Tōmei Dokan Tsuā
Clear Pipe Tour
Chinese
透明水管巡遊
Tòumíng Shuǐguǎn Xúnyóu
Clear Pipe Tour
Dutch
Beklimming van de buizenberg
Climbing of the pipe mountain
French
Des tuyaux dans les nuages
Pipes in the clouds
German
Reise per Glasrohrpost
Travel by Clear Pipe Post
Italian
Percorsi trasparenti
Transparent paths
Portuguese
Rota dos canos transparentes
Route of the clear pipes
Russian
Путешествие по стеклянным трубам
Puteshestvie po steklyannym trubam
Journey through clear pipes
Spanish
La ruta de las tuberías transparentes
The route of the clear pipes