Turnip Cannon Jungle
From the Super Mario Wiki, the Mario encyclopedia
Jump to navigation
Jump to search
Turnip Cannon Jungle is the 13th course of Episode 1 in Captain Toad: Treasure Tracker and its Nintendo Switch and Nintendo 3DS ports of the same name. This level takes place in a Piranha Creeper-infested jungle with a Turnip Cannon.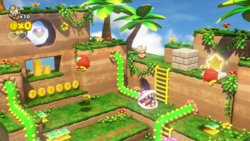 Captain Toad will start on a high ledge next to the Power Star, but it's blocked off by a Rock Block. To destroy the Rock Block, the Captain will have to reach the Turnip Cannon at the bottom of the course, while avoiding the Piranha Creepers and Flaptors. When Captain Toad enters the cannon, the
will enter a first-person perspective, allowing the player to shoot Turnips at the enemies and at the Rock Block blocking the Power Star. After destroying the block, Captain Toad will be able to access the Power Star.
Super Gems
[
edit
]
Three Super Gems can be found throughout the level.
Super Gem 1: Inside a Pluck Patch on the right guarded by a Piranha Creeper and a Flaptor.
Super Gem 2: Inside a high alcove on the left side of the course. The player must fire a Turnip at the Super Gem to collect it.
Super Gem 3: Given by a mole-enemy located under the level; accessed by a Purple Warp Pipe.
Enemies
[
edit
]
Luigi sighting
[
edit
]
A small hidden 8-bit Luigi can be seen on the ground behind the Turnip Cannon. It can only be seen on the
while the player is in the Turnip Cannon. It can also be seen on the normal screen, but it is just a white speck.
Pixel Toad
[
edit
]
After defeating the Piranha Creeper to the left of the Turnip Cannon, Pixel Toad can be found in the hole.
Names in other languages
[
edit
]
Language
Name
Meaning
Japanese
ジャングルのカブ大砲
Janguru no Kabu Taihō
Turnip Cannon in the Jungle
Dutch
Een knolkanon in de jungle
A Turnip-Cannon in the Jungle
French
Pluie de navets sur la jungle
Rain of Turnips on the Jungle
German
Rübenballerei in der Wildnis
Turnip Shoot-Up in the Wilderness
Italian
La giungla del cannone a rape
Turnip Cannon Jungle
Spanish
A cañonazos en la jungla
Cannon-Shooting in the Jungle