Double Cherry Palace
From the Super Mario Wiki, the Mario encyclopedia
Jump to navigation
Jump to search
Double Cherry Palace is the 5th course of Episode 1 in Captain Toad: Treasure Tracker and its Nintendo Switch and Nintendo 3DS ports of the same name. This level takes place in a large Arabian-type castle with a hedge maze on the roof.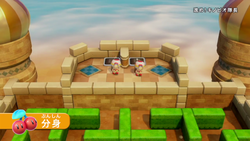 Captain Toad starts next to a Double Cherry, which is a power-up returning from Super Mario 3D World. The player must use the Double Cherry to clone Captain Toad, and use them to navigate through a maze to hit two P Panels, which unlocks the back side of the castle. From here, the player needs to reach the bottom of the castle, where a two-person platform can be found. This platform will take the player up to the Power Star.
Super Gems
[
edit
]
Three Super Gems can be found throughout the level.
Super Gem 1: Given to the player by a Mole in the hedge maze.
Super Gem 2: In the back of the castle; inside a secret room on the left side.
Super Gem 3: Given to the player by a Mole behind the castle.
Pixel Toad
[
edit
]
Near the second pair of P Panels, the Pixel Toad can be found running on the frame of the adjacent door.
Enemies
[
edit
]
Luigi Sighting
[
edit
]
A hidden 8-bit Luigi can be found in a window on the right wall, just below the hedge maze.
Names in other languages
[
edit
]
Language
Name
Meaning
Japanese
ダブルチェリー宮殿
Daburu Cherī Kyūden
Double Cherry Palace
Dutch
Kasteel der dubbele kersen
Double Cherry Castle
French
Palais de la double cerise
Double Cherry Palace
German
Doppelkirschen im Palastgarten
Double Cherries in the Palace Garden
Italian
Il palazzo della doppia ciliegia
Double Cherry Palace
Spanish
El palacio de las duplicerezas
Double Cherry Palace