Blizzard on the Star Express
From the Super Mario Wiki, the Mario encyclopedia
Jump to navigation
Jump to search
Blizzard on the Star Express is the 17th course of Episode 1 in Captain Toad: Treasure Tracker and its Nintendo Switch and Nintendo 3DS ports of the same name. This level requires 30 Super Gems to unlock, and it takes place on a train.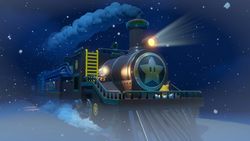 Captain Toad must run across the top of a train, dodging Shy Guys and Biddybuds that move in a circle. After making it across the top, the player descends around the front of the train, dodging a Flaptor and entering the engine room. After traversing the storage room with many movable blocks, the player comes across two living quarters, but only the first can be accessed due to a Shy Guy. If the player goes through other room, and around the balcony, the player can come out the other, go around the Shy Guy, and continue. Next is a room with many seats, Biddybuds and a Super Pickax. After this, the level ends. If the player enters the driver's room of the train, they can interact with a handle that sets off the train's whistle (the sound of which is the same as Super Mario 3D World's train levels), and spawns a 1-Up Mushroom from the train's smokestack.
Super Gems
[
edit
]
Three Super Gems can be found throughout the level.
Super Gem 1: Inside the third brown box at the start of the level.
Super Gem 2: Behind a movable block in the living quarter guarded by a Shy Guy.
Super Gem 3: Behind some bricks in the storage room; can be broken using the Super Pickax from the next room.
Luigi sighting
[
edit
]
If the camera is at the right angle, an 8-bit Luigi can be seen running on the tracks in front of the train. It was removed from the Switch and 3DS versions of the game.
Pixel Toad
[
edit
]
Pixel Toad is riding on the pilot of the train.
Enemies
[
edit
]
Names in other languages
[
edit
]
Language
Name
Meaning
Japanese
吹雪のスターエクスプレス
Fubuki no Sutā Ekusupuresu
Star Express in the Blizzard
Dutch
Sterrentrein in de storm
Star-Train in the Storm
French
Blizzard sur l'Étoile Express
Blizzard on the Star Express
German
Sternenexpress im Schneesturm
Star Express in the Snowstorm
Italian
Bufera di neve sul treno stellare
Snowstorm on the Star Train
Spanish
Nevada sobre el convoy estelar
Snowfall on the Star Train