Wingo's Watchtower
From the Super Mario Wiki, the Mario encyclopedia
Jump to navigation
Jump to search
Wingo's Watchtower is the eighteenth course of Captain Toad: Treasure Tracker and its Nintendo Switch and Nintendo 3DS ports of the same name, and the final course of Episode 1. This level takes place on a dark and stormy tower, where Wingo is keeping Toadette.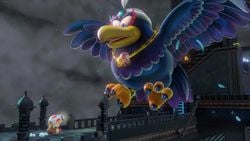 Captain Toad must climb to the top of the tower while avoiding the strong wind gusts of Wingo. While climbing the tower, Wingo's wind gusts will move some blocks, which can either help or hinder the player's progress. Once Captain Toad reaches the top of the tower, he will fight Wingo using giant Turnips that fall from the sky. After hitting Wingo three times, Wingo explodes and Toadette and the Power Star are then sent flying and land in the treasure, with Toadette ending up with her upper body stuck in it and her feet sticking out. The player must then pull her out to truly rescue her and claim the Power Star of this level.
Super Gems
[
edit
]
Three Super Gems can be found throughout the level.
Super Gem 1: Obtained by plucking the blue handle in the bottom-right corner of the course.
Super Gem 2: Halfway up the tower, the player must avoid pulling the blue handle before it, otherwise the path to the Super Gem will be blocked.
Super Gem 3: Near the top of the tower. The player must use a nearby ladder (which moves via Wingo's strong wind gusts) to reach it.
Enemies
[
edit
]
Luigi sighting
[
edit
]
A hidden 8-bit Luigi can be seen to the left of the HUD while the player is inside the Clear Pipe cannon at the top of the tower.
Pixel Toad
[
edit
]
Pixel Toad appears on the second ladder that moves.
Names in other languages
[
edit
]
Language
Name
Meaning
Japanese
大怪鳥ウィンゴの根城
Daikaichō Wingo no Nejiro
The Headquarters of the Big Strange Bird, Wingo
Dutch
Wingo's wachttoren
Wingo's Watchtower
French
Le fort de Wingo
Wingo's Fort
German
Wingos Wachturm
Wingo's Watchtower
Italian
La fortezza di Wingo
Wingo's Fortress
Spanish
La guarida de Wingo
Wingo's Lair