Drop-Road Dash
From the Super Mario Wiki, the Mario encyclopedia
Jump to navigation
Jump to search
Drop-Road Dash is the 15th course of Episode 1 in Captain Toad: Treasure Tracker and its Nintendo Switch and Nintendo 3DS ports of the same name. This level takes place in the sky with Dash Panels, Donut Blocks, and Para-Biddybuds serving as obstacles.
Captain Toad starts off on a blue platform followed by a Donut Block. Then Captain Toad will pass a dash panel and will have to dash through the level while avoiding Para-Biddybuds and falling. Captain Toad can also go on colored platforms and pick up Turnips to defeat the Para-Biddybuds.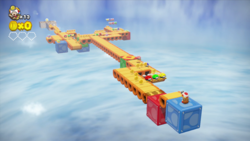 Super Gem 1: On a Donut Block after the first blue-resting platform.
Super Gem 2: On a Donut Block after the first green-resting platform.
Super Gem 3: On an inaccessible blue platform. The player must throw a Turnip at it to collect it.
Pixel Toad
[
edit
]
Once on the second blue platform, the player needs to step on the Donut Blocks next to it and return to the platform. Pixel Toad is behind the Donut Blocks.
Enemies
[
edit
]
Names in other languages
[
edit
]
Language
Name
Meaning
Japanese
疾走ラッカロード
Shissō Rakka Rōdo
Sprint on the Falling Road
Dutch
De vallende weg
The Falling Road
French (NOA)
Chutes tous azimuts
Falls all Azimuths (azimuth, angle of the horizon)
French (NOE)
Ruée sur la dégringole-allée
Rush on the Plummet Alley
German
Sprint über die Bröckelstraße
Sprint over the Crumbling-Track
Italian
Sfida corri o cadi
Run or Fall Challenge
Spanish (NOA)
La carrerita de las caídas
The Race of the Falls
Spanish (NOE)
Acelerones y caídas en las alturas
Accelerations and Drops in the Heights