Sprawling Savanna
From the Super Mario Wiki, the Mario encyclopedia
Jump to navigation
Jump to search
Sprawling Savanna, otherwise known as World 5-4, is the fourth level of World 5 from Super Mario 3D World and its Nintendo Switch port Super Mario 3D World + Bowser's Fury, unlocked by clearing Chargin' Chuck Blockade Is Back. This stage is a big savanna-themed mountain during sunset. Completion of this level unlocks both Bob-ombs Below and Cakewalk Flip.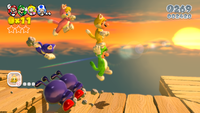 The course starts out on a tall pillar with a Clear Pipe Cannon. It launches Mario and his friends to the next mountain. As they climb, they must deal with Ant Troopers, and Fuzzies moving through a small series of Clear Pipes that must be used to reach a peak with a revolving bridge and the cannon to the next area. The third mountain is mostly an open space, where players find the Checkpoint Flag, rabbits, more Ant Troopers, and some ponds. Beyond this place, there is a high wall featuring another group of Clear Pipes and Fuzzies, with a Super Star place at the opening to destroy the enemies. On the very top of the wall, players will find two rotating platforms, a Green Star Ring, some more Ant Troopers, as well as the Goal Pole.
Green Star 1: In a small hole near the first section of Clear Pipes. Players can get to there either with a Cat suit or by falling off the summit.
Green Star 2: The second Green Star is being held by a rabbit on the third mountain. This rabbit has a green glow around it.
Green Star 3: The third Green Star appears after the player has collected all the eight Green Coins after the Green Star Ring is activated at the end of the course.
The character must fall into the hole the Ant Troopers get in on the third area. There is a Warp Box leading to a small cave containing a Big Ant Trooper with the Stamp of Cat Peach on its back.
If the player takes an immediate right after the fifth Clear Pipe Cannon, they can see an 8-bit Luigi imprinted on the grass. Also, in the same area, the player can use a Sprixie's binoculars to see another 8-bit Luigi on top of a Clear Pipe.
Enemies
[
edit
]
Names in other languages
[
edit
]
Language
Name
Meaning
Japanese
かけまわれ!ワイルドサバンナ
Kakemaware! Wairudo sabanna
Run around! Wild Savanna
Chinese
奔跑吧!荒野大草原
Bēnpǎo ba! Huāngyě Dàcǎoyuán
Run around! Wild Savanna
Dutch
Avond op de savanne
Evening on the savanna
French
L'appel de la savane
Call of the Savanna
German
Grandiose Grassteppe
Terrific Savanna
Italian
Savana selvaggia
Wild Savanna
Portuguese
Corrida pelo planalto das formigas
Race through the ants plateau
Russian
Вечер в саванне
Vecher v savanne
Evening in the savanna
Spanish
Viaje por la pradera salvaje
Trip Around the Wild Savanna