Spooky Seasick Wreck
From the Super Mario Wiki, the Mario encyclopedia
Jump to navigation
Jump to search
Spooky Seasick Wreck, otherwise known as World 6-2, is the second course of World 6 in Super Mario 3D World and its Nintendo Switch port Super Mario 3D World + Bowser's Fury. It is a rainy haunted course set on various wrecked ships above a misty sea. Completing this level unlocks both Hands-On Hall and Deep Jungle Drift.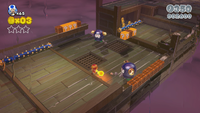 The first place players visit is the deck of two ships, connected by a narrow, tilting platform. The ships also tilt, and contain Bullies and spiked cylinders. A Warp Box takes the player to the ship hold, which is inhabited by Peepas and Boos, and is partially flooded.
The next section has the Checkpoint Flag and a tilting bridge, ending at the last ship, where two Bullies must be defeated in order to reveal the Warp Box to the Goal Pole platform.
Green Star 1: Players must push the Bullies off the second ship.
Green Star 2: It is inside a hole under a circle of Peepas in the ship hold.
Green Star 3: It lies above the final tilting bridge.
The Stamp is above a group of Peepas inside the hold, near the second Green Star. The stamp is a Fire Flower.
Enemies
[
edit
]
Names in other languages
[
edit
]
Language
Name
Meaning
Japanese
ゆらゆら幽霊船
Yurayura yūreisen
Swaying Ghost Ship
Chinese
搖搖晃晃幽靈船
Yáoyáohuànghuàng Yōulíngchuán
Swaying Ghost Ship
Dutch
Zeeziek spookschip
Seasick ghost ship
French
Épave terrifiante
Terrifying Wreck
German
Die verwunschene Flotte
The haunted fleet
Italian
Flotta fluttuante
Floating fleet
Portuguese
Destroços assombrados
Haunted wreckage
Russian
Морская болезнь на корабле-призраке
Morskaya bolezn' na korable-prizrake
Seasickness on the ghost ship
Spanish
Mareos en el naufragio fantasma
Sickness on the ghost shipwreck