Battle Game (Super Mario All-Stars)
From the Super Mario Wiki, the Mario encyclopedia
Jump to navigation
Jump to search
This article is under construction. Therefore, please excuse its informal appearance while it is being worked on. We hope to have it completed as soon as possible.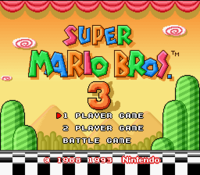 The Battle Game is a competitive remake of Mario Bros. selectable on the title screen for the Super Mario All-Stars version of Super Mario Bros. 3. Unlike the similar minigame found in the 2-player mode, actions that happen within this version does not affect the players' progress in Super Mario Bros. 3. The Battle Game is the inspiration for the Game Boy Advance remake of Mario Bros. found in the Super Mario Advance series and Mario & Luigi: Superstar Saga.
Gameplay
[
edit
]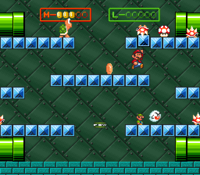 For each round, the goal for Mario and Luigi is to be the last brother standing or to be the first to grab five coins that emerge from the top pipes after defeating an enemy. Winning five rounds will add a star under the brother's name. After a player gets six stars, all stars are reset. There are no bonus stages.
Characters
[
edit
]
Playable
[
edit
]
Both brothers start each round in Super form.
| Image | Name | Information |
| --- | --- | --- |
| | Mario | The older Mario brother, who serves as player one. |
| | Luigi | The younger Mario brother, who serves as player two. |
Enemies
[
edit
]
The number of enemies is endless, they are replaced whenever they are defeated. This is also the only version of Mario Bros. where enemies change color if the brothers flip them back up.
| Image | Name | Round appearance | Information and abilities |
| --- | --- | --- | --- |
| | Spiny | 1, 2, 4, 7, 9 | Spinies are the simplest enemies to defeat. They only need to be hit once from below to be stunned. |
| | Crab | 2, 3, 7, 8, 9 | The first time the player hits Crabs, they gain an angry expression and walk faster. The player thus needs to hit them twice before kicking them off. |
| | Fighter Fly | 4, 5, 6, 7, 8, 9 | A fly that jumps up and down and is the hardest to defeat. The player can hit Fighter Flies only while they are on the ground. |
Other enemies
[
edit
]
These enemies do not award coins and appear in every round.
| Image | Name | Information and abilities |
| --- | --- | --- |
| | Koopa | A single green Koopa appears in every round. Unlike other enemies, it can be stomped, and in the process, the player can kick its shell at the opposing player. When its shell collides with other enemies, it merely knocks them slightly upward and sails right through Boos. While it can be stunned, it cannot be permanently defeated. It speeds up after recovering from being stunned but does not change color. The sprite for this Koopa is not the same as the one found in the main game. |
| | Boo | Boos replace the fireballs found in the 2-player mode's version. Although sharing the same sprite, one type attacks by moving in a horizontal wavy pattern while the other bounces around diagonally. The latter's behavior is different from its fireball counterpart in that it can go through the wraparound screen. Boos spawn from the left side of the screen. Hitting a POW Block will cause them to disappear. Like the Koopa, its sprite is also unique. |
| Image | Name | Effect |
| --- | --- | --- |
| | Coin | Coins spawn from the top pipes each time an enemy is defeated. One method to win a round is to be the first to collect five. |
| | POW Block | POW Blocks always appear in the center of the level, knocking over all enemies on-screen when a brother hits it. After being hit three times, the block disappears. However, it can randomly regenerate. |
| | Super Mushroom | Super Mushrooms can restore a brother from small form to Super form but has no effect if the player is already in Super form. They can spawn from the top pipes but can also be hidden in the floor. |
| | ? Kinoko | ? Kinoko can swap the players position if they are the same form or switch their forms if they are different. Like Super Mushrooms, they can spawn from the top pipes or be hidden in the floor. This item appears only in this minigame. |