Sweet Mystery Galaxy
From the Super Mario Wiki, the Mario encyclopedia
Jump to navigation
Jump to search
Sweet Mystery Galaxy is a galaxy of World 4 in the game Super Mario Galaxy 2. Its level consists of different types of food and sweets, such as ice cream, pancakes, lollipops, candy canes, pretzels and donuts. Most of the platforms here are invisible and can only be revealed using Bulb Yoshi. Common enemies here include Smeeches and Choppahs. The galaxy entirely revolves around the use of Bulb Berry.
Planets
[
edit
]
NOTE: Unless otherwise noted, all names are unofficial.
Sweet Mystery Planet
[
edit
]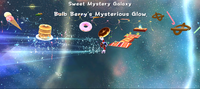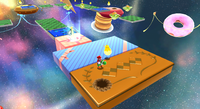 This planet is entirely composed of food-like platforms. There are few enemies in this galaxy, and a twisty Matter Splatter path that can only be revealed with the use of the Bulb Berry. The Comet Medal is found on an invisible platform to the right after passing the first curved platform. There are a few moving platforms and some flowers can be found in one area. To reveal the Launch Star that leads to the next planet, the player must turn all the Flipswitch Panels yellow. This is the starting planet for all of the missions.
Present Planet
[
edit
]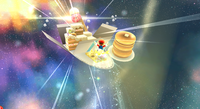 When the player uses the Launch Star from the first planet, they'll end up on the final planet in the galaxy. At first, the player will see this planet shaped like a present, but as they approach it, the gift unwraps and reveals a cake. When the player lands on it, the cake will disappear. The only way to see it again is to use the Bulb Berry. Choppahs can be encountered here. The Power Star is at the top of the cake.
Enemies
[
edit
]
Missions
[
edit
]
Green Stars
[
edit
]
Green Star 1
[
edit
]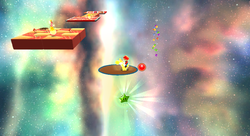 The player will redo the Bulb Berry's Mysterious Glow mission. The first green star is located under a Matter Splatter platform. To get it, the player must use Bulb Yoshi and stand on this platform. Then, they must wait until the Bulb Berry's effects wears off and fall to get the Green Star. This Star can also be reached by long jumping at it with Luigi.
Planets Visited
Enemies
Green Star 2
[
edit
]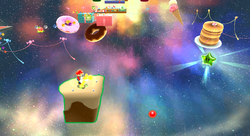 The player will redo the Bulb Berry's Mysterious Glow mission. The second Green Star is located near the location of the Comet Medal on the Sweet Mystery Planet. To get it, the player has to perform a Flutter Jump towards the star located to the right of the medal.
Planets Visited
Enemies
Sweet Mystery Galaxy Super Mario Galaxy 2 - Sweet Mystery Galaxy soundtrack (full version)

File info
0:30
Prima Official Game Guide description
[
edit
]
Names in other languages
[
edit
]
Language
Name
Meaning
Japanese
スイーツミステリーギャラクシー
Suītsu Misuterī Gyarakushī
Sweets Mystery Galaxy
Chinese
奇幻甜點銀河
Qíhuàn tiándiǎn yínhé
Magical Dessert Galaxy
French (NOA)
Galaxie du mystère sucré
Same as English name
French (NOE)
Succulents mystères
Succulent mysteries
German
Bisquitboden-Galaxie
Cookie Floor Galaxy
Italian
Galassia Dolce Mistero
Same as English name
Spanish
Galaxia Galletas Secretas
Secret Cookies Galaxy
Gallery
[
edit
]