Bugaboom's Back
From the Super Mario Wiki, the Mario encyclopedia
Jump to navigation
Jump to search
Bugaboom's Back is the hidden second mission of the Puzzle Plank Galaxy in Super Mario Galaxy 2. It can be accessed in The Puzzling Picture Block and requires the player to feed a Hungry Luma.
Mission
[
edit
]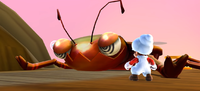 While redoing The Puzzling Picture Block mission, the player should make their way to the Pound Pillars Planet while collecting as many coins as they can. When they reach the aforementioned planet, they should feed the Hungry Luma seventy coins. This Luma will transform into Bugaboom's Wooden Planet. The player should make their way to the large tree in the middle using the Cloud Flower.
When the player lands on the large wooden tree planet, Bugaboom will appear and attacks the player. The player has to use the Cloud Mario form and use the springs to jump onto Bugaboom's back and ground pound him. After 3 hits, Bugaboom is defeated and Mario will earn a Power Star.
Enemies
[
edit
]
Planets Visited
[
edit
]
Names in other languages
[
edit
]
Language
Name
Meaning
Japanese
対決! クワカブトキング
Taiketsu! Kuwakabuto Kingu
Showdown! Bugaboom
Chinese
決戰! 扁平蟲王
Juézhàn! Biǎnpíng Chóng Wáng
Showdown! Bugaboom
French
Escarmouche et Skaraboss
Squabble and Bugaboom
German
Uns stinkt der Stinkkäferkönig
We're sick of Bugaboom
Italian
Duello con lo Scaraboom
Duel Against Bugaboom
Spanish
¡Duelo con el escarabajo rey!
Duel against Bugaboom!