Mattel
From the Super Mario Wiki, the Mario encyclopedia
Jump to navigation
Jump to search
Mattel
Founded
January 1945
Current president
Richard L. Dickson
Mattel is a United States-based toy company founded in 1945. It has made products in several of its toy lines and promotional items based on the Super Mario franchise since 1994.
Squeezable Paint Brush
[
edit
]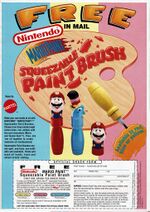 In 1994, Mattel produced Squeezable Paint Brushes for a Froot Loops promotion based on Mario Paint that could be ordered by mail. The brushes came in red, blue, and yellow, and featured either Mario or Toucan Sam.
Matchbox
[
edit
]
The first Matchbox vehicle based on the Super Mario franchise was a semi truck in the Super Rigs line with artwork from Super Mario 64, released in 1997.
In 2005, two sets of five cars were released. One was based on Mario Kart 64, including a limousine with artwork of Mario or Luigi, an ambulance with artwork of Wario, a Dodge Ram with artwork of Donkey Kong, and a Billboard Truck with group artwork from the game. The other set had a Chevrolet SSR and Sport SUV with artwork from Mario Party, a Billboard Truck with Mario and the Nintendo logo, a Ford Falcon with artwork from WarioWare: Twisted!, and a fifth car with artwork from Donkey Kong Country 2: Diddy's Kong Quest. A Tractor Cab with artwork from Mario Kart: Double Dash!! was released the same year in the Convoy line.
In 2007, a set of five cars featuring artwork from New Super Mario Bros. was released.
Hot Wheels
[
edit
]
Main article: Hot Wheels
Several cars based on the Super Mario franchise have been released under the Hot Wheels product line, including a series of diecast karts and drivers from Mario Kart 8 beginning in July 2019.
Main article: UNO Super Mario
Mattel has produced two versions of the card game Uno based on the Super Mario franchise, one being a generic Super Mario set in 2016 and one based on the Mario Kart series in 2020.[1]
Magic 8 Ball
[
edit
]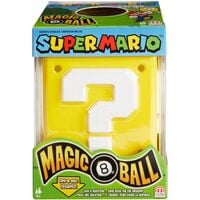 In 2017, Mattel released a Magic 8 Ball shaped like a ? Block. It has unique phrases not seen on typical Magic 8 Balls, including:[2]
"It's-a certain"
"No way, amateur!"
"Oh yeah!"
"Okie dokie!"
"Signs say ya-haaa!"
"Wowzer-outlook good."
"Yeah! Yeah! Of course!"
External links
[
edit
]
References
[
edit
]