Good-Feel
From the Super Mario Wiki, the Mario encyclopedia
Jump to navigation
Jump to search
Good-Feel is a Japanese video game developer. It developed Wario Land: Shake It!, released in 2008, the newest title in the Wario Land series released almost seven years after the previous title, Wario Land 4. The company also developed Yoshi's Woolly World as well as its Nintendo 3DS port, Poochy & Yoshi's Woolly World.[1]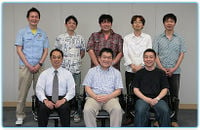 The company was founded by former Konami employee Etsunobu Ebisu on October 3, 2005. He told Nintendo about the new company and asked if his company could work on a game. Long-time Nintendo employee Takahiro Harada asked Ebisu if he would like to make a new Wario Land title, since Harada learned before the meeting that Ebisu was involved in the development of a Nintendo DS platform game he enjoyed very much, and Harada always wanted to make a Wario Land sequel. Though Ebisu suggested a shooting game, he agreed to create a platform game after Harada convinced him. The development resulted in Wario Land: Shake It!, a 2D platform game released in 2008 with hand-drawn graphics made with the help of the animation studios Production I.G and Kusanagi.[2]
Good-Feel developed the StreetPass Mii Plaza minigame Mii Force (known in PAL regions as StreetPass Squad), which is part of the downloadable content first released on June 18, 2013,[3] as well as Slot Car Rivals (StreetPass Slot Racer in PAL regions) and Market Crashers (StreetPass Trader in PAL regions),[4] which were released on September 1, 2016.
Good-Feel was also involved in developing the Giant Battles for Mario & Luigi: Dream Team.[5]
Good-Feel also developed Yoshi's Crafted World, a new entry in the Yoshi franchise for the Nintendo Switch, which released in 2019.[6]
Super Mario games

[

edit

]
External links
[
edit
]
References
[
edit
]