Ubisoft
From the Super Mario Wiki, the Mario encyclopedia
Jump to navigation
Jump to search
Ubisoft Entertainment (formally Ubi Soft Entertainment Software) is a French video game company headquartered in Montreuil, France. The company was founded by Christian, Claude, Gérard, Michel, and Yves Guillemot, who have developed games from numerous franchises, including Rayman, Assassin's Creed, Just Dance, and Prince of Persia.
Ubisoft has developed and published several games for Nintendo consoles. This relationship between the companies eventually led to the Mario + Rabbids series, a series of games crossing over Nintendo's Super Mario franchise with Ubisoft's Rabbids franchise.
Mario + Rabbids series

[

edit

]
Ubisoft has published the Super Mario and Rabbids crossover game Mario + Rabbids Kingdom Battle outside Japan, and the game has been developed by its Milan and Paris studios. Within Japan, it is published by Nintendo. The game has been successful commercially, becoming one of the best-selling third-party games on the Nintendo Switch. This would then lead to a sequel called Mario + Rabbids Sparks of Hope, also developed and published by Ubisoft outside Japan. Mario + Rabbids Sparks of Hope is compatible with Ubisoft's Ubisoft Connect service, and the Ubisoft character Rayman prominently appears in the Rayman in the Phantom Show downloadable content for that game.
Other games
[
edit
]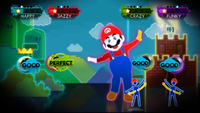 Trophies of Rayman, Globox, and Barbara from the Rayman series are present in Super Smash Bros. for Wii U, and costumes for the former two characters, based on Mario and Luigi respectively, can be obtained in the Wii U version of Rayman Legends and its Nintendo Switch port, Rayman Legends Definitive Edition.[1] Rayman, Rabbid Mario, Rabbid Peach, and Rabbid Kong appear in Super Smash Bros. Ultimate as spirits, while items for Miis are available in the forms of a piece of headgear based on a generic Rabbid, and both headgear and an outfit (the latter for Mii Swordfighters) based on the Assassin's Creed character Altaïr Ibn-La'Ahad.
The Japanese-exclusive release Just Dance Wii and the Wii version of Just Dance 3 feature an exclusive track named "Just Mario" with the artist credited as "Ubisoft meets Nintendo." The song is a rearrangement of the Ground Theme from Super Mario Bros., and its backing video depicts Mario interacting with various elements from the game. This track returned in the Nintendo Switch version of Just Dance 2018.[2]
References
[
edit
]