HAL Laboratory
From the Super Mario Wiki, the Mario encyclopedia
Jump to navigation
Jump to search
HAL Laboratory (HAL Labs for short) is a Japanese game developer partnered with Nintendo. It was founded on February 21, 1980, by a small group of friends who shared the desire to create games; among said group was Satoru Iwata. The group developed games for numerous platforms at first before developing exclusively for Nintendo. The name "HAL" originates from the fictional computer HAL 9000 from 2001: A Space Odyssey,[1] as well as each letter being one letter before "IBM."[2]
HAL Laboratory is most notable for developing the Kirby series, created by ex-employee Masahiro Sakurai; however, the company is also responsible for the Super Smash Bros. series and the EarthBound (Mother) series. HAL Laboratory has also commonly collaborated with other teams within Nintendo.
Notable employees
[
edit
]
List of games
[
edit
]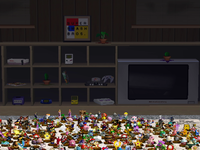 In Super Smash Bros. Melee, if the player selects the trophy collection and zooms in close enough, the television set to the right reads "HAL Laboratory" on it.
External links
[
edit
]
References
[
edit
]