Super Mario Level Up!
From the Super Mario Wiki, the Mario encyclopedia
Jump to navigation
Jump to search
This article is under construction. Therefore, please excuse its informal appearance while it is being worked on. We hope to have it completed as soon as possible.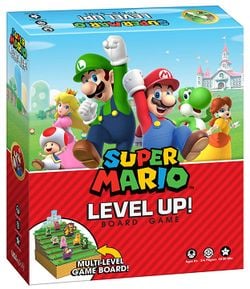 Super Mario Level Up! is a board game created by USAopoly based on the characters and settings of the Mario franchise, released in 2017. The objective of the game is to collect the most coins and be the first to climb the board to reach Peach's Castle at the top, both of which are done by drawing cards. It is based on New Super Mario Bros.
Gameplay
[
edit
]
Each player chooses one of twelve characters before beginning the game. The players draw cards that either say "YES!" (depicting Mario and Luigi) or "NO!" (depicting a Thwomp in a white background). If even just one of the players draws a "NO!" card, that character is out.
Website description
[
edit
]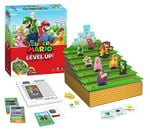 Join Mario and his pals as you advance them up the Mushroom Kingdom while challenging other players to gather the most coins and reach the castle at the top.
External links
[
edit
]
This article is a stub. You can help the Super Mario Wiki by expanding it.