Donkey Kong (cereal)
From the Super Mario Wiki, the Mario encyclopedia
Jump to navigation
Jump to search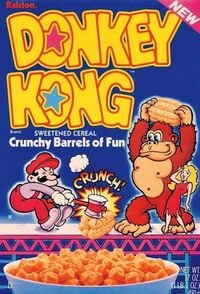 Donkey Kong was a breakfast cereal produced by Ralston Purina, based on the game of the same name and featuring Mario, Pauline, and Donkey Kong on the front of the box. The cereal began production in late 1982 and was discontinued in 1984.[1] Each box of Donkey Kong cereal contains sweetened corn cereal pieces shaped like barrels. Some boxes of the cereal came with arcade stickers or four Ralston All-Stars baseball cards packed inside, while others featured a template for a Donkey Kong mobile on the back of the box.[1] Ralston Purina also produced the Donkey Kong Junior and Nintendo Cereal System cereals.
Some boxes of Donkey Kong cereal featured a promotion titled the "Donkey Kong Instant Winner Game." Each box featuring this promotion contained a Donkey Kong Game Card, which depicted Mario on one of six levels. Five of the six levels corresponded to a prize:
Red level: Donkey Kong arcade cabinet
Yellow level: Atari 2600 with Donkey Kong cartridge
Orange level: Not an instant win level
Green level: Donkey Kong Game & Watch system
Blue level: Donkey Kong children's slumber bag
Purple level: Donkey Kong shoelaces
A Second Chance drawing was held for any unclaimed prizes, excluding shoelaces.
Several animated commercials were produced for the cereal,[2] and they featured Larry Moran as the voice of Mario,[1] Jo Belle Yonely as the voice of Pauline, and William Marshall as the narrator.[3] Notably, these commercials feature Mario being referred to by Pauline as "Mario" instead of "Jumpman," as well as Mario saying the phrase "Here we go!" before it was established as one of his catchphrases.
Boxes of Donkey Kong cereal appear in episode 1,529 of Mister Rogers' Neighborhood, where they can be seen alongside boxes of Pac-Man cereal as Mister Rogers walks down a cereal aisle in a grocery store.
Gallery
[
edit
]
References
[
edit
]