List of Mario vs. Donkey Kong: Mini-Land Mayhem! glitches
From the Super Mario Wiki, the Mario encyclopedia
Jump to navigation
Jump to search
This is a list of glitches in the game Mario vs. Donkey Kong: Mini-Land Mayhem!.
Glitches
NOTE: Unless otherwise noted, all names are conjectural.
Another Off-Screen Death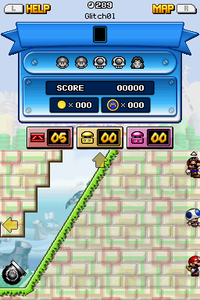 When building a level in the Construction Zone, if the player creates a slope, then places a stationary cannon at the bottom (this must be done in the level borders and maximum slope), when the Minis are fired, they will pass through the wall and they will fall off the screen.
DK Stage Sound Glitch
In any DK stage with rivets, once Donkey Kong is hit and recovers from it, the player should hold one rivet down quickly. Donkey Kong's yell and Pauline's call will be heard, even though their sprites are not in motion. When the rivet is let go, Donkey and Pauline's animations will resume without their voice clips.
Intangible Girders Glitch
When a Mini Mario is in-between a pair of red rivets, the player needs to quickly create a girder between the two. When performed, the Mini will go through the girder as if it wasn't there. (This can be performed either horizontally or vertically.)
Off-Screen Death
In Area 5-DK, the player should connect a girder from the top left to the bottom right rivet by the card. Next, they must have a Fireball next to the top left rivet. When done correctly, the Fireball will go down the red girder, fall through the floor at the end, and death sound clip play a second later.
Spring Glitch
To do this glitch, the player need to go to the Construction Zone. Once there, choose create. Then put a tile on the ground, so the Mini Mario can jump, but instead put a spring 1/2 (one and a half) blocks above the said tile. When starting the minis', one will try to jump, but will go through the tile.
Glitches
Super Mario franchise
Super Mario Platformers
Super Mario series
Super Mario Bros. (Minus World) (1985, NES) • Super Mario Bros.: The Lost Levels (1986, FDS) • Super Mario Bros. 2 (1988, NES) • Super Mario Bros. 3 (1988, NES) • Super Mario Land (1989, GB) • Super Mario World (1990, SNES) • Super Mario Land 2: 6 Golden Coins (1992, GB) • Super Mario 64 (1996, N64) • Super Mario Sunshine (2002, GCN) • New Super Mario Bros. (2006, DS) • Super Mario Galaxy (2007, Wii) • New Super Mario Bros. Wii (2009, Wii) • Super Mario Galaxy 2 (2010, Wii) • Super Mario 3D Land (2011, 3DS) • New Super Mario Bros. 2 (2012, 3DS) • New Super Mario Bros. U / New Super Luigi U (2012 / 2013, Wii U) • Super Mario 3D World (2013, Wii U) • Super Mario Maker (2015, Wii U) • Super Mario Odyssey (2017, Switch) • Super Mario Maker 2 (2019, Switch)
Mario vs. Donkey Kong series
Mario vs. Donkey Kong: Mini-Land Mayhem! (2010, DS)
Ports and remakes
Super Mario Advance (2001, GBA) • Super Mario World: Super Mario Advance 2 (2002, GBA) • Super Mario Advance 4: Super Mario Bros. 3 (2003, GBA) • Super Mario 64 DS (2004, DS) • Super Mario 3D World + Bowser's Fury (2021, Switch)
Mario Kart series
Super Mario Kart (1992, SNES) • Mario Kart 64 (1996, N64) • Mario Kart: Double Dash!! (2003, GCN) • Mario Kart DS (2005, DS) • Mario Kart Wii (2008, Wii) • Mario Kart 7 (2011, 3DS) • Mario Kart 8 (2014, Wii U)
Sports games
Mario Tennis series
Mario Power Tennis (2004, GCN)
Mario Baseball series
Mario Super Sluggers (2008, Wii)
Mario Strikers series
Super Mario Strikers (2005, GCN)
Other
Mario Sports Mix (2010, Wii)
Super Mario RPGs
Paper Mario series
Paper Mario (2000, N64) • Paper Mario: The Thousand-Year Door (2004, GCN) • Super Paper Mario (2007, Wii) • Paper Mario: Sticker Star (2012, 3DS) • Paper Mario: Color Splash (2016, Wii U) • Paper Mario: The Origami King (2020, Switch)
Mario & Luigi series
Mario & Luigi: Superstar Saga (2003, GBA) • Mario & Luigi: Partners in Time (2005, DS) • Mario & Luigi: Bowser's Inside Story (2009, DS) • Mario & Luigi: Dream Team (2013, 3DS) • Mario & Luigi: Paper Jam (2015, 3DS)
Mario + Rabbids series
Mario + Rabbids Sparks of Hope (2022, Switch)
Other
Super Mario RPG: Legend of the Seven Stars (1996, SNES)
Remakes
Mario & Luigi: Superstar Saga + Bowser's Minions (2017, 3DS) • Mario & Luigi: Bowser's Inside Story + Bowser Jr.'s Journey (2018, 3DS)
Luigi's Mansion series
Luigi's Mansion (2001, GCN) • Luigi's Mansion: Dark Moon (2013, 3DS) • Luigi's Mansion 3 (2019, Switch)
Donkey Kong franchise
Donkey Kong Country series
Donkey Kong Country (1994, SNES) • Donkey Kong Country 2: Diddy's Kong Quest (1995, SNES) • Donkey Kong Country 3: Dixie Kong's Double Trouble! (1996, SNES) • Donkey Kong 64 (1999, N64) • Donkey Kong Country Returns (2010, Wii)
Donkey Kong Land series
Donkey Kong Land 2 (1996, GB) • Donkey Kong Land III (1997, GB)
Yoshi franchise
Super Mario World 2: Yoshi's Island (1995, SNES) • Yoshi's New Island (2014, 3DS)
Wario franchise
Wario Land 3 (2000, GBC) • Wario Land 4 (2001, GBA)
Super Smash Bros. series
Super Smash Bros. (1999, N64) • Super Smash Bros. Melee (2001, GCN) • Super Smash Bros. Brawl (2008, Wii) • Super Smash Bros. for Nintendo 3DS (2014, 3DS) • Super Smash Bros. for Wii U (2014, Wii U) • Super Smash Bros. Ultimate (2018, Switch)