List of Wario Land 4 glitches
From the Super Mario Wiki, the Mario encyclopedia
Jump to navigation
Jump to search
This is a list of glitches in the game Wario Land 4.
Glitches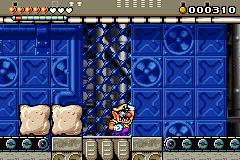 Vertical Zipping
To perform the Vertical Zipping glitch, the player must get into a corner which is four blocks high. They then must go right next to the wall, and turn around so they face away from the wall. The player must jump, and just before Wario hits the ceiling, the player should press down and forward for a split second, then hold forward. To zip, the player must rapidly press

while holding either left or right.[1]
Invisible Object
When Wario picks up an object, there is a slight chance that when the object leaves his hand (whether he throws it or drops it), something may still be in his hand, even if nothing appears to be there. Wario must throw the Invisible Object in order to get rid of it.
Walk Through Walls
The Walk Through Walls glitch may be difficult to successfully perform. If the player jumps repeatedly against a wall of blocks, they may be able to walk through them. However, Wario may become stuck inside the wall.[2]
References
Glitches
Super Mario franchise
Super Mario Platformers
Super Mario series
Super Mario Bros. (Minus World) (1985, NES) • Super Mario Bros.: The Lost Levels (1986, FDS) • Super Mario Bros. 2 (1988, NES) • Super Mario Bros. 3 (1988, NES) • Super Mario Land (1989, GB) • Super Mario World (1990, SNES) • Super Mario Land 2: 6 Golden Coins (1992, GB) • Super Mario 64 (1996, N64) • Super Mario Sunshine (2002, GCN) • New Super Mario Bros. (2006, DS) • Super Mario Galaxy (2007, Wii) • New Super Mario Bros. Wii (2009, Wii) • Super Mario Galaxy 2 (2010, Wii) • Super Mario 3D Land (2011, 3DS) • New Super Mario Bros. 2 (2012, 3DS) • New Super Mario Bros. U / New Super Luigi U (2012 / 2013, Wii U) • Super Mario 3D World (2013, Wii U) • Super Mario Maker (2015, Wii U) • Super Mario Odyssey (2017, Switch) • Super Mario Maker 2 (2019, Switch)
Mario vs. Donkey Kong series
Mario vs. Donkey Kong: Mini-Land Mayhem! (2010, DS)
Ports and remakes
Super Mario Advance (2001, GBA) • Super Mario World: Super Mario Advance 2 (2002, GBA) • Super Mario Advance 4: Super Mario Bros. 3 (2003, GBA) • Super Mario 64 DS (2004, DS) • Super Mario 3D World + Bowser's Fury (2021, Switch)
Mario Kart series
Super Mario Kart (1992, SNES) • Mario Kart 64 (1996, N64) • Mario Kart: Double Dash!! (2003, GCN) • Mario Kart DS (2005, DS) • Mario Kart Wii (2008, Wii) • Mario Kart 7 (2011, 3DS) • Mario Kart 8 (2014, Wii U)
Sports games
Mario Tennis series
Mario Power Tennis (2004, GCN)
Mario Baseball series
Mario Super Sluggers (2008, Wii)
Mario Strikers series
Super Mario Strikers (2005, GCN)
Other
Mario Sports Mix (2010, Wii)
Super Mario RPGs
Paper Mario series
Paper Mario (2000, N64) • Paper Mario: The Thousand-Year Door (2004, GCN) • Super Paper Mario (2007, Wii) • Paper Mario: Sticker Star (2012, 3DS) • Paper Mario: Color Splash (2016, Wii U) • Paper Mario: The Origami King (2020, Switch)
Mario & Luigi series
Mario & Luigi: Superstar Saga (2003, GBA) • Mario & Luigi: Partners in Time (2005, DS) • Mario & Luigi: Bowser's Inside Story (2009, DS) • Mario & Luigi: Dream Team (2013, 3DS) • Mario & Luigi: Paper Jam (2015, 3DS)
Mario + Rabbids series
Mario + Rabbids Sparks of Hope (2022, Switch)
Other
Super Mario RPG: Legend of the Seven Stars (1996, SNES)
Remakes
Mario & Luigi: Superstar Saga + Bowser's Minions (2017, 3DS) • Mario & Luigi: Bowser's Inside Story + Bowser Jr.'s Journey (2018, 3DS)
Luigi's Mansion series
Luigi's Mansion (2001, GCN) • Luigi's Mansion: Dark Moon (2013, 3DS) • Luigi's Mansion 3 (2019, Switch)
Donkey Kong franchise
Donkey Kong Country series
Donkey Kong Country (1994, SNES) • Donkey Kong Country 2: Diddy's Kong Quest (1995, SNES) • Donkey Kong Country 3: Dixie Kong's Double Trouble! (1996, SNES) • Donkey Kong 64 (1999, N64) • Donkey Kong Country Returns (2010, Wii)
Donkey Kong Land series
Donkey Kong Land 2 (1996, GB) • Donkey Kong Land III (1997, GB)
Yoshi franchise
Super Mario World 2: Yoshi's Island (1995, SNES) • Yoshi's New Island (2014, 3DS)
Wario franchise
Wario Land 3 (2000, GBC) • Wario Land 4 (2001, GBA)
Super Smash Bros. series
Super Smash Bros. (1999, N64) • Super Smash Bros. Melee (2001, GCN) • Super Smash Bros. Brawl (2008, Wii) • Super Smash Bros. for Nintendo 3DS (2014, 3DS) • Super Smash Bros. for Wii U (2014, Wii U) • Super Smash Bros. Ultimate (2018, Switch)