Climb to the Top!
From the Super Mario Wiki, the Mario encyclopedia
Jump to navigation
Jump to search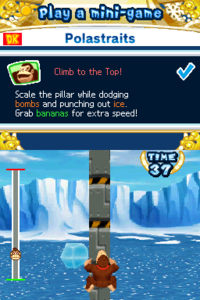 Climb to the Top! is a minigame found in Polastraits in the Nintendo DS game Mario & Sonic at the Olympic Winter Games. The player plays as Donkey Kong, and uses the left, right, and up buttons on the control pad and the A button to play. Donkey Kong must climb up a pillar that has a button on the top in order to activate a bridge within forty-five seconds. Along the way, bombs, bananas, and blocks of ice will fall from the top. The player can press A to punch through blocks of ice or simply avoid them by pressing the left and right buttons, all the while climbing up with A. However, if the player fails to avoid a block of ice or a bomb, then Donkey Kong will fall back. Bananas, when touched by Donkey Kong, will give him extra speed for a short amount of time. Once at the top, the player must press A for Donkey Kong to punch the device that dropped the bombs, ice, and bananas. He will then jump on top of the button.
Description
[
edit
]
Scale the pillar while dodging bombs and punching out ice. Grab bananas for extra speed!